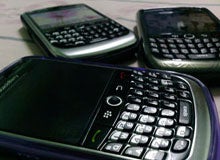 Today, Research in Motion offered its customers the first in a series of free premium apps meant to quell users' anger over a three-day outage in the company's BlackBerry email service in Europe, Africa, the Middle East, India and parts of Latin America. The app — normally priced at $19.99 — reads emails and text messages aloud in addition to taking voice prompts so that consumers can use their BlackBerrys while driving.
But in this case, talk — or a talking app — may be too cheap. According to Wharton marketing professor Peter Fader, RIM's offer of free apps to disgruntled customers "will be seen as a shallow token gesture, which could be worse than not doing anything at all."
The company's BlackBerry phone became a household name because it was the first smartphone to include a secure corporate email application, maintaining an addictive hold over users who wanted to stay in touch with the office while on the road or at home. But following the launch of Apple's iPhone and Google's Android devices, the company has lost significant ground.
During RIM's server blackout — its largest ever — last week, millions of mobile subscribers were unable to access their email accounts beginning on Monday. Service was not fully restored until Thursday.
The problem with RIM's solution, as Fader sees it, is that the intended compensation to consumers — up to $100 in free apps, which will be released over the coming weeks — "isn't tied to the nature of the problem that existed in the first place…. If [RIM] had had an app-related problem, then maybe some free apps would make sense.  But in this case, they should do something more closely related to each customer's data charge — maybe offer a rebate/credit on a portion of those fees, or perhaps a free week of international data usage, or something like that."
Although Wharton management professor David Hsu agrees that free apps are unlikely to make up for consumers' inconvenience during the blackout, "RIM's offer seems to make sense in [terms of] driving users to try more applications on their devices. The cost to RIM of giving away $100 worth of applications in-kind is very likely less than refunding the equivalent in actual money, and has the added benefit of trying to create some measure of stickiness to the BlackBerry platform."
Hsu adds an important caveat, however: "RIM managers should also clearly communicate what steps they are taking to ensure such outages do not happen again in the future." Fader agrees. In fact, he says, the company could simply do nothing more than "work harder to avoid similar problems in the future. As a Blackberry customer, I would much prefer some meaningful assurance in that regard, as opposed to an offer for free apps which I will never take advantage of."