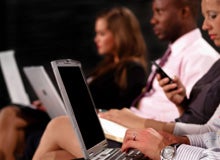 Facebook is a social networking behemoth, with 750 million active users who spend about 700 billion minutes per month on the site. In a sector where users' ability to connect and share with friends is crucial to success, critical mass equals power, and Facebook has that in spades.
But just because users are active doesn't mean they are entirely happy with the service. In a newly released satisfaction survey of online news, search and social media sites, Facebook garnered the lowest overall score — 66%. The annual American Customer Satisfaction Index (ASCI) e-business report was conducted in partnership with market research firm ForeSee Results.
Facebook's satisfaction score was up three percentage points over 2010, but came out last in the social media category and last in the e-business sector overall. And the survey's organizers suggest that the results show that the company might be vulnerable to competitors — namely to a push by Google to promote its new Google+ social networking service, which was introduced after the survey was conducted. "We don't know yet how Google+ will fare, but what we do know is that Google is one of the highest-scoring companies in the ACSI, and Facebook is one of the lowest," ForeSee Results CEO Larry Freed said in a news release. "An existing dominance of market share … is no longer a safety net for a company that is not providing superior customer service."
Indeed, in a 2010 Knowledge at Wharton story about the introduction of, and privacy concerns related to, the Facebook Connect service — which links users to other parts of the web by sharing their "likes" and other activities across a number of different sites — Wharton legal studies and business ethics professor Andrea Matwyshyn warned that "people stay with Facebook because they feel locked in, but they may lose trust over time. It could be an ideal time for a competitor to come in and harness that trust deficit."
With Google+, the search company (which received an 83% satisfaction score in the ASCI, topping its category) is attempting to address some of the most-talked about user frustrations with Facebook — privacy and contacts management. For example, the new service allows users to group friends into different "circles" and to choose which information and updates are shared with each one.
In a KnowledgeToday post about Google+, Wharton marketing professor David Reibstein said that Facebook "ought to be able to very easily respond" to the Google+ "circle" feature, if not others. "The question is how sustainable is any advantage coming out of Google+, which means something not easily replicable." Facebook has already introduced a video calling service in partnership with Skype in response to the Google+ "hangout" application, which allows for multi-user video chats.
It will be a year before we know how Google+ fares in the ASCI, but this year's report included one other notable result in the social media category:  Once-hot MySpace, which had the lowest satisfaction score in 2010 (63%), was dropped this year because there were not enough users to create a statistically significant sample. The ASCI is compiled with data from interviews with approximately 70,000 consumers annually.