Italian luxury brand Gucci is the latest fashion company to face accusations of racial insensitivity after it released an $890 sweater with a turtleneck resembling blackface. The controversy, which follows similar missteps by Dolce & Gabbana, Prada and Katy Perry Collections, has renewed calls for greater diversity in the fashion industry.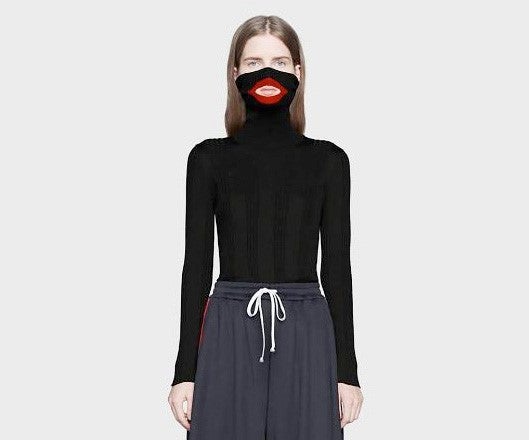 The sweater, which featured a pull-up collar with a cutout for the mouth and bright red around the lips, was meant to be an homage to Leigh Bowery, a flamboyant Australian performance artist and designer, according to a statement from Gucci Creative Director Alessandro Michele. But the company quickly found itself at the center of a backlash, with many African-American celebrities, including director Spike Lee, using their social media accounts to urge their followers to boycott the brand. On Instagram, musician 50 Cent posted a video of himself setting fire to a Gucci T-shirt. On Twitter, Gucci collaborator Dapper Dan invited the company's chief executive to meet with him in Harlem and said, "There cannot be inclusivity without accountability. I will hold everyone accountable."
Gucci swiftly apologized and pulled the sweater from its product selection in early February. In the same month, singer Katy Perry apologized and removed shoes from her collection that shoppers said resemble blackface, and sportswear giant Adidas pulled an all-white running shoe from its Black History Month lineup after consumers complained it was an inappropriate choice.
In December, Prada apologized and removed bag charms that resembled monkeys with red lips. And fashion power duo Domenico Dolce and Stefano Gabbana in November released a video apologizing for a series of commercials aired on a Chinese social media network that were viewed as sexist, racist and culturally insensitive. In January 2018, Swedish fast-fashion retailer H&M apologized for a print ad featuring a young black boy wearing a hoodie with "coolest monkey in the jungle" printed across the front.
A mea culpa and quick withdrawal of the offensive products is the right short-term strategy, said Thomai Serdari, adjunct professor at New York University's Stern School of Business and a luxury branding strategist. But the long-term strategy is greater diversity.
"These incidents, as bad as they are, are also opportunities for the brands to sit down and reconsider their hiring strategy, diversity and attention to diversity — but in a very honest and authentic, transparent way," she said.
Serdari and Ludovica Cesareo, marketing professor at Lehigh University whose research focuses on the luxury market, visited the Knowledge at Wharton radio show on Sirius XM to discuss the issues facing Gucci and other fashion houses. (Listen to the podcast at the top of this page.)
The two experts said the recent headlines go deeper than just momentary outrage — they speak to a need for companies to understand the global marketplace and changing consumer values. The emerging generations of shoppers — millennials and Generation Z — are more diverse than ever, and they won't stand for the kind of cultural bias that was so prevalent in marketing campaigns of the past.
"Advertising speaks to the current times, especially from a cultural perspective," said Cesareo, a former Wharton post-doctoral research fellow. "Through the advertisements that brands put out, but also the products that they design and decide to sell in the market, brands are taking stands on certain social issues."
"These incidents … are also opportunities for the brands to sit down and reconsider their hiring strategy, their diversity and attention to diversity…." –Thomai Serdari
Serdari agreed: "I think we need to understand how important the presence of brands are in the market today and, since there are no other institutions to allow for an interesting and diverse conversation, how much more careful brands should be about what they put out there. Or at least how they present the advertising campaign to make their point and not offend parts of our culture."
The Importance of Cultural Fit
Perhaps the problems go beyond cultural insensitivity to a lack of awareness of American culture, because brands like Gucci and H&M are European. But that's no excuse, Cesareo said.
"A lot of [these brands] are unaware of some of aspects of American culture and heritage, which by no means is a way of justifying them. It is simply that they just don't do their research," she said. "One of the basic things I teach in my Principles of Marketing class is when you are thinking about bringing your brand globally, cultural fit is one of the first things you need to think about. [Gucci] should have been much more sensitive to this issue and should have done its research before putting out a product like that."
Serdari expressed concern that any research companies are doing is superficial. "They only stop at a certain point, whenever it is convenient or [based on] whatever resources they have. But to have people who are diverse or who have a better grasp of the culture within the market that they want to enter is what is going to make them more successful in the future."
Diversity at the Top
The rigid corporate structure found in many larger fashion houses could also be to blame. The creative director often has absolute power over designs, Serdari said, so there's no one else to serve as a check and balance when issues crop up. That's one reason why she wants to see greater diversity from the mailroom to the C-suite. And those employees should be able to express their opinions without fear of retribution.
"There needs to be diversity at the high-up level of executives, and not just young designers … but people with voice and power," she said.
"[Gucci] should have been much more sensitive to this issue and should have done its research before putting out a product like that." –Ludovica Cesareo
Despite the backlash, Gucci and other brands are not likely to feel any long-term losses from their mistakes. The experts said research shows that customers are often loyal to brands they like, so they are willing to forgive, especially if the brand takes the right steps to address the problem.
Prada recently announced it is forming a diversity council to "elevate voices of color within the company and fashion industry at large," and appointed Theaster Gates and Ava DuVernay – two celebrated black artists – to chair the council. And Gucci's Michele said the company is "fully committed to increasing diversity throughout our organization."
Still, others say the backlash is a sign that people have become overly sensitive and too easily offended. Two callers to the radio show, who identified themselves as black men, said they were not bothered by the recent mistakes from Gucci or Adidas. "Some things are not that serious. It becomes a chip on your shoulder — that is what it comes across as," one caller said.
Cesareo said she understands the sentiment, but she thinks the size of the offended group doesn't matter from the company's perspective. Social media allows negative messages to spread like wildfire, so it's important for brands not to alienate even a small percentage of customers.
Both professors said the companies involved should consider the recent controversies as teachable moments, a chance to rethink and reset their hiring policies and practices.
"I think this is a really important learning point, not just for the brands involved but also for the industry overall, because there are negative spillovers to perceptions of the fashion industry more generally than just the single brand that made a mistake," Cesareo said. "Going back to what we said, hiring practices and changes in these hiring practices are so important."