The world of short-term rentals, Airbnb being Exhibit A, is barely the tip of the iceberg when it comes to how rapidly large-scale change is coming to the real estate and hotel businesses via the sharing economy. "Rather than buying or signing leases for a specific residence or office, people will one day have membership options with companies that guarantee space in any of their facilities worldwide –timeshares for the twenty-first century," writes Peter L. Allen in this opinion piece. Allen is head of the outreach and public affairs department of Agoda.com, the Asia-based subsidiary of Booking Holding. He also notes that several other waves of transformation are on the way.
The advent and rapid expansion of the sharing economy are changing the accommodations industry. The avatar of this change, of course, is the rise of Airbnb, which has grown from a tiny San Francisco seedling called "Airbed and Breakfast" into a global player – but the change is much broader than that. A number of major short-term rental players now offer over a million listings each, and investments have been pouring in. The hotel industry has begun to innovate and adapt in response. Dozens, and probably hundreds, of ancillary companies are popping up (and sometimes popping down again), offering hosts and guests new services and new ways to travel. A few companies are experimenting with what Homelike co-founder Dustin Figge has called "living as a service." These developments create opportunities (new business models, new companies, new jobs), difficulties (Schumpeter's "creative destruction" at play), and challenges (how do governments manage, regulate, tax and extract benefits from accommodations that are alternatively residential and commercial?)
Some embrace these developments; others are doing their best to ignore them or make them go away. But as Francis S. C. Yeoh, professorial fellow in entrepreneurship at the School of Computing, National University of Singapore, notes, "It's a big wave – a tsunami – that's coming, and you have to recognize, acknowledge and manage it. It is futile to try and fight." Rajeev Menon, Marriott's COO for Asia Pacific (excluding Greater China), agrees: "This is a business model that's here to stay."
As these changes continue – and even accelerate – the question many people are asking is "What will the future look like?"
Our view: the sector will continue to grow, much more quickly than the traditional rental economy. Some of the hottest areas will be Asia, business travel and the millennial traveler. Business models will change, with hotels and short-term accommodations learning from one another; types of travel will blur. Ancillary industries will expand to fill the ecosystem, and with them employment will continue to change. And governments that look ahead and adapt to these developments will derive substantial benefits for their economies and their communities. Let's explore.
Accelerating Growth
The sharing economy, including short-term accommodations, is growing fast. Already, Booking Homes (part of the Booking Holdings Group) has over 5.6 million listings in 227 countries, with an average of 1.5 million room nights booked daily; Airbnb has over 5 million listings in 191 countries, with 400 million cumulative guest arrivals; HomeAway over 2 million listings in 190 countries; Agoda (also part of Booking Holdings) has over 1.1 million properties; and Tujia has over 1 million listings in 300 Chinese cities and global locations.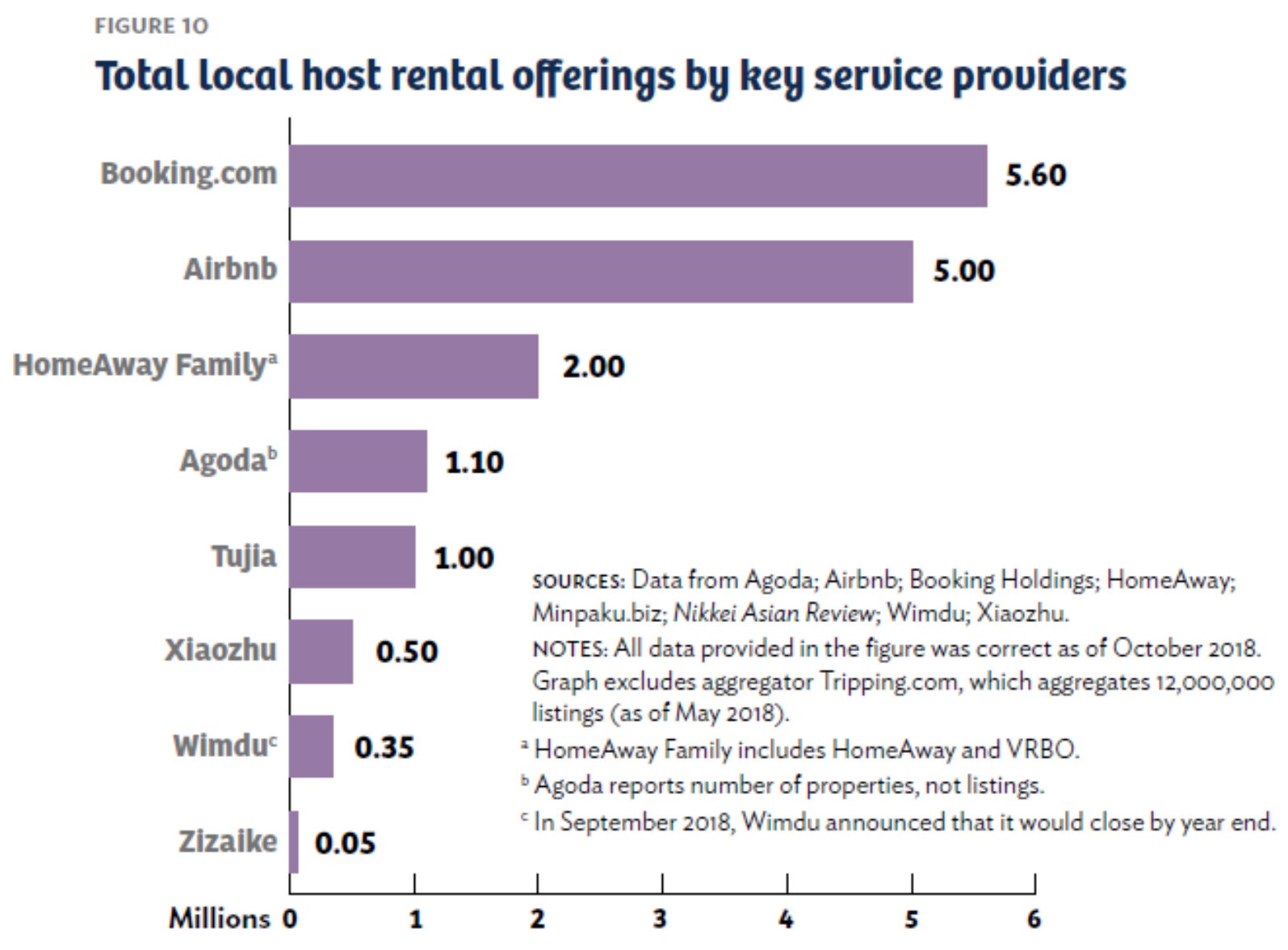 Travel industry experts Skift predicted in 2017 that total global revenues from the local host industry sector would reach US$169 billion by the end of 2018.  And executives at HomeAway's 2017 annual summit estimated that the overall local host market was growing two to four times as fast as the global economy.  This growth will continue: HomeAway has also found that 82% of current users planned to stay in local host rentals again.
Given this acceleration, it is hardly surprising that investors are flocking to the short-term rental sector; indeed, Andrew McConnell, CEO of property management marketplace Rented.com, described the market as a "gold rush." In 2017 alone, Chinese players Tujia and Xiaozhu together attracted over $500 million in new funding from such investors as Ctrip.com International Ltd., Morningside Ventures, and Capital Today. Brookfield Property Partners put $200 million into an Airbnb joint venture with real estate developer Niido for the launch of "Niido Powered by Airbnb," developments in which tenants may rent their units out for up to 180 days per year. Short-term capabilities, in other words, are being baked in to the long-term property market.
Asia is an epicenter of the sharing economy. Nielsen research has found that the Asia-Pacific residents were the most willing in the world to participate in sharing, with 81% willing to rent or share others' assets and 78% willing to rent or share their own (vs. global figures of 66% and 68%), and of the top 10 countries most likely to do so, four are in Asia: China, the Philippines, Thailand, and India. And with 135 million outbound travelers (UN World Tourism Organization), China is well positioned to influence global trends.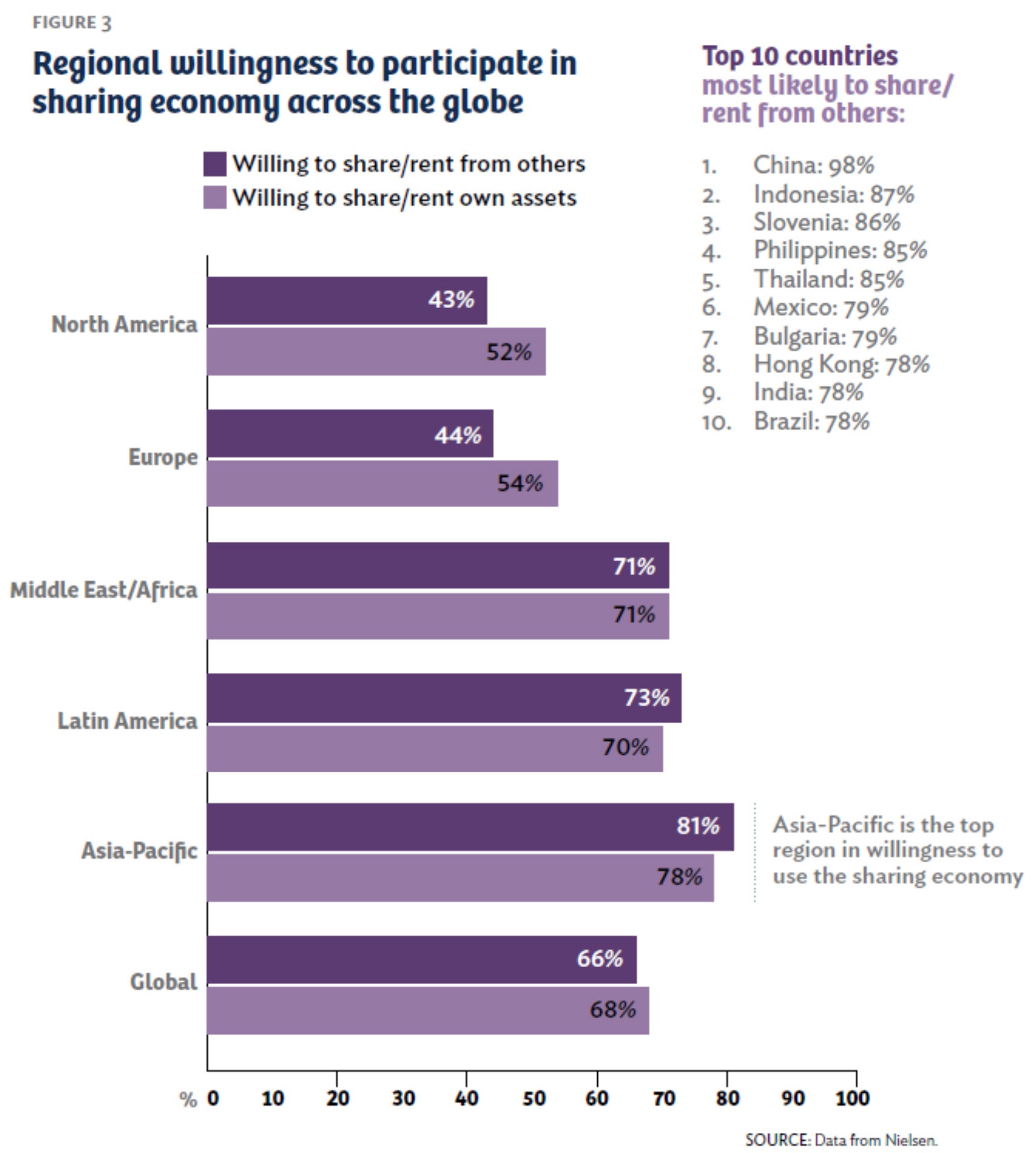 Business Travel and Millennials
Business travelers spent $1.3 trillion in 2016, expanding at 6% to 7% annually, according to the Global Business Travel Association.  While business travel in local host rentals "is still in its infancy," the trend is growing, according to Jeffrey Manheimer, co-founder of short-term rental aggregator Tripping.com. Both Booking.com and Airbnb now offer choices that are geared toward business travel (with such features as Wi-Fi, self-check-in and more flexible cancellation policies), and American Express Global Business Travel has already partnered with Airbnb to facilitate expensing. More and more people are combining business and leisure travel, a practice that bodes well for the short-term rental industry.
This trend and others are particularly visible among the fast-growing segment of millennial travelers. Seven in 10 millennial business travelers want to stay in local host rentals because of the experience they provide, according to Condé Nast Traveler.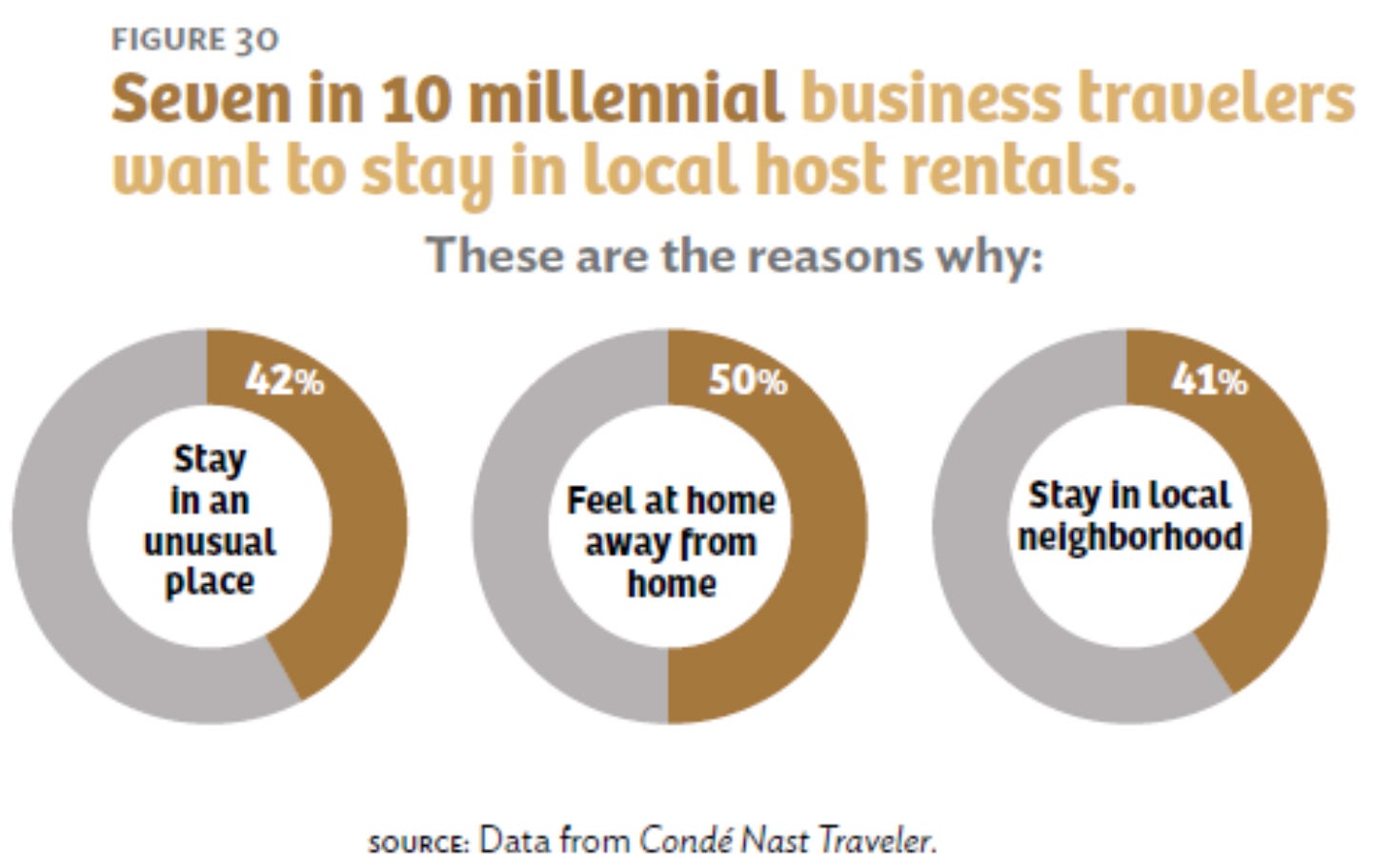 A key factor in this change may in fact be millennials. "There are 1.2 billion of them around the world, more than half of whom are in Asia," said Turochas "T" Fuad, managing director of WeWork Southeast Asia. "The millennials are doing things differently." Indeed, a Hipmunk survey found that 44% of millennial travelers prefer local host rentals to hotels, and a survey by Expedia noted that 62% of millennials were willing to extend their travel after a business trip to experience local life. Millennial travel is differentiated in other ways, too: According to BCG, millennials plan ahead and travel for longer periods than older consumers; they look to aggregators, online travel agencies and metasearch engines for deals; and they rely heavily on peer recommendations and reviews. For companies that want to capture the millennial market, innovation is the name of the game. This market is not small: China alone is home to 400 million millennials, and a 2018 report by Forbes cited a study valuing the global millennial travel market at more than $200 billion.
The environment matters, too. Citing research on consumer behavior by Nielsen and Deloitte, Credit Suisse has stated that millennials are "the most sustainability-conscious generation."  They are heavily influenced by such trends as the move to "sharing instead of consuming" through peer-to-peer economies.  A 2017 TripAdvisor survey cited by the Chicago Tribune also noted that "nearly two-thirds of travelers plan to make more environmentally sound choices over the next year." Shared accommodations can be greener than hotels because both guests and hosts tend to conserve resources more in a home setting than they do in hotels; because sharing gets more use out of existing assets; and because staying in residential neighborhoods balances traveler loads around cities more than staying in hotels typically does.
Evolving Business Models
It is in the nature of business models to change. Sharing accommodations (think bed-and-breakfasts) are far from new, but the sector has grown very fast in the past couple of decades for two main reasons. One is the growth and change in demand, tied to the high cost of hotels in urban markets, the need for additional supply created by special events, family travel needs (especially laundry and kitchens). And the other, of course, is technology – the rise of online travel.
"As the market evolves, short-term rentals and hotels are beginning to resemble one another."
Interestingly, as the market evolves, short-term rentals and hotels are beginning to resemble one another. As short-term rental services expand, customer demand is pushing them toward hotels, with greater standardization, easy check-in, and more whole-unit rentals (as opposed to bedrooms in an owner's home). Errol Cooke, Agoda's Global vice president of partner services, has noted, "Eventually it may be a handful of large, global brands that control the space – especially those with deep pockets for buyouts, marketing, and additional revenue streams like hotels, concierge service and communities." The short-term market is commercializing.
Conversely, hotels are already becoming more locally focused. Hyatt Hotels CEO Mark Hoplamazian has credited services like Airbnb for making the Hyatt brand stronger. "Airbnb has demonstrated that people really do care about the interpersonal human experience," he said. Airbnb has "actually expanded travel, and they've inspired us to think about how we do business." Hilton is developing "locally curated" hotels; YOTEL Singapore offers self-service check-in and communal work and leisure spaces. Ianic Menard, Accor Hotels' vice president of sales, marketing and distribution for Upper Southeast Asia notes, "We have a new brand called JO&JOE, which helps travelers rent a small space that's very affordable and is about meeting and making connections with locals." Competition stimulates innovation; each side is learning from the other.
Vacation rentals cannot compete with five-star hotels in every area, but an ecosystem of ancillary services is emerging; it replicates, and in some cases even expands upon, the hotel model. Some of the more intriguing new services include LuggageHero, a baggage storage service; Cleanly (dry cleaning and laundry); Drizly, a beer, wine, and liquor delivery app; Zeel (same-day massages and spa treatments);  Glamsquad (beauty services); Handstand (bike routes and appointments with local trainers); and Helpr, which provides screened childcare providers within three hours' notice. And while these services may have been designed with vacation rentals in mind, they work for hotels, too. In some cases, they may displace captive offerings (e.g., food delivery apps replacing room service), but in others they allow hotels to offer outsourced services they might otherwise not have provided at all. The hotel model will continue to be disaggregated and reconfigured.
The concept of shared space is altering other parts of life, as well. Korea has had "officetels" (urban buildings with both "office" and "hotel" features) since the mid-1980s, but this concept is expanding at a much more rapid space through the exceptional growth of WeWork. Launched in 2010 to provide flexible office space with millennial-friendly features (e.g., communal spaces; free beer and coffee), WeWork is growing fast around the world, and is itself evolving. Their new WeLive product, for example, offers buildings whose residents can participate in communal meals, movie nights and yoga classes – as well as internet and cable access, and monthly cleaning services. In May 2017, the company announced WeWork Wellness, with communal gym classes. Six months later, news surfaced about WeGrow – grade schools in WeWork buildings, with a mix of traditional instruction and business-oriented topics. "Products change; needs change," says Fuad, in what could be a mantra for the sharing economy as a whole. "We're filling the void of what people are looking for."
"Health care benefits and retirement plans are not generally designed for the gig economy, and the answer cannot be to force gig workers to live without them."
One of the problematic features about real estate, as it has traditionally been managed, is that it is "lumpy" – and the lumps are quite large. Residential leases run for a minimum of a year, commercial leases for three to five years or even more. Given that businesses tend to grow and shrink, the overlay on leases is often quite ill-fitting, with companies forced to pay for space they do not need at some points, and to squeeze into insufficient quarters at others. The more flexible sharing economy model is far better suited to the ebb and flow of the business world. With this pattern in mind, AppearHere, a London-based startup, is trying to establish itself as "the Airbnb for retail."
Expect to see more of this kind of flexibility, both at home and at work, (though these terms may no longer be opposites). Rather than buying or signing leases for a specific residence or office, people will one day have membership options with companies that guarantee space in any of their facilities worldwide – timeshares for the twenty-first century. Co-living will expand beyond the new-agey environments of California's East Bay and Silicon Valley, offering the opportunity for residents to create their own multi-generational, ever-changing families. Just as with bike-sharing and ride-sharing, the concept of ownership may increasingly give way – as the Boston Consulting Group has suggested – to the concept of "everything as a service" – a life in which assets become functions. The real estate market will move away from its current rigid structure to become increasingly life-like, increasingly organic.
As we have noted, these changes do not come without disruption. The flip side of the sharing economy is the "gig economy," in which permanent, full-time jobs are replaced – in whole or in part – by incidental or serial temporary roles. Such jobs provide major benefits to people at certain stages of their professional lives, but can be very difficult for others, as dramatized in particular by the ups and downs of services like Uber, which has had confrontations with taxi unions and labor laws in cities in both the U.S. and Asia. Health care benefits and retirement plans are not generally designed for the gig economy, and the answer cannot be to force gig workers to live without them.
Similarly, the regulations designed for hotels, offices, and apartments do not apply readily nor easily to short-term rentals. The retiree who rents out a spare bedroom cannot be expected to meet the same licensing and registration requirements that a 500-room hotel would fulfil. But the alternatives (forbidding her to rent the space to supplement her modest income – and depriving her community of tax and business revenue – or forcing her to operate underground, without licensing or safety inspections) simply don't work. Licensing and regulatory schemes need to adjust to the new reality – and they need to continue to be flexible, a quality not always associated with property laws.
As with globalization, the changes brought by the sharing economy are new, complex, and often unpredictable. There will be winners and losers; and there will be tremendous need for adjustment. Some of the change will be painful at times. But the changes we have noted in travel patterns, in other aspects of real estate, and in how our lives are defined by space are very real. Overall, as the World Travel & Tourism Council has documented, the travel and tourism industries are responsible for about 10 percent of the world's GDP and jobs, and the short-term accommodations segment represents a rapidly growing share of this market. These are vast economic domains, and the changes they are undergoing are powerful ones. The individuals, companies, and governments that adapt to them will capture their significant benefits, enhancing economies and lives.