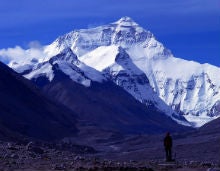 In 1986, Rodrigo Jordan, a Chilean adventurer, set out to climb Mt. Everest — the world's highest summit at 29,035 feet – by an especially difficult and dangerous route up the mountain's Kangshung face, nearly two vertical miles of jagged rock and black ice. It poses a colossal challenge for surviving, let alone ascending at high altitude. Jordan's team had fallen short in that attempt, tried again in 1989 and finally made it in 1992. 
In an essay titled, "Mt. Everest, Part II: Learning from a Second Climb of the World's Highest Mountain," Michael Useem, director of Wharton's Center for Leadership and Change Management, writes about leadership lessons from the Mt. Everest experience that apply to any situation where teamwork is a crucial part of the project's success. Here is an excerpt from that essay.
 "Fast forward two decades," Useem writes. "Jordan decided that a 20th anniversary celebration of his country's first ascent of Mt. Everest would be welcome. Like veterans of foreign wars, veterans of Himalayan expeditions sometimes commemorate their achievements with reunions, but Jordan would add two novel twists, both of them reflecting his lifelong passion for exploration, leadership, and learning….  
"The mountaineering tradition has long defined climbing success as the placement of at least one or two members of an expedition on the summit, with others playing essential roles of support but all enjoying the accolades of success. For its many benefits, however, that tradition always came with a price, borne by those who did not stand on the summit but who might have done so were it not for the luck of the draw or the obligation of support. 
"That custom, however, gave way to a new concept during a breakthrough discussion led by Rodrigo Jordan at a base camp several years earlier. He was then leading a Chilean expedition to climb Lhotse, a 27,940-foot peak attached to Mt. Everest, and his team was preparing to send a small summit team to the top of Lhotse. Jordan faced one of an expedition leader's most excruciating decisions. Many of the team's members are typically capable of reaching the summit, all have shouldered great risk in carrying supplies, and yet only a pair or two are normally accorded a chance to stand on the shoulders of others to make a final push for the top. 
"Jordan's climbers had assembled in a base-camp tent to learn whom he would designate for the honor of the summit team. But he surprised them all by proposing to follow a very different pathway. Instead of the leader solely choosing, all of the climbers would collectively decide on the summit party, bringing far more data to bear on a critical decision since each member would contribute his own direct knowledge of the relative capabilities of all the others.  
"One of the climbers in the base-camp tent, Kiko Guzman, proposed instead an even more novel approach:  Why not plan for all to go for the summit? The light bulb lit, Jordan instinctively responded, "why not?" and in an instant Jordan and his team embraced a complete break with convention. That required quick revision of a host of logistical plans: The high camp on Lhotse, for instance, barely had room for several climbers, let alone all. But just five days later, Jordan and 14 others stood on the summit of Lhotse – the first Chileans to reach the top, and all of the Chileans on the expedition.
"The same is now planned for Jordan's return to Mt. Everest this spring. Jordan has invited 10 mountaineers, three army officers, and 10 climbing sherpas to join the expedition, and he is planning for all who are physically fit on summit day to climb from the high camp, shinny-up the Hillary Step, and hopefully come to set foot on the highest square yard on earth…. Stay tuned: http://www.everest20años.cl/english."
Many of these leadership lessons will be discussed June 20 at the Wharton Leadership Conference 2012, whose theme is "Leading in a World of Conflict." The conference is organized by the Center for Leadership and Change Management and the Center for Human Resources.