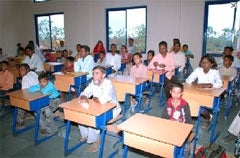 Children between the ages of six and 14 belonging to the economically weaker sections of society in India are entitled to free education under the Right to Education (RTE) Act. But going by the Annual Status of Education Report (ASER) for 2012, which was released earlier this month, it may take a lot more to ensure that the quality of education imparted to those children is of acceptable standards.
ASER is the largest annual household survey of children in rural India focusing on the status of schooling and basic learning. Facilitated by Pratham, a Mumbai-based NGO, ASER 2012 covered over 330,000 households and about 600,000 children in the age group of three to 16.
According to the report, around 13% of children in grades one to five could not read at all and around 11% were not able recognize numbers from one to nine. Only 46.8% of all children in grade five were able to read a grade two level text. This number, in fact, has been declining over the past two years from 53.7% in 2010 and 48.2% in 2011. In mathematics, too, there has been a significant drop. In 2010, 70.9% of the children enrolled in grade five were able to solve simple two-digit subtraction problems with borrowing. This proportion declined to 61% in 2011 and 53.5% in 2012.
The report also points out that the decline in reading levels is higher among children in government schools as compared to those in private schools. At present, over 90% of schools in India are either run directly by the government or are government funded. But according to ASER 2012, in the six to 14 age group, enrollment in private schools across the country has increased from 18.7% in 2006 to 28.3% in 2012. The report adds: "If this trend continues, by 2018 India may have 50% of children attending private schools even in rural areas." In contrast, in the U.S. more than 80% of children attend public schools and in U.K., this number is over 90%.
Talking to the media, Pratham Education Foundation CEO-president Madhav Chavan said that RTE has come to mean "the right to schooling and not to learning and education." A statement by ASER 2012 notes: "The guarantee of education is meaningless without satisfactory learning. There are serious implications for India's equity and growth if basic learning outcomes do not improve soon."
Meanwhile, the quality of teacher training in India is also a matter of huge concern. According to the Central Board of Secondary Education, last year, 795,000 candidates took the Central Teacher Eligibility Test (CTET). More than 99% of these candidates failed to pass the test. CTET certification is mandatory to become a teacher for grades one to eight in central government schools.
Commenting on the shortage of trained teachers, a recent report by Mumbai-based rating agency India Ratings and Research titled, "2013 Outlook: Indian Education Sector," covering both primary school and higher education notes that "most organizations will find it challenging to comply with the prescribed student-teacher ratio (STR) in the coming years." The report also adds that although the government's spending on education in financial year 2012 increased to 3.35% of GDP from 2.62% in 2005, "the infrastructure for both school and higher education needs to be upgraded to provide better quality education and absorb new enrollments."
Pointing out that quality of education provided by schools is directly related to the quality of its management, T. V. Mohandas Pai, chairman of Manipal Global Education Services and formerly head of human resources at Infosys says: "The quality of leadership in government schools is inadequate and they are very poorly managed. Over the past 20 years, due to political [pressure] poorly educated teachers have been recruited, often with no relevant qualifications. Post recruitment training too is inadequate."
According to Pai, the fundamental flaw in India's schooling system is the controls and restrictions implemented by the central and state governments. "It is very difficult to open a new school in the English medium across India, [and the existing ones] are subject to regular harassment and unable to expand freely." Pai suggests that the only solution to stem further decline in India's education system is to open it up. "Stop funding government schools and fund the child so that parents have a choice of schools."