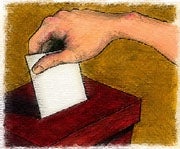 Five Indian states have been going to the polls for the past couple of months (given the size of the country, elections these days are conducted in stages.) But the results were announced simultaneously on Tuesday, and the impact has been immediate.
The Bombay Stock Exchange Sensitive Index (Sensex) was down 190 points or 1.1% on fears that the reform process, expected to be kick-started in this year's Union Budget (delayed to March 16 from the normal end-of-February presentation because of the elections) would be derailed. The Sensex had risen significantly in morning trades before the results started coming in; the intra-day loss was 500 points. The rupee also slipped to Rs50.36 to the dollar, a six-week low. "The markets were disappointed with the [Uttar Pradesh] Assembly election results," according to a report by HDFC Securities. "[There were] hopes that there would be a Samajwadi Party (SP)-Congress alliance in Uttar Pradesh, which would have been helpful for the Congress to take reforms further. However, that has remained a dream."
The elections were for the state assemblies, so the results should technically not affect the composition of the Lok Sabha, the lower house of Parliament. But the next general elections are due in 2014, and Tuesday's results are an indication of how they will turn out.
In India's biggest state Uttar Pradesh, which sends 80 members of Parliament (MPs) to the Lok Sabha, the SP has emerged victorious with a simple majority of 224 in the 403-member assembly. (A few results are yet to be declared.) Punjab (with 13 Lok Sabha seats) has been won by an opposition Bharatiya Janata Party (BJP) combine. Results from Uttarakhand (five seats) show the Congress and the BJP neck and neck. Goa (two seats) has gone to the BJP. Only Manipur (two seats) has wholeheartedly backed the Congress; but it is really too small to count. In Uttar Pradesh, on the other hand, the Congress and its allies now have just 37 seats, which puts them behind the regional Bahujan Samaj Party (which has been ousted from power) and the BJP.
The government at the center is dependent on its allies for support and survival. It has some very fickle bedfellows, however — Mamata Banerjee's Trinamool Congress in West Bengal, for instance. Banerjee has already thwarted a move to open the retail sector to foreign investment. She is considered industry-unfriendly by opponents, having had a role in driving the Tatas' Nano small car project out of Bengal when she was in the opposition in the state. She is now chief minister.
The other casualty of the assembly polls is Rahul Gandhi, scion of the Nehru family that has ruled India for a large part of the period since Independence. Even today, the power behind the prime minister's chair is Sonia Gandhi, Rahul Gandhi's mother and wife of former prime minister, the late Rajiv Gandhi. Rahul, a prime ministerial candidate of a party that sets great store by heredity and lineage, had assumed charge of the campaign in Uttar Pradesh. The rout of the Congress party is being regarded as his failure. "The Opposition will try and capitalize on that," says Sumit Mitra, a journalist and political commentator. "For the Congress it is unthinkable that they abandon Rahul. In fact, anybody who can is lining up to take the blame for the fiasco."
Decision-making in Delhi has been paralyzed anyway because of an anti-corruption agitation launched by social activist Anna Hazare. He is now taking credit for the Congress defeat. The old guard in the ruling party was never very convinced about the reforms and liberalization. Their argument now is expected to be that continuing with reforms will mean a disaster in the coming general elections. So Prime Minister Manmohan Singh, the original architect of reforms, is expected to face opposition from both within and without, or as the headlines in the Economic Times note:  "SP lands home in Lucknow [the capital of UP]. Door shuts on reforms."