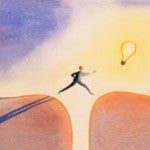 At the current pace of applications, U.S. visa grants for skilled workers will soon exhaust the existing caps, Wharton experts and others tracking migrant job trends say.
The latest data released today by U.S. Citizenship and Immigration Services (USCIS) show that since the beginning of April — the start of the annual H-1B visa application window, which extends through September — the department has received 30,300 applications for the 2013 fiscal year. That total includes 20,600 H-1B applications counting toward the general 65,000 cap, and 9,700 petitions toward the 20,000 cap for individuals with advanced degrees.
"The prime driver is economic activity picking up in the U.S.," says Ravi Aron, senior fellow at Wharton's Mack Center for Technological Innovation and a professor at the Johns Hopkins University Carey Business School. Indian IT services companies are boosting their U.S.-based workforce as American companies increase investments in capital-intensive IT systems, he notes. Indian and Chinese workers have traditionally accounted for the bulk of the demand for H-1B visas, followed by Mexicans and Filipinos.
If the current pace continues, the annual cap on visas could be reached in the next few months, predicts immigration attorney Cyrus Mehta of Cyrus Mehta Associates in New York City. In part, Mehta attributes the growing demand for H-1B visas to increased startup activity in the New York City area, especially in mobile applications and IT security.
U.S. employers "are more confident about hiring again," according to Laura Danielson, chair of the immigration practice at the Minneapolis, Minn.-based law firm Fredrikson & Byron, which specializes in representing Chinese entrepreneurs and employees. H-1B demand is surging among her clientele in the medical devices, automotive, biotechnology and IT industries, she says, adding that employers looking for skills in the STEM professions (science, technology, engineering and mathematics) often find them among Chinese professionals.
The IT industry is still "the greatest mover," notes USCIS press secretary Christopher Bentley. U.S. employers are "requiring workers from India and China in greater proportions." However, the current spike in H-1B visa applications is not as high as it has been in earlier years, according to USCIS spokesman William Wright. In 2008 and 2009, the H-1B visa cap was reached in the first week of the application season. Visas for those with "advanced degrees" were exhausted in the first week in 2008, and within a month in 2009.
Mehta points out that some of the current demand could be spillover from a recent rash of controversial denials of L1B visas (for specialized knowledge workers) by the consulate in Chennai, India. According to both Mehta and Danielson, the U.S. government must raise the H-1B visa caps in order to compete effectively with other countries. "Studies have repeatedly confirmed that many of these immigrant professionals will go on — in greater numbers than our American work force — to develop patents, create businesses and provide a net job growth to our economy," Danielson notes.