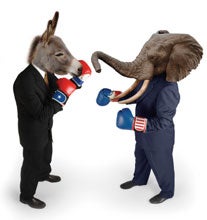 On Thursday, demonstrators thronged the state capitol building in Madison, Wis., aiming to block the passage of emergency legislation that would reduce collective bargaining powers for state and local employees and would require them to contribute significantly more to pensions and health care. The legislation is being pushed through by Republicans, led by Governor Scott Walker, in an effort to solve the state's growing budget crisis. The state's Democratic lawmakers have fought back — by literally disappearing before the vote, causing the bill to go into limbo for the time being. 
According to The Washington Post, state workers would need to cover half of their pension costs and 12% of their health care expenses under Walker's proposal. The goal is to save $300 million over the next two years as a means of addressing the state's $3.6 billion deficit.
Across the country, states will reach a collective budget deficit of $175 billion by the end of 2013, the Post adds. But tampering with public worker benefits may not be the best way out of that mess, Wharton faculty recently told Knowledge at Wharton.  In many states, employees' rights are written into the constitution, Wharton professor of insurance and risk management Olivia S. Mitchell said. Not only does that protect benefits that have already been earned, but in some cases the constitution defines the future benefit-accrual rate for all current employees. "As soon as you are hired, the promise of that benefit formula — the buildup of benefits in the future — is guaranteed." According to University of Pennsylvania law professor David Skeel, "As a matter of realpolitik, the most a state would be able to do is possibly to change its pension promises to future employees."
One possible way to renegotiate public-worker contracts would be to allow states to declare bankruptcy, Skeel and other experts say. But that path is riddled with potential problems — not the least of which is a possible undermining of the already shaky municipal bond market. (To read more about the potential fallout of state bankruptcies, see: Budget Blues: What Would State Bankruptcies Accomplish?)
Meanwhile, back in Wisconsin, the search for Democratic lawmakers continues.