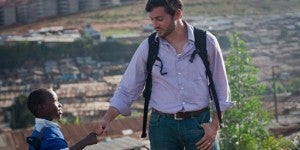 Business books are a dime a dozen. So what can be done to save a new title from becoming one of the thousands published every year that are — in the words of a recent article in The Economist — sent "straight to the bin" by book review editors? Write a memoir instead, advise some publishers.
But a memoir was the last thing Rye Barcott wanted to write when he approached publishers with his idea for a book marking this year's 10th anniversary of Carolina for Kibera (CFK), a nonprofit he helped set up while an undergraduate at the University of North Carolina at Chapel Hill. He wanted to share the decade of lessons that he and his fellow CFK colleagues had learned, and inspire and help budding social entrepreneurs. After being turned down twice by publishers, however, he heeded an agent's wise advice to write a memoir.
Instead of finding yet another tome in which "celebrity CEOs blow their trumpets, consultants market miracle cures, [and] self-help gurus promise that you can grow rich by working four hours a week," as the Economist article puts it, readers of It Happened on the Way to War: A Marine's Path to Peace get a touching — and often gritty — account of Barcott's experiences in Kibera, one of the world's largest slums in the Kenyan capital of Nairobi.
As Barcott told Knowledge at Wharton while on a tour promoting his book, a focus on "participatory development" in communities has been the key to CFK's growth into a nonprofit serving hundreds, if not thousands, of youth living in Kibera, with the goal of helping them become "today's and tomorrow's leaders." The subplot — as the book's title suggests — is that while CFK was finding its feet, Barcott was a marine in training, eventually being stationed in Bosnia, the Horn of Africa and Iraq. Part of his struggle was to find ways to reconcile — and learn from — the two seemingly contradictory trajectories. (Read an interview with Barcott on this subject in Knowledge at Wharton's High School edition.)
It's not without a touch of irony, then, that Rupert Scofield, another social entrepreneur, also spoke with Knowledge at Wharton while on a recent tour promoting his book, The Social Entrepreneur's Handbook: How to Start, Build, and Run a Business That Improves the World. As the co-founder and CEO of Finca International, a nonprofit microfinance provider, Scofield acknowledged to an audience in early July that he is "the embodiment of a life dream. Ever since I was eight years old, I wanted to be a writer and get published." He thought that dream meant writing a memoir. However, an agent convinced him that he should write a business book about Finca — which now works in 21 countries and serves more than 815,000 clients — while still finding a way to "tell my colorful stories."
During his appearance, he discussed several themes appearing in his book, including advice for up-and-coming social entrepreneurs. Figure out who or what you care about — or those you feel are "getting a raw deal," he said. "Light that flame. You're going to need it, because there are going to be people who will tell you that your idea is crap — that it's never going to work." In addition, "There will be times when you're under enormous pressure and things go wrong, and you think, 'My God, how are we going to survive?' Just remember — as my wife always kindly reminds me — that it's not about you," but the people or things you care about.