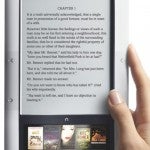 On Tuesday, Microsoft threw a lifeline to Barnes & Noble (B&N) by investing $300 million in the bookseller's Nook e-reader and digital book subsidiary. Like other large retailers, particularly in the book industry, B&N has seen sales dropping in its brick-and-mortar stores, where analysts estimate that the company had an operating loss approaching $62 million in the year ending April 28. The investment will give Microsoft a 17.6% stake in the subsidiary, which also includes B&N's college bookstore unit.
Microsoft's cash infusion will help the bookseller's digital business compete more aggressively with Amazon's. According to The Wall Street Journal, B&N currently has a 27% share of e-book sales, whereas Amazon.com has 60%. Apple still leads in "media tablet" sales — 62% — compared with 6% for Amazon's Kindle e-reader and 5% for B&N's Nook device.
What does Microsoft stand to gain? "This is a platform play for Microsoft," says Wharton management professor Daniel Raff. "If there is a niche for Windows 8-powered iPad-like devices, this might make them more attractive. The valuation suggests that [Microsoft sees] a lot of potential upside in this." According to the Journal, Microsoft's investment values the subsidiary at $1.7 billion. The change in B&N's share price suggests that the market agrees, Raff notes: Following the announcement, the company's shares were up 52% by the close of the day on Tuesday — the stock's highest level in two years.
"The key actors here, in my opinion, aren't centrally in books," Raff adds. "They are Apple, Amazon and Microsoft." According to Peter Hildick-Smith, president of Codex Group, which tracks trends in the digital book industry, these are among a handful of cash-rich companies that have "realized massive growth potential and are trying to grow share in the fast-emerging integrated device/media content/retail market." (He notes that Google — with its Google Play online store and an anticipated device — is another significant player.) "This deal … gives Microsoft its first realistic stake in what we believe will be the dominant form of 'retailing' in this century, as Amazon is demonstrating with its 41% year-on-year growth rate. And starting with book consumers, who represent the top 20% of U.S. consumers, is a great place [to begin]."
Hildick-Smith, who notes that B&N is a Codex Group client, points out that entering this new form of retailing is particularly difficult for most companies to pull off and, according to his firm's research, requires several elements in order to succeed, including: "a major, high equity brand in the content space," "a best-in-class shopping platform with deep content available," " a deep reservoir of star ratings and thoughtful consumer reviews from its shoppers on every title it sells," and a highly integrated store and device — or "e-tail solution." And lastly? "Deep pockets."
That last ingredient — as well as a long-term commitment — is precisely what Microsoft brings to the table for B&N, Hildick-Smith points out. "The integrated device/media content/retail business is phenomenally complex to build and deliver successfully," requiring, among other things, significant funding to "grow it and spend on advertising," he says. (The New York Times reported that Kindle ad spending was $150 million in 2010 alone, he notes.) "This is a land grab. The first to lock up a household with a branded, closed-platform device owns that household for the foreseeable future, meaning huge ROI. Kindle and Nook households are very loyal to their brands, and buy a lot more books within their brand family. Plus, the more additional types of content/products that are available to buy … the greater the [incremental] sales long-term."
B&N has indicated that it will likely spin off the subsidiary into its own business. Wharton management professor Emilie Feldman, who studies divestitures, says this would be a wise future move. "I think the Microsoft investment was the right decision for the time being," she says. "The investment gives B&N much-needed liquidity, allowing it to make strategic investments in both the Nook business and its 'core' brick-and-mortar operations." Still, she adds, "B&N is a classic case of the whole being worth less than the sum of the parts, meaning that a spinoff of the Nook business in the future will unlock that value for shareholders. The Microsoft investment is useful because it gives investors preliminary information on the individual valuations of the two parts of B&N's operations, paving the way for a complete separation."