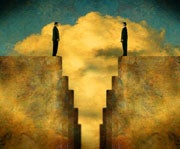 Eight years after their high-profile corporate family split, the Ambani brothers have signed their first business deal together. Mukesh Ambani's Reliance Jio Infocomm, a unit of Reliance Industries (RIL), has signed up with younger brother Anil Ambani's Reliance Communications (RCom) to use the latter's fiber optic network to roll out its new 4G telecom services.
While the deal is non-exclusive — both firms are free to sign up with other partners — and the size is not too big at Rs. 1,200 crore (US$220 million at the exchange rate of Rs. 54.60 to a dollar), it is indicative of bigger changes ahead. According to a statement by RCom, this deal is "the first in an intended comprehensive statement of business cooperation" between the two firms. The statement adds that there will be "optimal utilization of existing and future infrastructure of both companies on a reciprocal basis, including inter-city fiber, intra-city fiber, towers and related assets."
For Mukesh, telecom has always been close to his heart. He was considered the brain behind Reliance's telecom foray (with CDMA technology) in 2002. But the acrimonious split saw the telecom business fall into Anil's kitty along with gas, power, financial services and entertainment. Mukesh got the flagship RIL. In June 2010, a month after the non-compete clause between the brothers was scrapped, Mukesh created a flutter when he re-entered the telecom arena. Mukesh acquired a low profile firm called Infotel Broadband — the only company to get a pan-India broadband wireless access license — a day after it won the license. (This company was later renamed Reliance Jio Infocomm.)
Mukesh is now getting ready for the big leap – delivering high speed data and voice services over 4G networks. Using RCom's ready infrastructure will minimize the rollout time. Telecom also provides the flush-with-funds Mukesh a great outlet for investing his money. There is not too much scope for this in his petrochemicals business at present. His other big focus area — retail — has also proved to be tough.
Anil, meanwhile, is struggling. The tie-up with his brother allows him to monetize RCom's excess capacity and reduce his debt burden. As of December 2012, RCom has a gross debt of Rs. 38,558 crore (US$7 billion). The shares of RCom rose by 11% after the announcement of the deal with RIL.
Talking to business daily Economic Times, Gartner's research director Kamlesh Bhatia, said: "RIL will be able to reduce time to market for its 4G services as it no longer has to build an infrastructure right from scratch and then wait to see right of way. For RCom, monetization of [its] existing network will be the biggest advantage."
In a note to their clients, analysts Nilesh Banerjee, Vikas Jain and Siddharth Raizada at Goldman Sachs Equity Research, said: "Our scenario analysis suggests RCom's leverage will not change significantly even if the entire Rs. 1,200 crore amount is recorded upfront, but does indicate some impact if RCom earns further revenues from more such agreements." Telecom analysts at Nomura described the tie-up as a "win-win deal" for both companies but added that a "lot more work needs to be done."
It now remains to be seen how the sibling tie-up impacts other players in the sector and the end consumers.