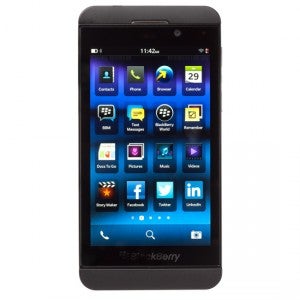 When Blackberry's Z10 phone hit the market last week, the response from consumers was reportedly lukewarm — although no sales figures are available yet, and Blackberry executives told The Wall Street Journal that marketing materials are just now being sent out to carriers and retailers.
The Z10, with its full-size touch screen, has already been marketed in other countries, and will be followed soon by the Blackberry Q10, a device expected to come with the hardware keyboard so popular with long-standing Blackberry fans.
For Wharton marketing professor Peter Fader, both the Z10 and the Blackberry's rollout strategy are disappointing. "I have always been a strong supporter of Blackberry, one of the last people clinging to the ship as it sank," he says. "But with the Z10, Blackberry has totally caved in. They are just cloning what everyone is doing."
Rather than offering a product with all the "shiny social features" that competing phones have, Fader says that Blackberry "should have positioned the Z10 as a productivity device.  A big part of that would be the keyboard." The better strategy would have been to introduce the keyboard phone (the Q10) first, rather than second, positioning it "as a business device that will let you do things as quickly as possible…. By leading with the Z10 instead, Blackberry shows it has given up on its former place in the market."
Indeed, Fader adds, highlighting the return of the keyboard "would have resonated [with consumers] from a business standpoint as well as a personal one." Blackberry missed an opportunity, he notes, "because no one owns that space."
According to Lawrence G. Hrebiniak, Wharton emeritus professor of management, "There's bad news and good (or less bad) news with the Z10. It looks good, is durable and well built, [offers] easy typing and a good camera, but it's short on apps — [Blackberry] has approximately 100,000, about 12.5% of Apple's stable. Blackberry will supposedly get more apps, but will customers bet on this? And it has a relatively high price tag — again, not good."
Hrebiniak describes the U.S. launch as a "yawner," almost a non-event. On the other hand, the U.S. market is "tough and saturated: Blackberry only has a 2% to 3% market share, so one might not have expected big numbers." The company still has international markets to shoot for, including the U.K. — where its market share is 12% vs. 25% for Apple — and it has "Canada potentially backing the home town player. It also has the prospect of good corporate IT numbers. Business adoption, a traditional strength, can help again," Hrebiniak states.
The company soon will announce Q4 sales and profits, notes Hrebiniak. "If the numbers show any positive signs from earlier introductions in Canada and the U.K., things would look less bad for the company, maybe even good. I'm not yet ready to predict Blackberry's doom, but I'd really like to see more good, or less bad, news."
Fader, for his part, suggests that Blackberry's chances of remaining in business are "not looking good." Will they still exist three years from now? "I think they will get gobbled up by someone else. The [acquirer], instead of just folding them into their existing business, will use them as the business line to complement their personal and entertainment line. I think the Blackberry name still has incredible equity and very strong associations. It's just that they are doing everything they can to destroy it."