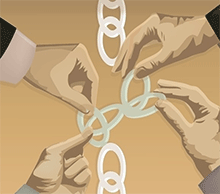 When Chinese workers detained U.S. businessman Charles Starnes for a week in June, it was because he wanted to move some of his operations from China to cheaper India. More significantly, it was symptomatic of Western companies' struggles with rising Chinese wages and a strong renminbi. Recent research conducted by Wharton professor of operations and information management Marshall Fisher and Wharton lecturer Edwin Keh tracks the shifting strategies of Western and Chinese companies in responding to China's eroding status as an outsourcing destination.
Starnes, co-founder of Florida-based Specialty Medical Supplies, had planned to move the firm's plastics business near Beijing to Mumbai, India. He let go of 30 workers and offered them hefty severance packages, but other workers demanded similar payouts. They detained him for a week, freeing him after he agreed to their demands.
Starnes preferred Mumbai because he found cheaper workers there. It helped that the dollar is gaining strength against the rupee, while it is steadily losing value against the renminbi.
China is no longer the cheapest source for many products, causing companies to shift production to other countries "in search of the 'next China,'" according to Fisher and Keh. Since the mid-1980s, China used its low-cost labor to effectively become the pre-eminent outsourced manufacturing destination. But with the double whammy of rising wages and a strong RMB, those Chinese supply chains have reached an "inflection point," the researchers note.
The transformation in Chinese supply chains has evolved almost unnoticed over several years, says Keh. Keh was formerly the chief operating officer and senior vice president of Walmart Global Procurement, and has closely studied those trends. "If you look at this on a quarter-by-quarter basis, you may not see it because it is not a singular event — but certainly, it is a trend," he notes.
In their research, Fisher and Keh identify the major shifts. One, Chinese companies such as Foxconn (the manufacturer of iPhones) and prominent apparel supplier Luen Thai are relocating or expanding operations from high-wage coastal provinces to cheaper locations in interior China, India or Indonesia.
Two, many Chinese contract manufacturers are building their own brands, investing in R&D and innovation, and tapping into China's domestic markets. The Goodbaby Group, a maker of baby strollers based in Jiangsu in Southeastern China, commands 70% of China's juvenile products market, according to the country's ministry of light industry. It has five R&D centers and owns 4,465 patents. "What makes Goodbaby striking is that it is unusual and a harbinger of the future — where China is trying to go," says Fisher. "It competes on innovation."
Daphne, a Chinese maker of women's shoes, began as a contract manufacturer. But over the years, it has built its own brand and a domestic retail network with nearly 6,900 outlets. With 2012 revenues of more than US$1.3 billion, it is the country's leading maker of women's footwear. Keh says that Daphne has "serendipitously first created a great manufacturing capability and then a design capability to move further and further up the value chain."
Similarly, more and more Chinese suppliers and Western brands are now focused on China's domestic market, which is becoming more attractive with rising incomes and a burgeoning middle class. Alongside, Chinese suppliers are investing in lean management techniques to improve productivity and control costs.
Many Western companies that sourced solely from China are finding suppliers elsewhere in a "China + 1 strategy" — or +2, +3, etc., depending on the number of alternative outsourcing locations they add. In the case of Walmart, for example, it is "China + 17," and the firm is also considering sourcing locations that might have been "out of question a decade ago," such as Ethiopia, Myanmar or even the U.S., says Fisher.
India's commerce and industry minister Anand Sharma was in New York City last week to sell business leaders the idea that the country can rival China as a manufacturing center, according to a Bloomberg BusinessWeek article. "But for manufacturers that don't want to rely too much on China, switching to India is no easy task," the article noted. It described the country as "notorious for its lousy infrastructure and inflexible labor laws … [and] an also-ran among Asian countries trying to build up their manufacturing sectors."
To read more about the changes in Chinese supply chains, see: "Chinese Supply Chains Reach an 'Inflection Point' — and Multinationals Recast Strategies" in China Knowledge at Wharton.