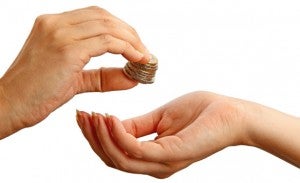 Consider it the antidote to Black Friday, Small Business Saturday and Cyber Monday.  A national coalition of organizations and individuals wants to brand today – the first Tuesday after Thanksgiving – as #GivingTuesday, an opportunity for people to give, not spend, as they enter into the holiday season.
According to the #GivingTuesday website, "more than 2,000 partners have come from all 50 states of the United States, and are either registered charities [a 501(c)3] with a specific #GivingTuesday initiative, or they are for-profit businesses, schools, religious or community groups who have committed to spearhead a project that will benefit at least one 501(c)3."
The initiative's sizeable list of participants ranges from The United Nations Foundation, The American Red Cross and Microsoft to The Economist, Groupon and Mashable, to name a few. The list also includes animal shelters, Big Brothers Big Sisters organizations, performing arts centers, city mayors and New York's 92nd Street Y – a major catalyst behind the movement.
One wonders, however, how successful this initiative will be, given shoppers' stretched budgets, their continuing focus on finding the best deals and the fact that many other charitable groups use this time of year to ask for donations.
Wharton marketing and psychology professor Deborah Small applauds the concept. "In general, #GivingTuesday is a good idea," she says. "Although personal budgets may be constrained due to holiday shopping, charitable giving does go up at the end of the year. This could be due to associations between the holiday season and charitable giving, which I believe is what #GivingTuesday is trying to capitalize on, but it could also be due to tax incentives. People want to get in their donations by the end of the year to get the deductions."
In terms of the recession, "charitable giving has gone down in absolute terms, but not relative to GDP," Small adds. "In other words, people are spending less on charity just as they spend less on most discretionary purchases because they have less. However, they are not becoming stingier – i.e, giving a smaller proportion. This could be because social needs are more pervasive when the economy is weak so people feel a greater desire and responsibility to help others."
According to Katherina Rosqueta, executive director of Penn's Center for High Impact Philanthropy, the period between Thanksgiving and New Year's has "historically been one of most active times of the year for philanthropic giving. So in some ways, #GivingTuesday is not really creating a new tradition; it's highlighting a tradition that has long existed."
What's interesting, she says, is that people's generosity remains alive and well, despite the recession. She points to the fact that donor advised funds – those specifically set aside for charitable giving – continue to increase in assets. Also, perhaps because of the recession, people want to make sure that their giving "actually makes a difference….  If you don't have as much to give, you want to be smart about where [you donate]. This ability to have more confidence that what you are giving really matters is more in the forefront because of the recession."  
Several studies have shown that, for individual donors in particular, "the information they value the most — and that is still not as available as they would like — is information around the effectiveness of their gift," Rosqueta notes, adding that #GivingTuesday "provides an opportunity for people to make the case around what are some of the smartest philanthropic [opportunities] available to donors. Because of this initiative, maybe people will think, 'Okay, today might be a good time for me to make a gift."
The only downside to #GivingTuesday, Rosqueta suggests, would be if "it gets too noisy, so that donors no longer trust the information they receive. If voices like ours — which focus on bringing money to organizations and models that have evidence of impact — get drowned out by marketing, and people then tune out, that would be unfortunate. But the more that organizations are encouraging giving and actually providing solutions for people to consider, the more successful this can be."
Wharton marketing professor Stephen Hoch is somewhat less hopeful. "I think this event is going to be buried by all the worthless media attention on Black Friday and Cyber Monday and so will receive little traction with the media, which is important in getting any attention from the public," he states. "Moreover, I think that the entire Black Friday pseudo-sale is losing steam; it is so over the top at this point. It won't be going away, but it will become more passé, since retailers can only open so early and there can only be so many door buster offers. My own view is that smart shoppers would be better off not shopping this past weekend and waiting for the inevitable markdowns if they really are interested in bargains."
All non-profits struggle with fundraising, Hoch says, "but it is worse since the recession because once people start cutting back on their giving, it is not that easy to get them back into the giving groove." At the same time, he adds, "I see no downside to trying this for either the organizers or the partners."