In the beleaguered airline industry, Dallas-based Southwest Airlines has been something of a bright spot. The largest U.S. carrier in terms of the number of passengers, Southwest has consistently turned a profit through a streamlined service model that emphasizes efficient turnaround of passengers, planes and luggage. The carrier has also managed to differentiate itself from other airlines with fewer fees and a "bags fly free" policy.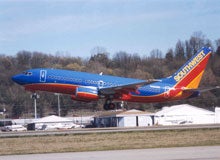 But lately, Southwest has been in the news for all the wrong reasons. After the fuselage of one of Southwest's jets ruptured last week, prompting an emergency landing, the carrier grounded 79 of its planes and cancelled hundreds of flights in order to do additional safety inspections.
The investigation has now shifted from Southwest to the Boeing-made planes — the Chicago-based aircraft manufacturer has said the type of fatigue suspected in the incident happened much earlier in the plane's lifespan than expected, according to Reuters, which also reported that all airlines flying older jets may now be facing more stringent inspections. (A story from Popular Mechanics provides more detail on how the problem with the planes went undetected.)
But where does that leave Southwest? The airline reported today that traffic in March — which wouldn't take into account the April 1 safety scare — was up more than 9% when compared to the same period in 2010. Passenger revenue per available seat mile rose an estimated 8% to 9% from this time last year.
Transparency will be a key to mitigating any damage, according to Wharton experts. When Toyota recalled millions of vehicles in 2010 due to a safety issue, Wharton management professor Lawrence Hrebiniak stressed the importance of the automaker calming customers' fears, noting that uncertainty only makes the situation worse in the long run.
In that case, Maurice Schweitzer, a Wharton professor of operations and information management, suggested that Toyota needed to make a grand gesture in order to hold on to its position in the market. He said offering cash toward a new purchase would be viewed as too self-serving, and straight cash compensation would come across as "cold." "They need to do something warmer, something that demonstrates caring. I think they can recover, but that window is closing. They will have to do something big and fast."
Southwest officials told The Dallas Morning News that four of the five planes found to have tiny fuselage cracks during the re-inspection process are expected to be back in the air by this weekend following repairs.
"Now that our inspections are complete … our focus shifts to completing the repairs and getting the aircraft back into service,"  Mike Van de Ven, Southwest's executive vice president and chief operating officer, told the paper. "Our event, though obviously not what we would want to happen, is ultimately working to improve the effectiveness of 737 inspections and maintenance programs world-wide."