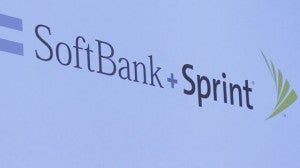 Sprint — the ailing U.S. mobile carrier — may just have been thrown a lifeline. Japan's third-biggest mobile operator, Softbank, announced on Monday that it plans to acquire a 70% stake in the firm for $20 billion — the largest-ever overseas acquisition by a Japanese company, according to The Wall Street Journal.
The benefit for Sprint is clear: an immediate cash infusion. "Sprint has been struggling for years, and this deal should help them accelerate their network infrastructure plans to better compete with AT&T and Verizon," says Michael Sinkinson, a professor of business economics and public policy at Wharton. The deal will also help Sprint maintain its lead over T-Mobile, which it has been battling for third place in the U.S. market (behind Verizon and AT&T), he notes. "However, any turnaround is likely still years away, as both infrastructure improvement and consumer acquisition are slow processes."
But what's in it for Softbank? According to Wharton emeritus professor of management Lawrence Hrebiniak, "The obvious benefits include entry into the large U.S. market and an ability to compete more forcefully as one of the largest telecommunications companies in the world, with 90 million subscribers…. This seems like a good move in an increasingly concentrated industry, and the geographical diversification or expansion certainly seems more strategic than sitting home and doing nothing…. Softbank is expressing some confidence with its move, but the hard part is yet to come" — that is, "[to] capture some advantage in the competitive U.S. market and, by extension, in a larger global market."
Wharton marketing professor Raghuram Iyengar notes that while moving to another mature market is "certainly a risky move" for Softbank, "there is an upside potential … because Sprint has a major share in [wireless Internet provider] Clearwire, which has a lot of 4G spectrum. This, together with the latest push from the FCC to open up more wireless spectrum, will help Softbank establish itself as a major player in the U.S. market."
Gerald Faulhaber, a Wharton emeritus professor of business economics and public policy, agrees. "Sprint is a good target for [Softbank], as Sprint is fairly spectrum-rich. Sprint also needs a capital infusion to expand its network into 4G LTE, where Softbank has solid experience. This will bring high-speed data to Sprint customers and allow the company to compete better against AT&T and Verizon….
"The firm at risk here is Softbank," Faulhaber adds, because it will have to adjust to new regulators and consumer preferences. Still, "Softbank is probably the most 'American' of Japanese companies," he notes. "They did very well as a broadband company by being innovative and aggressive, and customer-focused. In 2006, they bought Vodaphone Japan, and against my expectations, they have been quite successful in their entry into mobile telephony…. If it were another Japanese firm — say, DoCoMo or KDD — I would view their prospects as dim. But Softbank has pulled off real accomplishments suggesting that maybe they can pull this off."
Wharton legal studies and business ethics professor Kevin Werbach agrees that Softbank may have what it takes to succeed. "AT&T and Verizon have consolidated the U.S. wireless market to the point where a no. 3 or no. 4 competitor isn't viable without some differentiation…. In the Japanese market, Softbank has been an innovator in pricing models and packages for broadband and wireless. I expect it will try to be similarly creative here."
One possibility, Werbach says, would be "for some novel partnership between Softbank/Sprint and Yahoo, which is a co-owner with Softbank of Yahoo Japan. Such an arrangement might not work in light of Google's connection to the Android platform, and Sprint's existing commitments to Apple for the iPhone, but it illustrates how new combinations of content and applications with mobile connectivity could produce different competitive options."
The deal has to go through both antitrust and foreign ownership review, Werbach points out, so it will likely take some time before it is approved. If the deal does get approved, Werbach expects the company to introduce "a novel pricing scheme or other differentiation. [Softbank] has a track record of shaking things up in Japan, and I can't see why it would want to own a flagging no. 3 carrier if it didn't think it could change the dynamics of the U.S. market."