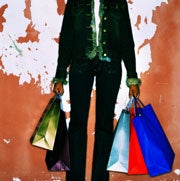 "Fashion Star," NBC's new fashion reality show, debuted to so-so ratings on Tuesday, netting 4.6 million viewers. As a marketing exercise, however, Wharton experts say it's a likely hit for retailers facing ever-increasing pressure to differentiate themselves from the pack and stay ahead of rapidly changing trends.
Designers on the show compete to have their wares purchased by a panel of buyers who represent Macy's, H&M and Saks Fifth Avenue. The buyers bid, auction-style, on pieces they want to carry in their stores. All of the winning pieces are available for purchase the next day. Those designers who don't have garments purchased by the buyers face elimination by "celebrity mentors" Jessica Simpson, Nicole Richie and menswear designer John Varvatos.
"The show rolls a whole bunch of concepts into one," says Erin Armendinger, managing director of Wharton's Baker Retailing Center. "There's the voting aspect of 'American Idol', aspects of 'Project Runway', aspects of reality TV and the idea of immediacy. Retailers are always trying to sell through their inventory, and this is creating built-in, pent-up demand from the night before."
Even though the show isn't an out-of-the-gate hit, so far it seems to be generating sales for the three retailers. On Wednesday, H&M's online store was out of designer Sarah Parrott's mini-dress with a cutout back, although the retailer said on its Twitter feed that the garment, which generated a winning bid of $80,000 on the show and costs $19.95, is available in select stores. The Saks Fifth Avenue website had only size extra small left of the sequined convertible mini-skirts designed by Orly Shani. The buyer from Saks offered $80,000 for the skirts, which sell for $350 each. Macy's website was sold out of Nikki Poulos's long-sleeved caftans, which were purchased for $50,000 and priced at $89 each.
"Retailers are looking for exclusives, and oftentimes the merchandise is in short supply – such as Stella McCartney's and Karl Lagerfeld's lines for H&M," notes Wharton marketing professor Stephen Hoch. "The limited supply reduces the downside risk for the retailer and the designer. This gimmick sounds the same except that it uses amateurs, who are a lot cheaper."
"Fashion Star" is, above all, a marketing exercise for the three retailers, Armendinger points out. "I don't think their financial position in the show is that large. It's not moving the needle one way or another on their inventory." If they were able to come away having discovered an untapped talent with staying power, "that would be like kismet," she adds. "If this person was a phenomenal designer and nobody had discovered [him or her] before now, that would be a very tiny cherry on top of a very large sundae. This is really about marketing to 'X' number of viewers who are watching the show."
While Armendinger wonders if some high-end shoppers might turn up their noses at buying garments at Saks that had been featured on "Fashion Star," she thinks most viewers won't have a problem with the blatantly commercial aspect of the show. "This is authentic — nobody is pulling any punches here. [Selling the clothes is] part of the show."
And in the end, the show's failure to catch on would likely be more of a problem for NBC than for any of the retailers. Says Hoch: "If the show is a flop, it will be gone before anyone notices."