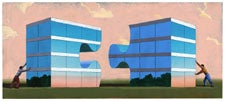 The Neiman Marcus luxury retail chain announced a new partnership this week with discounter Target that will offer a limited collection of items from 24 American designers. According to an article in The Wall Street Journal, the items – ranging from clothing and accessories to leather goods and stationery — will be sold for the same price in both stores, and carry both company logos on their labels.
Neiman Marcus and Target are not two retailers one typically talks about in the same breath. But Wharton experts generally applaud the initiative and suggest it takes advantage of several shopping trends that have gained momentum since the economic downturn.
These days, "you can't pigeonhole a customer into one store or type of retail experience," says Wharton marketing professor Barbara Kahn, who is director of Wharton's Jay H. Baker Retailing Center. "Neiman shoppers may also shop at Walmart or Target. People who stay at the Ritz Carlton for business may stay at Marriott when they are traveling with family. People who routinely shop at Walmart or Target may splurge for a special occasion at Neiman or Saks."
Target has been partnering with many luxury brands "in hopes of continuing their own cache as a design-oriented retailer," Kahn adds. "This partnership with Neiman Marcus follows in that stream. For Neiman Marcus, the idea is to lure customers who may not usually shop in Neiman to come into the store – particularly the younger consumer. Even Neiman's core customer may buy at lower price points from time to time in other channels or retailers."
Wharton marketing professor David Bell notes that shoppers are going to multiple retailers "and might be prepared to spread their patronage across seemingly very different types of stores. Segmentation is no longer completely 'cut and dried.' Target already has been able to attract a clientele that is more upscale than the stores' product mix would imply. I doubt Neiman Marcus would do this kind of deal with J.C. Penney."
According to the Journal article, the new collection will be available December 1 for three weeks at Target and Neiman stores and on-line. Target will be producing the 50 items being offered at a price range of $7.99 to $499.99 (with an average price of $60) and will feature such designers as Diane von Furstenberg, Derek Lam, Rodarte and Tory Burch, the article adds.
All this raises the question of what each store – and the individual designers – will be getting out of this partnership. For Target, the advantages are clear, says Erin Armendinger, managing director of the Baker Retailing Center. "It will bring a high-end feel and great designer brands to their customers – who tend to care about these things: Look at the Missoni deal last year." As for Neiman, "it is hoping to bring in a new customer."
Wharton marketing professor Stephen Hoch sees each retailer "borrowing brand equity from the other. Target borrows luxury and exclusivity from Neiman, and Neiman borrows affordable chic and democratization from Target."
As for the designers themselves, they clearly stand to benefit from this deal. "It broadens their appeal and gets their name/designs better known," says Kahn. "Although there was some reluctance earlier on by some designers, the Target promotions have been so successful and fun, and have not seemed to dilute the appeal of the designers who have participated, so I think people are less risk averse." Hoch notes that "the designers want scale and more exposure beyond the cloistered world of haute couture. There have been many successful attempts like this one and I know of no disasters for the designer."
And for whom does this experiment post the greater risk? "Definitely for Neiman Marcus," says Armendinger. "They risk diluting their brand. The worst thing that could happen is that their customers perceive this as [the store] moving 'down.' On the other hand, in the best case, they will seem hip, young, fresh and a little bit more accessible."
The biggest risk overall, adds Bell, is "brand dilution and erosion of positioning. Each store already has a pretty strong image, along with unique strengths and weaknesses, and the positioning could be disrupted by a 'blending' of the two stores. In addition, the risks and benefits might be asymmetric: Neiman could be seen as 'cheap' – or, in a better case, 'good value', while Target might be seen as 'expensive,' or, in a better case, 'upscale.'"
The Journal article notes that the median household income for Neiman Marcus shoppers is $150,000 to $200,000 versus $64,000 for Target, while the median age is 48 at Neiman versus 40 at Target. Neiman has 77 stores versus 1,763 for Target.
Meanwhile, are there other retailer-combinations out there for whom such an experiment could work? Saks and H&M? or Nordstrom and T.J. Maxx or Walmart? According to Wharton marketing professor Leonard Lodish, "Target is different than the above retailers because Target has used design as part of its positioning since it was started. It will be harder for Walmart or T.J. Maxx to pull something like this off successfully." Kahn, too, cites the design appeal that both chains have typically focused on: "The connection between Neiman and Target is that they both pride themselves on high-end design appeal, and they execute consistently to their own missions. They don't try to be what they are not. That protects their brand when they experiment."
Other "odd couple matchups" are possible, adds Hoch, although Target and Neiman "have a first mover advantage and a novelty effect."
What could Neiman and Target do to ensure that this experiment is a success? "If they start doing things with these items that are not consistent with the designer image, it will mess things up — like sending out coupons or having temporary price reductions," says Lodish. "They also need to very clearly differentiate the Target-Neiman [merchandise] from the Neiman-only [merchandise]."
One possible downside for Neiman, adds Kahn, is if the partnership "encourages too much traffic into their store at a busy time, which might chase away core customers. A temporary leave is bearable, but one hopes [customers] don't translate this into never coming back. The other problem is if [the two retailers] haven't put the collection together well and if it does not appeal to anyone, then there is excess inventory to get rid of."
In the end, says Hoch, "the risks seem very minimal. It is an in-and-out promotion with minimal inventory commitment, like a flash sale. I am sure that they will produce [small] quantities and run out quickly. It is all about the buzz."