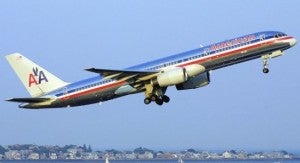 As the old axiom says, what goes up must come down. Today, AMR — the parent company of American Airlines — filed for bankruptcy protection, making American the last of the major U.S. "legacy" airlines to do so. Once the largest airline in the world, the carrier dropped to number three in the U.S. — behind United and Delta — following a wave of mergers in the airline industry in recent years. It has also been plagued by unresolved labor disputes and rising debt as it has fought to compete with low-cost carriers like Southwest.
According to an article in the The Wall Street Journal, in its filing, AMR disclosed that the company had $29.6 billion in debt and only $24.7 billion in assets. The company also announced that its CEO, Gerard Arpey, had been replaced by Thomas W. Horton, the company's president, the Journal noted.
According to Wharton management professor Lawrence G. Hrebiniak, the bankruptcy filing was not unexpected, since all of the other major airlines had already done so. But strategically, it is an important move for AMR's future performance, he notes. "First and foremost, [the filing] is seen by management as necessary to regain a competitive cost structure. Delta's and United's previous filings allowed these airlines to shed billions in costs, putting American at a critical disadvantage." Mergers further reduced their costs via scale increases, "putting American in an even more unfavorable position."
Bankruptcy has also allowed American's competitors to dump costly pension plans. According to The New York Times, Horton today announced that "achieving the competitive cost structure we need remains a key imperative in this process, and as one part of that, we plan to initiate further negotiations with all of our unions to reduce our labor costs to competitive levels."
"It probably is true that [AMR's] management desires more clout over its unions, especially the pilots' union," Hrebiniak notes. "[This] suggests [the company's] desire to gain some power and control its destiny better in the future as it buys new planes and seeks new approaches to achieving competitive advantage." American's plans to purchase new aircraft — 460 new planes — will be "costly, but more efficient aircraft will also reduce costs drastically and eventually realize benefits," he adds.
Could the airline eventually see profitability? "While profitability depends much on the future nature of a very competitive landscape and economic conditions affecting consumers' desire and ability to travel, my guess is that American will eventually see a positive hit to the bottom line," Hrebiniak predicts.
In the meantime, while the airline restructures itself, will consumers suffer any impact? "Probably not, at least no more than they are suffering under current conditions," Hrebiniak says jokingly. American has pledged to maintain its current service levels to continue honoring its frequent flier plans, he adds. "I think they realize that they had better not cause problems for consumers in an increasingly competitive industry where consumers have choices."