The following article was written by Scott A. Snyder, a senior fellow at Wharton, adjunct professor at Penn Engineering, and chief digital officer at EVERSANA; and Sanjay Macwan, adjunct professor at Penn Engineering and chief information officer at Vonage.
ESG has become a main topic of shareholders, boards, and C-suites. Billions in capital have been deployed through Impact or ESG-rated funds. Ninety percent of S&P 500 companies now have ESG strategies, and ESG mentions grew over 300% in investor briefings. Major indices have been created to measure and benchmark ESG plans and activities across companies. Yet how many of these efforts are driving real impact for society?
In a post-pandemic world, "doing well by doing good" is not just a nice aspiration, but also has become an expectation for future employees and customers. In 2023, at approximately 2 billion, Generation Z makes up the largest population block in the world. Nearly 55% of the Generation Z population (approximately 1.1 billion) favor socially responsible and eco-friendly businesses, brands, and products. In this 1.1 billion there are of course current and future consumers, employees, and influencers that all matter to companies and organizations. Companies like Patagonia that openly promote clothing recycling with their customers, or Unilever which focuses on developing products that require minimal water-use for developing markets, are more likely to gain the attention and spending of more educated consumers. Words alone will not be enough.
It's worth noting that ESG must account for environmental protection or reducing the negative impacts on the environment (E), delivering a positive social impact especially for under-represented and marginalized social groups (S), and governing with transparency and fairness (G). Several frameworks have emerged for organizations to measure the performance and impact of ESG-related programs such as the Global Reporting Initiative (GRI), Sustainability Accounting Standards Board (SASB), United National Global Compact (UNGC), and Taskforce on Climate-related Financial Disclosures (TCFD). While these frameworks attempt to drive commonality in how companies communicate their ESG activities driven mostly by investors and regulators, none of them directly measure how innovation efforts are driving ESG impact. This presents an opportunity to rethink ESG as a framework for shaping and delivering purposeful innovation, both in the way companies operate as well as the way they develop new products and services.
"There is no clear framework for organizations to embed ESG priorities within their R&D and innovation efforts."
What's Working and What's Not?
As noted earlier, ESG has gained critical mindshare across all stakeholders — consumers, employees, corporate leaders, governing and regulatory bodies, and of course investors. This mindshare is also directly supported by investment dollars attached to ESG efforts. Bloomberg Intelligence has tracked ESG asset growth from $22.8 trillion in 2016 to $35 trillion in 2020 and projected to $50 trillion by 2025. There are also very tangible product examples that have advanced technology innovation and profits while creating a meaningful and measurable positive environmental impact. Apple in its ESG report notes that the transition to the M1 chip in its 13-inch MacBook Pro reduced the product's carbon footprint by 8%.
However, there still remain significant challenges to fully realize and measure the profitable impact of ESG. There is a lack of standards and benchmarks that can be consistently followed by organizations. At the same time, there is no clear framework for organizations to embed ESG priorities within their R&D and innovation efforts. Investors at times have shown significant skepticism with ESG objectives and requirements, believing that the ESG requirements tend to be too strict and can get in the way of generating maximum returns on their investments.
Thus, many challenges exist that prevent companies from focusing their innovation efforts and resources on these ESG goals, including 1) seeing ESG as a compliance activity, 2) lack of clear ownership and success metrics, 3) no immediate ROI or link to company performance, 4) lack of integration into R&D portfolio planning, and 5) limited employee engagement and understanding.
"What's preventing companies from moving ESG from a periodic reporting activity to a platform for fueling the company's future innovation and R&D efforts?"
A New Framework for ESG-driven Innovation
Imagine if a decent portion of the $520 billion spent on corporate R&D in 2020 was directed toward advancing ESG efforts. What's preventing companies from moving ESG from a periodic reporting activity to a platform for fueling the company's future innovation and R&D efforts? We believe that organizations can take the following steps to unlock this significant and necessary opportunity:
Reframe the company's purpose to incorporate ESG goals and use ESG challenges to fuel employee-driven innovation programs and overall engagement. Microsoft's purpose to "empower every person and every organization on the planet to achieve more" and Best Buy's purpose to "enrich lives through technology" have both inspired significant innovations that have propelled their recent success as well as created significant impact for the communities they serve.
Co-create ESG innovations with lead customers and ecosystem partners and measure ESG innovations coming from external partners. Examples of this include Walmart creating sustainable supply chains with partners and customers, Merck partnering with Zipline for drone delivery of critical medications in remote regions, and Palantir using its data science/AI capabilities to partner with the Polaris Project to combat human trafficking.
Use data and AI to help identify ESG innovation opportunities and predict future business and societal impact. By using data/AI to uncover inefficiencies, biases, or even negative outcomes for various groups, communities, or the environment, innovators can focus on new concepts to overcome these challenges and create positive benefits for the affected groups. Companies like PurpleAir are using smartphone-based environmental sensors to capture and analyze local air quality so communities and governments are more equipped to improve their own environments.
Develop an ESG-driven innovation process and groom ESG venture leaders who can incubate new ventures using emerging technologies to drive impact across people, profit, and planet. (See figure below.)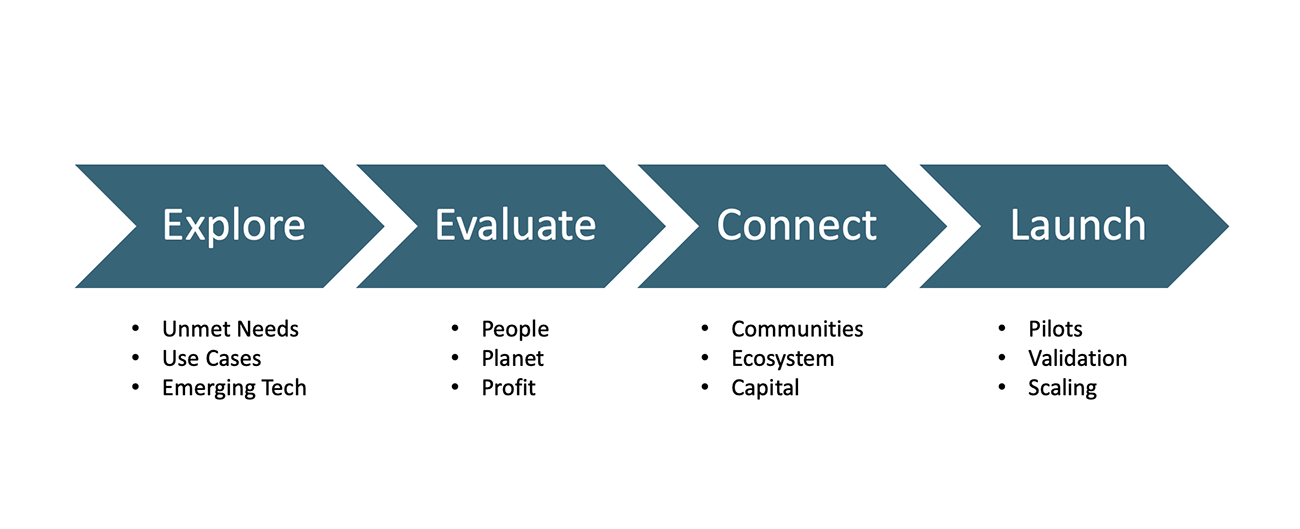 ESG-driven Innovation Process
The steps for this process are briefly described below:
Explore – Work with innovators inside and outside the organization to surface unmet needs, identify specific use cases, and brainstorm how emerging technologies could be applied to deliver step-change improvements over the current state. This may require innovation tournaments and challenges to jumpstart the pipeline of concepts and grow a population of ESG-driven innovators.
Evaluate – Instead of just looking at new innovation opportunities through the classic lens of financial impact/ROI, organizations should be evaluating opportunities against a "triple bottom line" consisting of people (community/social impact), profit (financial return), and planet (environmental benefit). There is an opportunity to leverage impact investing metrics like Impact Multiple of Money (IMM) that combine all three lenses.
Connect – By their nature, ESG-driven innovations usually require significant collaboration to realize their full potential. This means working with players across ecosystems/value chains, community stakeholders, and in some cases capital providers/investors to help fund and share risk. This also means breaking through the typical "command and control" cultures of established companies to enable these other stakeholders to co-create innovations using your organization's assets and reach.
Launch – ESG-driven ventures will likely have a high degree of risk in achieving their desired impact, so it will be critical to take a lean start-up, test-and-learn approach that involves piloting with early adopter communities to validate the triple bottom line benefits before scaling more broadly. This can also help build evangelists for the venture who can help pave the road for success with other key stakeholders in other target communities.
The opportunity to leverage emerging technologies like the metaverse, AI, sensors, and robotics to drive step-change innovations that deliver both business and societal impact has never been greater. This is your chance to rewrite the playbook around ESG from a corporate obligation to an innovation engine for growth that drives benefits for communities, the environment, and shareholders alike. Your future customers and employees are counting on it.