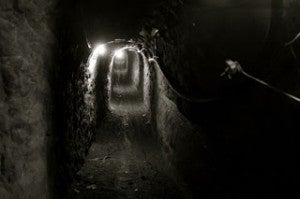 A young Palestinian describes his workplace as a "graveyard of the living" in Miriam Abu Sharkh's short documentary on Gaza's intricate tunnel network. "In essence, death is all [there is] on one's mind down there," the worker, identified as "Hassan," tells the filmmaker.
One family in the film cries as they reminisce about a tunnel worker who died on the job — a forgotten casualty of the five-year-old siege of the coastal enclave sandwiched between Israel and Egypt.
Such scenes from Abu Sharkh's 22-and-a-half minute film, titled Gaza: Tunnels to Nowhere, offer an on-the-ground view of the unseen human cost of the dispute over the territory's future.
Abu Sharkh, a visiting associate professor at the Stanford Center for International Development and a principal research fellow at the London School of Economics and Political Science, has spent her academic career casting a spotlight on discrimination and injustice wherever she finds it. But Gaza remains dear to the 39-year-old German and American-Palestinian filmmaker, because her father, Hosni Abu Sharkh, has been a refugee there since returning to help rebuild his homeland after the Oslo Accords.
Family ties made it easier to work in a territory where citizens remain suspicious of Western journalists. Abu Sharkh, who speaks rudimentary Arabic, adds that the tunnel workers and their families wanted their stories told. "It's ultimately about the siege," she tells Arabic Knowledge at Wharton. "People have heard of the tunnels, but they think [they exist] for smuggling arms. There are over 1,000 tunnels, and I cannot rule out that arms are coming in, but most of the things that [pass through] are just basic necessities like cement and foodstuffs.
"I really wanted to show the political economy of the siege and what people are going through," Abu Sharkh says. "And I wanted to do it in a way that shows those who are the most vulnerable — the people who actually work in the tunnels."
The film offers rare insight into a conflict that escalated in mid-November with bombings on both sides of the border. Gaza's 1.7 million residents have faced a crippling economic embargo since Hamas won control of the territory from the Fatah-led Palestinian Authority in 2007.
Tunneling began with smugglers bringing in contraband, the film notes. But as the embargo took a vice-like hold over the territory, the tunnels to Egypt became a lifeline for the residents there.
According to National Geographic, this literal "underground economy" provides for two-thirds of Gaza's consumer goods, has created up to 15,000 jobs and supplies Hamas with up to $750 million in annual revenues.
The tunnels take four to eight months to build and cost anywhere from $300,000 to $700,000, a tunnel owner interviewed in the film says. He adds that workers in the tunnel once moved between five to seven tons of cement each day, but they have increased the total to almost 250 tons in a 24-hour period.
Abu Sharkh laughs at the suggestion that her film depicts her as something of a female Indiana Jones when it shows her entering Gaza from the Sinai Peninsula through a tunnel. But the tension is palpable as the professor is strapped into a pulley mechanism in order to be lifted up a makeshift shaft to reach her father's homeland. "Sitting at the ends of those tunnels is like pure torture," Abu Sharkh says while narrating the film. "If anybody can teach you about anxiety control, it must be those boys sitting at the end of the tunnel, because there is no oxygen left there."
The underworld work isn't easy. Tunnel workers face threats like being buried alive because of Israeli bombings, or Egyptians pumping gas or water into the warrens. The shafts also are subject to accidental collapses. The Palestinian tunnel owners don't invest much money into safety, either. Dead and injured workers seem nothing more than collateral damage.
"I wanted to show all sides of the model, and nobody comes out of it as the hero," Abu Sharkh says. She points out that the Israeli blockade intended to weaken Hamas, but instead has given the militant political group a monopoly on the import and export of Gazan goods. "Strategically, it makes little sense," she notes.
The documentary has screened at film festivals in St. Louis, San Diego and Washington, D.C. Sharkh and her team hope to get the film accepted into Berlinale this month and the Chicago Palestinian Film Festival in April. TV channel Al Hurra aired an extensive interview about Tunnels to Nowhere in Arabic.
Abu Sharkh also is completing a second documentary, Arab Spring Wedding, that is an extension of her debut documentary. While producing the first film, she held a wedding ceremony in Egypt so that her Gazan family could attend.