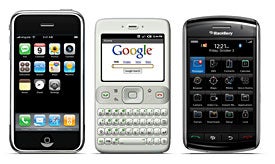 Mobile text messaging offers big opportunities for global marketers, with developing countries providing the best models for text-message advertising, say Wharton experts in response to a recent global Pew Research Center survey of cell phone users.
According to the Pew study, a median of 75% of cell phone owners in 21 countries surveyed say they use their phones to text. Text messaging is more popular among cell phone owners in two of the poorest nations surveyed: Indonesia (96%) and Kenya (89%). The use of cell phones for text messaging is high also in other developing countries like Poland (85%), Lithuania (79%), Russia (75%) and Ukraine (72%). Only 49% of India's roughly 900 million cell phone owners use text messaging, according to the survey. It is also relatively less popular in developed countries like the U.S. (67%), Britain (79%) and Germany (56%). People in wealthier nations use their cell phones more for social networking because of better Internet access, the survey found.
While text messaging offers "a huge opportunity" for marketers, they have yet to figure out a value proposition that doesn't turn off cell phone users, notes Wharton operations and information management professor Shawndra Hill. "Unless [users] have given you permission to advertise to them on their cell phone — either as a free-for-all where everybody can advertise, or in return for some service like a mobile app — [you] run the risk of aggravating consumers." Receiving text messages shouldn't cost recipients anything, she adds.
The best models for using text messages for advertising will come from developing countries, where cell phones have made big inroads, says Hill. In developing markets, text messaging has little or no competition from other forms of advertising, such as online promotion or mailers sent to residences, unlike in developed countries, she points out. "[Those models] will come from companies that really understand the context – [multinationals] that are on the ground there, or local companies."
For example, text messaging has revolutionized how people go about their daily lives in Kenya, says Hill, who visited that country last summer as part of a study group. Mobile apps help cell phone owners in Kenya use their devices for micropayments, health care services and updates on crop prices, among other applications, she points out.
But the growth of text messaging for marketing "will be a much slower process, and there will be many steps backward that accompany the steps forward," says Wharton marketing professor Peter Fader. In fact, he expects "a generational shift" to take place before it becomes popular, especially in developed countries. He points to the example of the slow pace at which Facebook has become a platform for commerce. "Years ago, everyone would have thought that there would be lots of storefronts on Facebook," he says. "It really has been very poor in that regard, because people want to separate out different activities." Facebook is about tracking and communicating with friends, and not about buying and selling things, he notes.
Fader predicts that companies that go "too far or too fast" with text messaging for advertising are likely to have "more of a backlash than any kind of commercial success." Text message advertising is "worse and more intrusive than email, because it alerts you; it stops what you are doing, as opposed to email, where you are more in control."
Many companies are studying ways to effectively use text messages for marketing. But barring specific case studies, experiments or "serendipitous activities," the practice has failed so far to gain widespread acceptance, notes Fader. "I'm going to go out on a limb and say that in many, if not most, of the success stories, text messaging as commerce is going to be pure novelty," Fader says. "Those same activities a year later will not only be ineffective, but also downright negative."
Still, it is important that marketers go through that novelty phase, and learn through trial and error, says Fader. "But there will be a lot or errors with some of those successful trials."