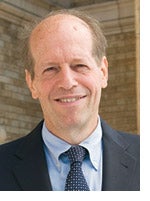 It's been a dramatic time for Urban Outfitters: First, CEO Glen Senk surprised everyone by resigning. Then Urban Outfitters founder Richard Hayne stepped forward to appoint himself to the CEO job. A few days later, Senk announced he had accepted a new job as CEO of David Yurman jewelers. Meanwhile the company stock started a roller coaster ride, falling almost 19% before showing a slight rebound.
This is not the first time the founder of a company has quickly stepped in to replace a CEO who has left or been fired. (In 2007, Michael Dell ousted Dell president Kevin Rollins and took back the CEO reins.) The question is, how well does it work in general, and how well can it work at Urban Outfitters, given that the company has experienced a sales slump in key divisions over the past year?
In addition to the Urban Outfitters stores, the company owns Anthropologie and sells clothing under the Free People label. It launched the BHLDN bridal brand last year. Initially named The Free People's Store, Urban Outfitters was started by Hayne in 1970 in a neighborhood adjacent to Philadelphia's University of Pennsylvania campus.
According to Wharton management professor Larry Hrebiniak, the company's "precipitous" stock decline last week signaled that many considered Senk's departure to be "a huge loss to the company. Truth be told, however, the company under Senk has been struggling," Hrebiniak adds. "Recent sales have been down significantly. Inventory problems plagued the company and [continue] still, forcing price slashes and profit declines. Stock price under Senk underperformed the retail sector by a good margin. Senk was making some headway, but the future certainly wasn't yet rosy. He was okay as a CEO, but certainly not irreplaceable as a leader."
The question is, "Can the founder work his magic and finally get the company on a solid track?" Hrebiniak asks. Hayne clearly is a "stopgap CEO. He has a few years, at most, before a more permanent CEO candidate is found. Still, it can work. He founded the business, so he must know something about the steps needed to prosper in a competitive retail space."
Hayne's success and that of his company will depend on three things, Hrebiniak says. First is his "commitment to the tough task ahead: The 64-year-old leader must live the part and push hard with his reforms. Second, the quality of the top management team working with Hayne is critical, especially in light of Hayne's pro tem position. The company needs day-to-day involvement and commitment, strong hands in operations, inventory control, marketing, product design, etc., to make things work. In my opinion, the top management team is up to the task."
And third, Hayne and his team "must clearly lay out their strategy going forward. Functional plans must be articulated clearly to convince shareholders and analysts that the company sees a path to improved performance. A strong strategic and operating stance will also positively affect buy-in among employees…. There is an upside that Hayne and his team can envision and target."
In a previous Knowledge at Wharton article, Wharton management professor Peter Cappelli commented on the performance of companies where founders come back to take on the CEO job. "The record is mixed," he noted. "Generally, there's a sense that organizations need different skills at different times. And so the people who have founded organizations and have the entrepreneurial zeal and ideas often aren't the people who can take the organization to the next phase.
"Sometimes you need more administrative skills, more management skills," Cappelli added. "Sometimes leadership and zeal isn't enough. On the other hand, the founders have a symbolism that becomes very important when they step back in — in terms of … their ability to sell ideas to the outside audience at different points in time." 
As for Urban Outfitters, Wharton marketing professor Stephen J. Hoch suggests that it "makes sense for Hayne to take over again" because he still appears to be "completely engaged. I am sure that they will bring in a CEO/COO type soon enough, either an internal person or one from the outside." Michael Dell was still very young when he returned to the CEO position, Hoch points out. Because Hayne is 64, "he is not going to be doing the CEO thing for too long."
Observers also wonder whether the company will explain the circumstances behind Senk's abrupt departure and the quick announcement of his new job. So far, no explanation has been forthcoming. Says Hoch: "Should Hayne come clean and explain what happened? I guess that depends on what happened."