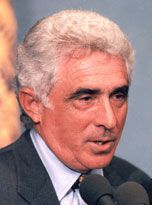 Ted Forstmann, a major private equity dealmaker in the leveraged buyout wave of the 1980s and the first to describe corporate takeover firms as "barbarians at the gate," will be remembered as a pioneer in the private equity business. Yet despite his early success in highly leveraged finance deals, he later became a critic of using junk bonds that he said saddled companies with too much debt.
Forstmann, who died Sunday of brain cancer at 71, founded the investment firm, Forstmann Little & Co. in 1978 and participated in major buyouts of companies including Topps, the baseball trading card manufacturer, Dr. Pepper, General Instrument and Gulfstream. Most recently, he has been focused on IMG, the sports and marketing firm he acquired in 2004 that represents athletes and celebrities including Derek Jeter, Heidi Klum and Tiger Woods.
"Teddy Forstmann was one of the early pioneers of our industry and we will all mourn his loss," says Rob Newbold, managing principal of the investment firm Graham Partners in Newtown Square, Pa. and co-chairman of the Wharton Private Equity Partnership.
Wharton finance professor Bulent Gultekin, who teaches the school's advanced seminar on private equity, says Forstmann, along with others including Michael Milken and the founders of the buyout firm Kohlberg, Kravis Roberts & Co., transformed American business. At the time, he notes, the U.S. stock market was undervalued with a price-to-earnings ratio of 6.
"It was the beginning of the restructuring of corporate America. It speeded everything up and forced companies to be more efficient. For the first time there was a challenge to corporate control from the outside," says Gultekin. Prior to the rise of private equity funds, he adds, companies used cash or stock to acquire one another in more genteel merger agreements.
Under pressure from raiders, managements became lean and focused on core businesses. Globalization was, in part, an outgrowth of the buyout era as managers sought better returns by moving production to low-cost developing nations, Gultekin says.
As the value of leverage buyout deals escalated, Forstmann began to grow concerned about industry excess and called the junk bonds used to finance highly leveraged transactions "wampum" or "funny money." "Every week, with ever-increasing levels of irresponsibility, many billions of dollars in American assets are being saddled with debt that has virtually no chance of being repaid," Forstmann wrote in a 1988 Wall Street Journal opinion article.
Forstmann was golfing with Richard Gelb, the former chairman of Bristol Meyers, in the late 1980s when the two began to discuss the buyout frenzy. Gelb asked Forstmann what all the deal-making meant. "It means the barbarians are at the gate," Mr. Forstmann told Gelb. "And they'll be coming for you next." The phrase was used in the title of the best-selling 1990 book about the buyout of RJR Nabisco.
Despite its early success, Forstmann's firm suffered after making ill-timed investments in telecommunications as the Internet technology bubble collapsed in the early 2000s. In all, Forstmann's firm made 31 investments and returned more than $15 billion to investors, according to IMG.
In addition to his career in finance, Forstmann was a leading philanthropist donating millions to charity. He was an early proponent of voucher programs for education in the 1990s that eventually led to the charter schools movement. Moved by Nelson Mandela's efforts to help orphaned children in South Africa, Forstmann donated $1 million to the cause. He later became the guardian of two South African orphans and raised them in New York.
With an outsized personality, Forstmann was highly visible in the New York social scene and dated glamorous models and celebrities including Princess Diana, who later became a close friend. But it will be for his role as a leader in the early days of private equity that Forstmann will be remembered most. According to Gultekin, "I see the impact of that group as really changing the American corporate landscape."