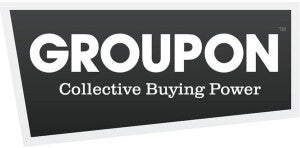 On the heels of LinkedIn's stunning debut on the stock market last month, Groupon — the popular group buying site — has thrown its hat into the tech-valuation ring by officially filing for an IPO on Thursday. According to the Wall Street Journal, the deal "could value the e-commerce company at as much as $20 billion" as well as "test the strength of a tech-investing frenzy."
Last year, Forbes called Groupon "the fastest growing company ever." Indeed, according to the Journal, the company's revenues grew from $30.47 million in 2009 to $713.4 million in 2010. Revenues for the first quarter of this year alone were $644.7 million. At the end of March, Groupon's subscriber base reached 83.1 million — up from 152,203 in June 2009.
The Journal notes that there are some red flags for potential investors — particularly that "the company has been spending a fortune" to fuel its growth. (Recorded losses were $413.4 million last year.) Meanwhile, some heavyweight competitors — notably Google and Facebook — are entering the group buying space, which clouds the company's future.
In a recent interview with Knowledge at Wharton, marketing professor David Reibstein said that the group buying site business model itself is flawed and will ultimately leave customers and suppliers disenchanted — and it could bring ruin to investors.
Given the pitfalls, is Groupon's IPO merely one in a series of pile-on filings from tech companies hoping to match LinkedIn's success? (Internet radio company Pandora and online real estate evaluator Zillow both filed earlier this year as well.) According to Wharton marketing professor David Hsu, "I do think that firms pay attention to market sentiment in order to try to capitalize on the appetite for new listings. Coming off a cold IPO market over the last few years, private firms may be eager to try to tap the public markets in response to recent signals such as the LinkedIn IPO."
Still, Hsu says, Groupon's IPO makes sense in terms of timing — for marketing and corporate development reasons. "My perception is that the company is eager to raise public funds in order to extend its lead against the plethora of competitors in the daily deal space. In addition to funding [Groupon's] rapid growth in sales and marketing efforts, I suspect that the company is trying to develop offerings which will provide additional value to consumers and merchants. For example, the Groupon Now product, which is a mobile platform for offering on-the-fly deals, would seem to be a capital-intensive development effort, but one which might be important in keeping ahead of competitors." He adds that international markets would be a natural place for the company to extend its efforts as well.
Although no date has been set for the IPO, all eyes are sure to be on Groupon both during and after its debut on the market. Adding fuel to the speculation that we are witnessing a new tech bubble, LinkedIn's shares have already dropped about 18% since their initial closing price.