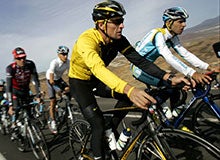 UPDATED
Immediately after cyclist Lance Armstrong announced that he was going to give up his fight against allegations of performance-enhancing drug abuse by the U.S. Anti-Doping Agency (USADA), it looked liked the his reputation — and brand — had a chance of remaining somewhat intact.
The Livestrong Foundation he founded to support fellow cancer survivors saw a significant increase in unsolicited donations. Meanwhile, key sponsors Nike and Anheuser-Busch announced that both would continue their endorsement deals with Armstrong.
Everything changed, however, after the USADA last week released a report showing the wide-ranging scope of Armstrong's alleged drug use, including statements from former teammates accusing him of encouraging his peers to dope as well. Armstrong was stripped of his seven Tour de France titles and banned from the sport for life today by cycling's international governing body, which announced that it would accept  the USADA's report and did not plan to appeal to the Court of Arbitration for Sport. Last week, Armstrong stepped down as chairman of Livestrong, and Nike, Anheuser-Busch and others announced that they would end their support of him.
So what changed? And can Armstrong and Livestrong emerge from the scandal with their reputations and brands intact?
According to Wharton marketing professor Americus Reed, when the allegations initially came out in August, there was enough "psychological wiggle room" for people to separate them from Armstrong's efforts to raise money to fight cancer. Reed is the author of a research paper that explores the role of "moral decoupling" — or when consumers separate out morality from other considerations — in how brands and public figures are judged in the court of public opinion.
"I read a great deal of the [USADA] report and it's unbelievably damning," Reed says. "There was an opportunity for Lance to get out ahead of this, to step out and say, 'I so desperately wanted to help people who suffer from [cancer] that I was drawn into this dark world where we would engage in these activities to achieve success.' But now he is implicated in a very intricately woven tale of plotting and conspiracy to inundate the team with doping activity."
By choosing to stay silent, Reed says Armstrong has made it difficult for anyone to view him as a victim, or to position himself as a remorseful future advocate against performance-enhancing drug use. "You talk about a fall from grace," he notes. "Once I was able to look at the information [in the report] it was almost devastating for me because he was one of my heroes…. Literally yesterday I took all of my Livestrong or Lance athletic wear and I gave it away. It doesn't represent what I thought it represented. I wore the stuff because it was a symbolic expression for overcoming challenges in the face of absolute adversity. But now it's not about that — it's about something much more ugly, much more tainted."
Unless Armstrong decides to reverse his denials about doping and publicly admit to wrongdoing, the best thing for him to do for now is to stay out of the public eye, Wharton marketing professor Barbara Kahn says. "The cascade of falling endorsements is obviously very bad publicity for him, and there does not seem to be much he can do at this point to reverse the negative tide," she notes. "Unlike Tiger Woods, whose endorsement of Nike golfing merchandise made sense from an expert perspective, the association between Lance and Nike was more based on the strength of Lance's character and his attractiveness as a winner and a survivor."
Livestrong took "a step in the right direction" by beginning to distance itself from Armstrong, Reed notes, although for now Armstrong will remain on the organization's board. To continue to survive, Livestrong "needs to really start putting the narrative out there about the victims of this awful disease that takes so many lives and the need to continue to move forward to find new treatments and cures."
The situation is "a cautionary tale for any nonprofit driven more by celebrity marketing than evidence of impact," according to Katherina Rosqueta, executive director of the University of Pennsylvania's Center for High Impact Philanthropy.
"Livestrong was built on the cult of Armstrong's personality," she says. "That personality has now gone from being an asset to a liability. If Livestrong can show meaningful impact for the funds it has raised, then it can probably survive this. If it can't, it won't"
Over time, Reed predicts that Armstrong's image as the face of the charity will fade. "People will always remember he started it, but it's not clear to me right now that there will be a long-term negative impact on Livestrong," he says. "As this goes on for Lance, however, with no statement and continued denial, his brand is going to continue to decay."