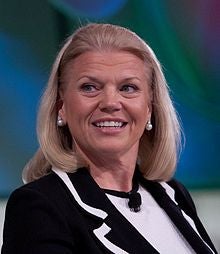 It came as no surprise to many when IBM announced yesterday that Virginia Rometty, a senior vice president with expertise in sales, marketing and strategy, will replace Samuel Palmisano as CEO in early 2012. Although Rometty is not a household name outside of IBM, those in the technology industry speak highly of her management skills — a capability she will need in the challenging years ahead.   
As Wharton management professor Michael Useem puts it: "IBM, under her leadership, will no doubt have to reinvent itself yet again during the coming decade" in much the same way it did under Palmisano during the 2000s and under former IBM CEO Louis Gerstner during the 1990s. Rometty is likely up to the task, Useem adds. "Presumably, she has been very well mentored and developed as an inside candidate. Hewitt Associates and Fortune rank 'the world's best companies for leaders' every two years, and IBM ranked number one in 2009, the last available ranking. Rometty is a product of IBM's leadership engine."  
The challenges ahead for Rometty, 54, who has been with IBM for 30 years, are huge. The company has 400,000 employees and more than $100 billion in revenues. While making sure that earnings from existing lines of business continue to rise, "she also has to ensure that the company "is building the new and innovative lines that will increasingly come to define it in the years ahead," says Useem, who is director of Wharton's Center for Leadership and Change Management. On the global front, "virtually all major U.S. companies are seeking to expand their offerings and presence in the BRIC [countries], and IBM had led the way here, too. More than a quarter of its employees, for instance, are now based in India, and the number may soon exceed 150,000. Rometty no doubt will build on IBM's existing strength in China, India and elsewhere to continue the company's globalization."
According to Wharton management professor David Hsu, "providing business services and data analytics is getting to be a more competitive space, as many of IBM's peers have been reorienting themselves to compete in these domains. Given the quick pace of information technology evolution as it relates to business services, Rometty will [need to] recognize and respond to external threats and opportunities in these markets…. Moreover, since Palmisano is handing off management responsibilities at a time when IBM has been doing relatively well, Rometty may face resistance in deviating too much from the status quo. Hopefully this does not constrain her in exercising bold leadership should the opportunities arise."
Serving the global marketplace was an important part of her prior role in sales and marketing, Hsu adds, and he expects this to continue being a priority in her new role as well. "There can be a virtuous cycle of leadership in research and development and in commercialization of products and services. If IBM can serve more growing markets and interact with varied customers to meet their needs, it will be easier to fund ongoing R&D, which in turn will allow the company to successfully compete in the global marketplace."
Rometty's appointment puts her in an elite category of women running major corporations, a group that includes the CEOs of Xerox, DuPont, PepsiCo and, most recently, Hewlett-Packard, which appointed former eBay CEO Meg Whitman to the top job in September. Press reports on Rometty's new role cite several of her major accomplishments, including her push to purchase PricewaterhouseCoopers Consulting in 2002 — a move that paid off despite the challenges of integrating two very diverse organizations — and her experience in sales and managing client relationships.
Wharton management professor Lawrence G. Hrebiniak clearly approves of the appointment. "Rometty rocks!" he says. "She certainly deserves the job. This has nothing to do with gender: Her performance speaks for itself. She led the growth of IBM as a global services company and as a force serving 170 global markets. She's not well known outside of the technology arena, but this means nothing. IBM almost always chooses its leaders from within based on performance and potential, not on external name recognition, and her track record makes her most deserving of the high post."
Hrebiniak sees Rometty's main challenges as "continuing IBM's growth in the face of increasing competition. Maintaining momentum is key. IBM has the resources and capabilities to grow; the question is where will these resources be focused. Logically, given Rometty's past experiences in sales and marketing, this focus should be global, with eyes on growth areas in China, Brazil and India."
Wharton marketing professor George S. Day suggests that "given the strength of the current strategy, it was wise to pick a respected insider – in contrast to the missteps by HP. I doubt that Rometty will have board issues. Her challenges are to keep growing globally, keep good people and maintain a market-driven culture. Their solutions strategy is sound and hard to copy."