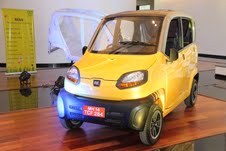 The Indian government has given permission for quadricycles — vehicles that have four wheels but are technically not cars — to operate on city roads. According to a statement issued on Wednesday by the road transport and highways ministry in New Delhi, "a separate category has been proposed to include the quadricycle in the three-wheeler category." This new category of vehicles has been allowed to operate within city limits as commercial vehicles or for the transport of passengers, but not as personal transport vehicles. In other words, it isn't a "car." According to the government, it is a three-wheeler (despite having four wheels).
The model that has been creating all the controversy looks like a car, however. This is Bajaj Auto's RE60 (a codename), which was waiting government permission to hit the roads. "This development resets the rules of the game for the global automotive industry," Bajaj Auto managing director Rajiv Bajaj told India Knowledge at Wharton. "The RE60 will soon be joined by many more similar small, light and low-speed vehicles that will make for a cleaner, safer and quieter world. It presents an opportunity for those who can adapt to change and a hurdle for those who can't or won't." The RE60 comes from what Bajaj calls a "three-wheeler kitchen" – it is developed on three-wheeler technology.
The auto establishment has not been very happy with the Bajaj initiative. Competition at the lower end of the spectrum is always unwelcome, particularly as the principal target may be the two-wheeler user, who is also the potential buyer of budget cars. And Bajaj is already a familiar name.
Passenger car sales have been dropping in India, which makes competition stiffer. The RE60 has been attacked on the grounds of safety. Tweeted Tata Motors managing director Karl Slym recently: "Why? The government and industry have been accelerating efforts in traffic safety & environment, now we consider Quadricycle. Why go backwards?"
For industry watchers, there is a sense of déjà vu. The Nano — the US$2,000 small car from Tata Motors — had faced similar criticism when it was launched. In fact, then Tata chairman Ratan Tata had said that seeing an entire family of four riding precariously on a two-wheeler had inspired the Nano. But the Nano itself was not considered sturdy enough by some critics.
The RE60 gets 35 kilometers per liter. Its maximum speed is 70 kilometers per hour. It has a 200 cc single cylinder engine delivering about 20 bhp of power. It has a carbon dioxide emission of only 60 grams per kilometer. The price is not yet known, but it should compare favorably with the Nano (which has a 624 cc engine).
The industry opposition has kept the RE60 tethered to commercial use. The government had set up a committee which came up with the recommendation announced this week.
But Rajiv Bajaj is not fazed. The RE60 can be exported as a personal vehicle. "Eventually, a four-wheeler will have to be permitted to be owned and driven in a manner that's at least equal to two-wheelers and three-wheelers. A door always opens a crack before it opens wide."