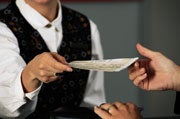 Last Saturday, former Indian telecom minister Sukh Ram was sentenced to five years imprisonment by a Delhi court. His crime: accepting a bribe of $6,000 for showing undue favors to a local firm. He was also fined $8,000.
The judgment against Sukh Ram has been 15 years in the making and relates to a case that dates back to 1996. And it's not yet over; Sukh Ram is planning to appeal to a higher court. The former minister is now 86; few expect him to serve his term.
Ironically, Sukh Ram was taken from court to Tihar Jail No. 1, where another former telecom minister, Andimuthu Raja, is already imprisoned. Raja was telecom minister more recently and has been accused by the Central Bureau of Investigation (CBI) of involvement in a 2G  telecom scam that is estimated to have caused a loss of $40 billion to the exchequer, according to the Indian Comptroller and Auditor General, an official watchdog body that audits central and state accounts.
The day of the judgment against Sukh Ram also saw CBI raids on the offices of Bharti Airtel and Vodafone, India's leading telecom service providers. The searches were related to questions over the allocation of spectrum that go back to 2001 when Pramod Mahajan of the Bharatiya Janata Party, currently in the Opposition, was telecom minister. (Mahajan was fatally shot by his brother in 2006 over a family dispute.) According to the CBI, the loss from this scam was around $100 million.
Much has been written about the telecom scams and corruption. The government has been under siege from a popular movement led by anti-corruption activist Anna Hazare. Decision-making in Delhi has come to a standstill. As industrialist Mukesh Ambani told the plenary session of the World Economic Forum (WEF) India Economic Summit held in Mumbai recently, it is not the Indian economy that has slowed down; it's the government. "The Indian government needs to work at a faster pace," he noted. "Just because we live in a democracy doesn't mean that we should feel paralyzed."
Meanwhile, others have been studying innovative ways to deal with corruption. Infosys chairman emeritus N.R. Narayana Murthy has suggested that corruption be legalized — in part. The idea was first floated by chief economic advisor to the ministry of finance Kaushik Basu, who said that bribe-giving should be made legal, while taking a bribe would continue to be illegal. But how could one practice exist without the other? Murthy, however, has found some logic in the proposal. According to The Economic Times, Murthy said that "If bribe-giving, and not bribe-taking, is made legal, then the bribe-giver shall indeed cooperate with the authorities to expose the bribe-taker." His stand was supported by industrialist Adi Godrej, who noted at the WEF that the idea could work if a cap were placed on the bribe amount.
Meanwhile, a debate has begun about whether corruption within the telecom industry could result in some positive fallout. The sector has been besieged by a number of scams and instances of bribery, but it's also one of India's fastest-growing industries. A 2005 study from a researcher at the Booth School of Business at the University of Chicago titled, "Bad Corruption, Good Corruption and Growth," suggested that "not all forms of corruption are the same…. Some corruption might actually be good." A paper by economists at the University of Queensland in Australia said that "corruption hinders growth through its adverse effects on investment in physical capital, human capital, and political instability. Concurrently, corruption is found to foster growth by reducing government consumption and, less robustly, increasing trade openness."
However, Hemant Kanoria, managing director of SREI Infrastructure Finance, notes that "In recent times, some Indian states — Bihar, Orissa — have sharply reduced levels of corruption. But that does not mean things have become faster."