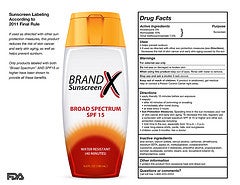 The next time you hit up a drugstore, take a close look at the sunscreen aisle. The products there now may look markedly different this time next year.
Earlier this week, the U.S. Food and Drug Administration issued new requirements for the way makers of sunscreen can label and market their products. When the rules take effect in 2012, the term "broad spectrum" can only be used to describe products that protect against both ultraviolet A (UVA) and ultraviolet B (UVB) light. Sunburn is primarily caused by UVB, but UVA (which is not addressed by current "sun protection factor", or SPF, labels) is a major cause of skin aging and contributes to skin cancer. In addition, any sunscreen that is not broad spectrum, or one that has an SPF between 2 and 14, must carry a warning that the product has not been shown to protect against skin cancer or early skin aging.
The FDA is also telling manufacturers to do away with popular guarantees like "waterproof" or "sweatproof," and with the term "sunblock." The agency says there are no such things, and is calling for sunscreen bottles to instead note how long they are water or sweat "resistant." Finally, the FDA wants to set a maximum SPF value of 50-plus because it says anything higher doesn't provide a significant amount of additional protection.
So how do the rules change the game for manufacturers? What about consumers? Karen Glanz, a University of Pennsylvania professor of epidemiology and nursing who has conducted research on skin cancer prevention, says the guidelines have the potential to "eliminate a certain amount of noise from the marketplace," for sunscreen. Over time, she adds, it's likely that manufacturers may devote fewer resources to making tanning oils or low-SPF products that now must carry a warning about their limited protection.
But she notes that when consumers are choosing a sunscreen, effectiveness is only part of the equation. As an example, Glanz points to a project she worked on that involved offering free sunscreen to swimming pools, and lifeguards in particular. "We found a company that made a [generic] product that they also sold to a branded company. It was an identical product, but the lifeguards wanted the one that said "Iron Man" on it. Even though the products were absolutely identical, they said, 'We prefer that one.'"
Wharton operations and information management professor Katherine Milkman notes that having too many choices can be "paralyzing" for consumers. "The benefit of the new labeling is that it may help us segment and understand the products available, and hopefully make it easier for consumers to select one."
But she also says that while consumers may have fewer products to choose from, they also have to think about more than just SPF when trying to choose an effective sunscreen.  Research shows that "we can hold about seven units of information in our brain at any given time," Milkman notes. "We're making everything more comparable and that's good. But on the other hand, we're also highlighting more dimensions that we say matter."
Milkman thinks the FDA's new rules are still in the range of what a consumer could easily digest, but she could foresee more considerations being added in the future as marketers try to distinguish their products, or if scientists find other sunscreen formulations that could better protect against sunburn and skin cancer. "I think there is some risk when you add more information to labels; it can be overwhelming and consumers don't know how to trade off these factors against each other," Milkman says. "Helping people understand how to make sense of all this new information being thrown at them is a big part of any labeling initiative."
But she adds that "star systems" for nutrition labels or other easier-to-understand grading systems are typically unpopular with many product manufacturers — nobody wants to advertise that they failed to make the grade.