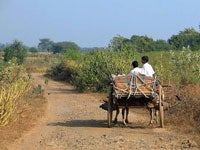 India's rural market is not new to marketers. Almost a decade ago, management expert C.K. Prahalad urged companies consider the revenue potential of bottom-of-the-pyramid customers. In 2007, McKinsey & Co. highlighted the opportunities that exist in rural India in its report, "The 'Bird of Gold': The Rise of India's Consumer Market." In the past few years, many companies have seen these predictions bear fruit, and started banking on the rural economy to provide a cushion for any slowdown experienced in urban India.
Now, a recent study by management consulting firm Accenture titled, "Profitably Selling to India's Rural Customers: Hidden Lessons From the Masters," suggests that more than two-thirds of companies in India are looking to rapidly expand their businesses in rural markets — more firms than any time ever in the country's history.
The report notes that increasing income, higher aspirations and better infrastructure are resulting in a better business environment in rural India. Since 2000, GDP has grown faster in rural India than in urban areas — a 6.2% compound average growth rate (CAGR) compared with 4.7% in the cities. Between 2010 and 2012, spending in rural India was $69 billion, while $55 billion was spent by the nation's urban population.
The report cautions, however, that simply having a presence in rural India is not adequate to attract consumers living there; companies need to acquire "deep customer and market insights" and develop "transformational strategies to master these markets." According to the report, a typical mistake that companies tend to make is to treat rural consumers as a single homogenous market. They also tend to offer the same value proposition to rural consumers as they do to their urban counterparts.
A few months ago, at a Nielsen India conference titled, "Consumer 360 India," held in New Delhi, speakers noted that there are several wrong notions regarding rural consumers. Prashant Singh, vice president of Nielsen India, said: "Contrary to the myth that rural Indians prefer [products packaged in] small packs and sachets, the consumers there actually prefer the large packs, [which] offer value for money."
According to Accenture, three key enablers for reaching, acquiring and retaining rural customers are as follows: adapting organizational structure and leadership buy-in, creating a winning talent management strategy, and using technology to create advantage. Sanjay Dawar, managing director of Accenture's business consulting practice in India, suggests that "the unprecedented speed of change in rural markets also demands unprecedented agility."
Dawar notes that rural markets lack adequate physical and social infrastructure and therefore distribution of services across these markets is very costly and challenging. "Companies expanding in rural markets should therefore focus their geographic reach and more effectively invest in understanding the segment-specific nuances in those areas. They should then prioritize their channel partnership strategy to strengthen the capabilities and reliability needed to reach customers in the last mile."
Those who have been most successful in these markets have gone beyond the traditional selling approaches, Dawar points out, adding that collaboration will also play a critical role. "To expand their reach while optimizing resources, companies will have to pursue non-traditional partnerships, even with competitors, and work with local organizations as channel partners to capture scale opportunities early on."
The report further notes that "companies that have proved most successful in rural markets have helped improve rural consumers' standard of living — by creating jobs, building social infrastructure or providing business opportunities." It suggests that to foster these kinds of improvements, "companies need to align their long-term interests with the community's development to gain its trust and commitment. This alignment builds synergistic relationships based on shared goals and aspirations."