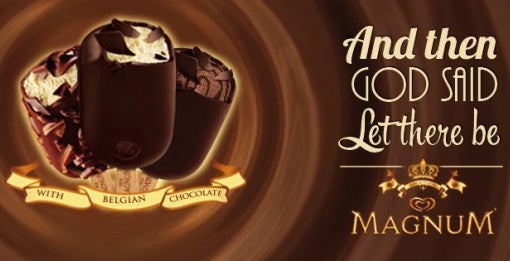 The formidable Indian summer is attracting a host of international ice cream brands. Magnum, Unilever's biggest ice cream brand globally, entered India a few weeks ago. It was followed by the U.S.-based Mini Melts. Ben & Jerry, a wholly-owned subsidiary of Unilever, is also expected to enter India soon. Other international premium brands such as Baskin-Robbins, Häagen-Dazs, London Dairy, and Movenpick are already present in the country and vying for a share of the ice cream segment.
According to New Delhi-based research and consultancy firm Technopak Advisors, India's frozen desserts market (this includes ice cream, frozen yogurt, gelatos and sorbets) was estimated at $450 million in 2009-2010 and is expected to cross $900 million by 2014-2015.
The report "Ice Cream in India," published by Euromonitor International in April, notes that ice cream was among the fastest-growing product categories in packaged foods in 2012. The report indicates that the consumption of ice cream, largely an impulse buy product in India, is growing despite sharp price increases. According to the report, "Indian consumers are willing to pay extra for indulgence and [this] shows the potential for launches of premium ice cream brands going forward."
Take Magnum. While ice cream bars from Indian brands such as Amul and Mother Dairy are available for as little as 20 cents each, Magnum bars cost more than a dollar apiece. According to Geetu Verma, director of foods and refreshments at Hindustan Unilever, Magnum was launched in Chennai due to the city's "affluent consumer base" and targets young adults who are "active pleasure seekers." Sanjiv Sethi, chairperson of the Indo-U.S. Retail Forum at the Indo-American Chamber of Commerce, attributes this trend to "rapid urbanization, the increasing affluence in the burgeoning Indian middle class, and also rising awareness about international brands."
Mini Melts has set up a manufacturing facility in Bangalore at an investment of $3 million. According to Shoeab Salim, managing director of Honeybee Amusements, the holding company for the Mini Melts India franchise, local manufacturing and sourcing will help the brand pass on the price benefit to the consumers. "We should be able to obtain a 12% share of the ice cream market in three years," says Salim. He is looking to create an exhaustive distribution network that includes kiosks, carts and stores spread across streets, malls and theme parks. A Mini Melts "kids café" network is also in the works.
"India's tropical climate makes it a dream destination for frozen desserts," Sethi notes. "Moreover, frozen desserts, including ice cream, is trending into an all-season product, hence enhancing the nation's consumption potential." At present, the per capita annual ice cream consumption in India is a mere 0.1 liter. In New Zealand it is 28.1 liters, and in the U.S., it is 20.8 liters.
Even as new players are making inroads into India, London Dairy and Häagen-Dazs, which up to now were largely only available in select five-star hotels and gourmet stores, are in expansion mode. Häagen-Dazs, for instance, recently opened a flagship store spread over 2,200 square feet in Chandigarh in North India. Baskin Robbins' portfolio now includes Alphonso Gold and Alphonso n' Cream — made from the Alphonso mango, which is largely grown in western India. As the brand's website says, "You cannot get more Indian than this."
Meanwhile, Indian ice cream brands are also now focusing on the premium segment. The Gujarat-based, 80-year-old Vadilal, for instance, has upgraded its production technology to keep up with the competition. "With the entry of many multinational ice cream brands in the market, it became imperative for us to reinvent our strategy," says Devanshu Gandhi, managing director of Vadilal. "Earlier, our share in the high-end ice cream market was almost negligible. The shift in strategy has helped us get an additional 10% in our annual revenues over a period of three years. This year we expect our premium products portfolio to generate $9 million in revenues."
"The Indian ice cream market is growing at the rate of 35% year-on-year and hence makes for an attractive destination for international brands," adds Gaurav Marya, president of Franchise India Holdings, a New Delhi-based organization that assists brands in international and domestic franchise expansion. "The challenge, however, lies in right pricing and cracking the distribution code — something that Indian brands such as Mother Dairy and Amul have been able to do well."