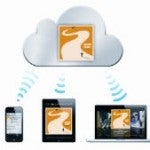 Apple's iCloud begins a new era of cloud wars, in which companies like Amazon and Google vie for what may be a one-time, land-rush opportunity to attract new customers and cement their loyalty. Once a consumer stores their music, photos and other files with a service, it can create a high level of "stickiness."
More directly, Apple's move offers a compelling new level of convenience for gadget users. For those using strictly Apple products, at least, there will be no more relentless synchronizing of gadgets – smartphones, tablets, laptops – to keep music, photos, files and applications up to date on each. Since everything will simply sync wirelessly to a central server warehouse, updating one device becomes an instant update of every other device upon connection.
"It's about time," says Wharton marketing professor Peter Fader. Imagine if when you went to pick up your car at the repair shop the mechanic handed you a wrench and asked if you wouldn't mind cranking on those last few bolts yourself. It's almost as if we've been "brainwashed" into doing the tedious upkeep in synchronizing our electronic devices ourselves. Or, as Apple's Steve Jobs put it in making the iCloud announcement: "Keeping these devices in sync is driving us crazy."
For Fader, "This signals a whole new ballgame for everyone with a vested interest in music, ranging from Apple's direct competitors — most notably Google and Amazon — to up-and-comers such as Pandora and Spotify."
Apple's announcement Monday came a few weeks after Amazon announced its new Cloud Drive and Cloud Player, which allow customers to store music and other content remotely on Amazon's servers. In early May, Google launched its own cloud music-management service called Music Beta. Like Amazon and Apple, Google wants to manage music libraries and deliver them through the cloud. Many observers expect Facebook to jump into the market, too.
There is one big difference with Apple's service, however: Consumers can "match" their entire music collection via the Internet with Apple's catalogue of more than 18 million songs. iTunes Match will scan every song in users' libraries and match them with an Apple duplicate copy already stored on Apple's servers (in the cloud). That eliminates the need to tediously upload a whole music collection, often song by song. Apple alone can do this because of existing agreements with four major record labels. Apple will charge users $24.99 per year for the service, and the record companies earn 70% of that fee.
Some analysts point out that by distributing those revenues to recording companies, Apple in effect will allow them to recoup some fees for songs that had been copied or shared illegally among users.
"It will be fascinating to see how all of these firms will start changing their strategies and tactics to compete in the cloud, but the clear winner is the consumer – who will have a far better music consumption experience than ever before," Fader says.
The move by Apple comes at a time when increasing attention is being devoted to the cloud by corporations that also want to simplify the process of endlessly updating applications that reside on computers and other devices. One of the biggest challenges in that effort involves security.
For more information on the future of remote music storage and players, including insight into the Amazon and Google strategies, see this Knowledge at Wharton story: With Its New Music Storage and Player, Can Amazon Deliver in the Cloud?