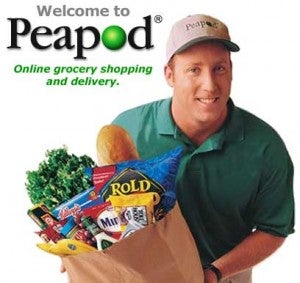 With online grocer Peapod now expanding its shopping and home delivery service to consumers in the Philadelphia, Pa., area, the question again arises: Can this business model work? 
It certainly didn't for Webvan, the Internet venture started during the dot-com boom by Louis H. Borders with the goal of revolutionizing the low-margin, intensely competitive grocery business. Armed with more than $122 million in initial funding from blue-chip companies and backing from top-notch Silicon Valley venture capital firms, Webvan opened for business in the San Francisco Bay area in 1999. After burning its way through more than $1.2 billion in two years, the company declared bankruptcy in 2001.
Peapod, however, is banking on a different market. According to a recent article in the Philadelphia Inquirer, the company is targeting young consumers who are comfortable ordering food on cellphones and iPads. The company is also relying on a logistics system that fills orders in a storage warehouse in Maryland, ships the goods to Philadelphia in temperature-controlled tractor-trailers, then moves them onto smaller delivery trucks and into people's homes.
The company, which started in the late 1980s in Chicago, is now owned by Ahold, a Dutch retailer with several regional supermarket chains in the U.S., including Stop & Shop and Giant Food. Peapod currently offers online grocery shopping in more than 20 locations, including Baltimore, Boston, Chicago, Manhattan, Milwaukee and Washington, D.C.
According to the Inquirer article, consumers in the Philadelphia area will pay $9.95 for a minimum order of $60, $8.95 for orders over $75, and $7.95 for orders that total $100 and above.
"The biggest problem with these home-delivery grocery systems is that they are quite expensive to deliver to a specific home unless there is a lot of demand in a particular area," says Wharton marketing professor Barbara E. Kahn, director of Wharton's Jay H. Baker Retailing Center. "Manhattan has worked well because of the high density of consumers. When a delivery is made to an apartment building and there are several recipients in that building or the one next door, the fixed costs of delivery are covered. On the other hand, when the deliveries are far apart and there is only one at a time, the cost of delivery is a significant factor."
Kahn agrees that young consumers these days have no problem ordering on line or through apps, but suggests that the minimum order of $60, with a $9.95 delivery fee, "seems steep. Also, people frequently think of grocery shopping as many quick, or fill-in, trips a week, rather than a single large major delivery. And [having to] be at home when the food is delivered may prove to be a trouble spot as well."
"The business model is clearly a niche," adds Wharton marketing professor Stephen J. Hoch.  "Home delivery has apparently worked best in New York City. Fundamentally, the issue is that shopping at a supermarket is about as efficient an experience as it gets as long as you have transportation and don't live in a densely packed urban environment where there is limited space for a big store. I don't believe that Peapod's 'new' business model of pulling from a central warehouse rather than stores is any different."
As for how successful Peapod's expansion into Philadelphia will be, Wharton marketing professor Leonard Lodish says "it depends on the cost of getting each new customer and the incremental profit stream from each new customer…. If this is enough of a positive number so that the fixed costs are eventually covered, then the business can be successful. If Peapod runs out of money before the fixed costs are covered, it won't be." Given that Peapod has a well-established corporate owner, he adds, it "may have quite a long leash."
What would help Peapod make a go of it is whether "people love the service and tell their friends," Lodish adds. "That will significantly lower the cost of getting each new customer. And if their logistics truly are innovative and [can deliver] at a much lower cost than the previous attempts, then that will be a big help. Peapod needs to have amazingly effective customer service to delight their customers. If they don't, it will sink them."
Lodish does not see the stagnating economy as a huge barrier for Peapod. "Not in their affluent target market," he says. "The affluent are, in general, still doing pretty well."