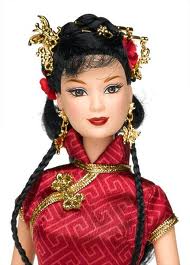 Let us mourn with Mattel. Ironic as it may be on the 100th anniversary of International Women's Day, the Barbie doll, the company's iconic product celebrating womanhood, has suffered a setback in China, the world's largest consumer market. After spending millions of dollars, Mattel yesterday closed its flagship Shanghai Barbie store.
Opened in March 2009 on Barbie's "50th birthday," the Shanghai Barbie store spanned six floors and featured a stairway decorated with more than 800 dolls. It was intended to show that for Mattel – as for other U.S. and European firms with prominent, upscale brands – China was a critical growth market. Sales were slowing in the West, in part because of the slowdown triggered by the 2008 financial crisis. The prospect of serving more than one billion Chinese customers, with their vaunted fondness for western brands, was both alluring and exciting. High hopes and hoopla marked the store's opening, as this 10-minute documentary film about Shanghai Barbie indicates. Clearly, for Mattel, Barbie's future lay in Asia's emerging markets, and Shanghai was just the first step.
After two difficult years –- Mattel lowered sales targets by 30% in 2010 — Shanghai Barbie's failure shows that China's consumer market is more complex and risky than it might appear. Explaining what went wrong, retail analysts point out that while the Barbie is well known in the U.S., with girls and their parents understanding what the doll represents, Chinese consumers had no such cultural connection. "In China, nobody really knew what Barbie stood for," a market researcher told BBC News. He also told CNN International that Mattel might have had better luck if the company had tried distributing Barbie through stores in malls, and built brand recognition, rather than setting up a high-profile dedicated store that included a restaurant, tea lounge, bar and spa.
Mattel's experience is a cautionary tale for executives who believe that just because a brand has wide appeal in the U.S. and Europe, that Chinese (or Asian) consumers will accept it. As a report about luxury brands in China Knowledge at Wharton had noted in 2008, "Opening new retail outlets is an increasingly costly undertaking, as land, labor and construction costs rise across the country driven by competition for sites and by the steady appreciation of the RMB currency. Those higher costs will be passed on to…consumers. [It is unclear if] Chinese buyers will pay these higher prices, or whether the luxury companies can sustain their current pace of expansion as costs rise."
Mattel says closing the Shanghai Barbie store does not mean the company is pulling out of China. Executives are said to be exploring a new "brand strategy." In other words, we might still see millions of Chinese girls playing with their Barbie dolls some day in the future. Now, isn't that a heart-warming image to ponder on International Women's Day?