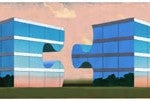 Merger and acquisition (M&A) activity will likely increase in 2012, at least marginally, compared with last year as a general market recovery continues, according to 825 executives who responded to a survey conducted by Knowledge at Wharton and KPMG.
Nearly 70% of respondents said their companies would likely make at least one acquisition this year, compared with just 57% who predicted that in last year's survey. Corporations and private equity firms have more cash available for these transactions than in recent years, say Wharton and KPMG experts. The top motivator for acquisitions in 2012 is a desire for geographic expansion (29%), followed by entry into a new business line (18%) and expansion of the customer base (17%), respondents reported in the survey, the findings of which are detailed in a report titled "Executives Show Guarded Optimism about M&A in the Year Ahead."
"The action in the private equity (PE) space is picking up," says Bulent Gultekin, a Wharton finance professor. Adds Marc Moyers, KPMG national sector leader for PE, "For private equity, we have seen an expansion in geographic reach from many of the PE firms that we serve. Firms are raising funds, opening offices in emerging markets and diversifying their product platforms to give them greater flexibility and opportunity to grow their business."
Finance topped the list of sectors expected to see the most M&A activity (42%), followed by telecom and technology (32%), health care and pharmaceuticals (26%), and energy (22%). Survey participants expect the largest number of deals in North America (62%), followed by China (36%), Western Europe (30%) and Brazil (20%).
Many executives surveyed were more enthusiastic about the deal environment than the general economy. Two-thirds of respondents to the survey, which was conducted in early December, expect an economic recovery to arrive no earlier than the end of 2013. Only 6% expect the economy to recover in the first half of 2012, while 24% look for recovery by year end.
Their mostly upbeat outlook for this year also took into account a difficult operating environment. Nearly half of all respondents said it is more challenging to make accurate financial forecasts today compared with any time in the last 10 years, and 32% said it was significantly tougher. Still, there were concerns that it would not take much to throw things off track, including a combination of recessionary fears and a slow growth environment (53%), uncertainty surrounding the U.S. political climate (28%) and concerns about the ongoing European financial and economic crisis (25%).
On balance, though, respondents felt that most of the potential pitfalls will be avoided. "As the consumer deleverages, businesses get their houses in order and governments deal with their debt issues, the business climate for M&A will likely improve," said Dan Tiemann, Americas transactions and restructuring lead for KPMG.
The survey was produced by Knowledge at Wharton and sponsored by KPMG LLP (U.S.)