Back in 2000, many enterprises wondered whether they needed a head of e-commerce. Today, the question has become: Do you need a chief digital officer (CDO) to drive business in the digital age? But that's not the fundamental question, write Scott A. Snyder and Shaloo Kulkarni in this opinion piece. "By making sure you start with the right questions instead of the answer you will be more likely to put yourself on a path towards being a digital leader," they add. Snyder is a senior fellow at Wharton and a partner, digital and innovation, at Heidrick & Struggles. Kulkarni is principal, digital transformation, at the firm.
Back in 2000, many enterprises were asking the question, "Do we need a head of e-commerce?" The Amazon effect was well underway as global e-commerce sales exploded from $286 billion in 2000 to $2.3 trillion in 2017 and business leaders were waking up to the very obvious talent and knowledge gap in their C-suite. As a result, the e-commerce leader role was created to play catch up and rapidly stand-up the e-commerce channels of their respective companies with varying degrees of success.
But now we see many of those same companies re-integrating their e-commerce businesses with their traditional channels to deliver a more integrated experience for the customer.
Fast-forward to today and we have companies wrestling once more with a similar dilemma. "Do we need a chief digital officer?" And once again, with good reason. Digital is disrupting every industry on the planet with significant payoffs for the leaders and value erosion for the laggards. Yet most companies are failing in their digital transformation efforts. So why not just hire a CDO to get your digital efforts on track? Over one-fifth of companies have already done this, according to a recent PwC study, with 60% hired since 2015. Seems like the logical path.
"Would you want a digital marketing specialist deciding how to deploy AI and robotics in your warehouse or factory?"
But is this the right answer — or are you even asking the right question?
Unlike e-commerce, digital is a complex, moving target that touches every part of your business. Digital is no longer about mobile and web, but includes emerging technologies like AI, blockchain, mixed reality, robotics and the Internet of Things (IoT), and demands a new set of skills and thinking. All of this makes it even harder to converge on a single role to address the challenge.
Would you want a digital marketing specialist deciding how to deploy AI and robotics in your warehouse or factory? Or the architect of your highly scalable, secure transaction platform deciding on the best innovations around a digital customer experience? Probably not, in either case. So should we expect one person or role to be the savior in directing all things digital? Maybe ask the numerous companies that are now replacing or eliminating their chief digital officers after a 12-18 month experiment.
"To see whether the CDO question makes sense or not, companies must first ask a few fundamental questions."
To see whether the CDO question makes sense or not, companies must first ask a few fundamental questions:
Where are you today in defining a digital advantage for your business?
Where is your highest risk in falling behind and getting disrupted? Is it more around the consumer experience or more on the efficiency of your operations? Or both?
Where are you in your own digital maturity in terms of ability to unlock this advantage with talent, skills or ways of working? How much already resides in the business units, or in functions like IT and marketing versus what needs to get built up?
What is the best way to address the gaps to accelerate your own digital advantage? Do you need to reduce the friction to leverage digital to continuously improve your current business or more "air cover" for potentially disruptive digital innovation opportunities?
Is there a need or desire to export new ways of working into the business as part of your digital initiatives?
Choosing How to Organize for Digital
Depending on your answer to the previous questions, there are four basic models you can pursue for your digital organization: digital incubator, digital orchestrator, digital ventures and digital business. These are shown in the figure below.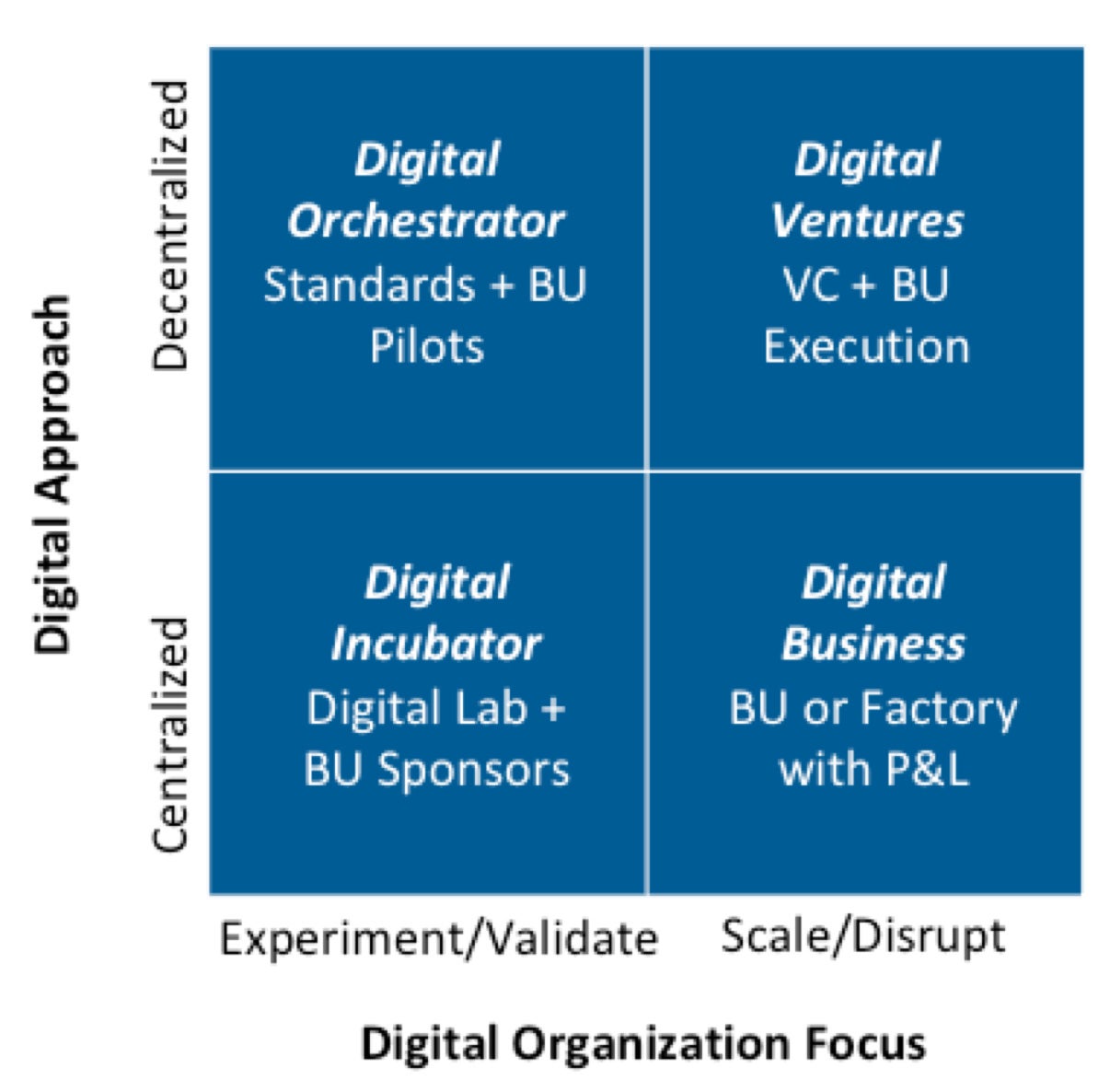 Digital incubator: This model is best suited for organizations that are looking to experiment with emerging technologies and build their digital innovation portfolio with close coordination and sponsorship by the business units. In this model, the digital incubator or lab is used to both drive new innovation as well as new agile ways of working back into the business units, which is why a close partnership is so critical. But the digital lab also needs some level of autonomy and resourcing to allow it to explore areas that may be on the edge of the current business model (horizon 2 and 3) in order to be effective at accelerating learning for the company. Having internal venture leaders that can navigate both the non-linear lab environment and also position innovations back into the core business environment with credibility is a key success factor for this model to have real impact.
The incubator model can be an effective way to provide an outside-in view and demonstrate the "art-of-the-possible" while creating logical pathways and buy-in to scale opportunities within the business. This may require a micro-business unit structure on the core business side to allow these sub-scale ventures to take root before they get subjected to more mature financial metrics. A large percentage of enterprises have chosen to pursue this "bridged" model including companies like Amgen, Walmart and SAP.
Digital orchestrator: This model is ideal for organizations that are fairly decentralized, where business units and geographies tend to have a high degree of autonomy including in digital and innovation investments. In this situation, trying to impose a central digital model could backfire so a more prudent approach is to help the businesses realize the efficiencies gained by having a central team set standards on how digital products are developed, integrated, launched and supported while looking for synergies across business lines and geographies to minimize duplication of investments.  Many CDOs or equivalent leaders are playing this role today. CDOs may also have a significant voice or evangelist role in the overall customer experience, especially in B2B companies, where this has not heretofore been a priority. IT becomes a significant partner in providing the common services, APIs and data access needed to fuel this model. In companies with many product lines or brands, this model could include digital leaders for each product line working to integrate their near and longer term digital portfolios with a central team. Distributed companies like KPMG and P&G are highly adept at this type of orchestrator model.
Digital ventures: This model fits organizations that see an opportunity with digital to not only innovate around the current business but also to move into new market spaces with digital. According to a recent Deloitte CMO study, 87% of business leaders anticipate their businesses being disrupted by digital business models, but only 30% believe they have the leadership or skills to execute on a digital business model. The digital ventures model can address this, but requires greater air cover and commitment than other models from the executive team and board, especially given it is more likely to be viewed as a threat by the existing business units. This model also needs the ability to tap into both internal and external innovation paths based on the fastest path to unlocking value, and may use non-traditional approaches like newer tech stacks or partners.
Finally, this model demands strong venture leaders who can drive towards a successful spin-in or spin-out path, as well as finding the right balance of talent who understand the existing business — mixed with new digital talent who bring fresh perspectives and methods. The opportunity to export new agile ways of working back into the core business is a key objective in this model. Companies like Cisco, L'Oreal, and Mastercard have been very effective at using their corporate venturing capabilities to experiment and launch new digital venture opportunities outside of their core business.
Digital business: If a company determines that the only path to creating a sustainable future advantage is to set up a completely new model around digital, then a separate digital business unit may be the best choice.  This is the equivalent of Verizon Wireless initially being established separately from the core wireline business because it was such a different model (and eventually eclipsed the wireline business in value). BBVA has taken a similar tack with BBVA digital, creating a completely separate business unit to define a new digitally native approach to banking, including a new technology stack, and then eventually integrating this unit back into the overall bank. This path has significant risks, especially if it creates an "us" and "them" face-off between the core business and the new "Digital Kingdom." As a result, it demands much more attention to aligning both sides of the organization to a common purpose and direction where everyone is contributing, including the employees innovating every day to drive profits out of the core business to fund the ramp-up of the new digital unit. This model also provides the opportunity for the digital unit to "export" digital products and solutions, modern technologies and new ways of working back into the core business where it makes sense as GE Digital has attempted to do. But the hurdles can be much higher due to the inherent boundaries the Digital BU creates.
Aligning for Success
In reality, the model you choose for your organization likely will be a combination or these four and also will likely evolve over time as your digital ambitions and internal capabilities grow. You may also require different models for different geographic markets or businesses lines with very different competitive pressures or regulations. Regardless of which model(s) you settle on, you will need to have strong alignment at the board and leadership level on objectives and success criteria to make sure there is no soul searching at the end of the honeymoon period, as too many failed digital organizations have discovered.
And who should lead? We can point to leading digital companies that have successfully stood up significant digital teams under a new CDO as well as those that have integrated digital under the CMO or CIO function. Likewise, there are examples of laggards or failed transformations with different variations of the CDO role and reporting structure. In fact, while Chief Digital Officers are getting much of the attention, there are many roles that could shape or lead digital initiatives for your organization.  In many cases, it depends not only on the model that best fits you, but also on where your talent sits today and your organization's existing governance structure related to customer experience, technology and innovation.
"The question of 'do we need at chief digital officer' and how to organize for digital are very much in play — but they aren't the fundamental questions."
If you choose the incubator model, you will need a digital leader with an experimental mindset balanced with practical implementation skills. The orchestrator model demands a highly collaborative digital evangelist who can help shape digital efforts across the business. The success of the ventures model depends on a leader who can build external innovation networks and navigate pathways back into the business. And the digital business leader must be a skilled "intrapreneur" who can build and scale a new business, but also align with corporate strategy.
Building Digital Dexterity
We also know that finding the right leader, whatever the title, won't ensure digital success. In order to create a long-term digital advantage, organizations must build leaders with digital dexterity, people who can drive successful execution of today's digital initiatives, strategize to define and lead the future digital advantage, and innovate to create the next generation of breakthrough opportunities with digital.
The figure below shows the key elements of digital dexterity and supporting drive factors that determine future success.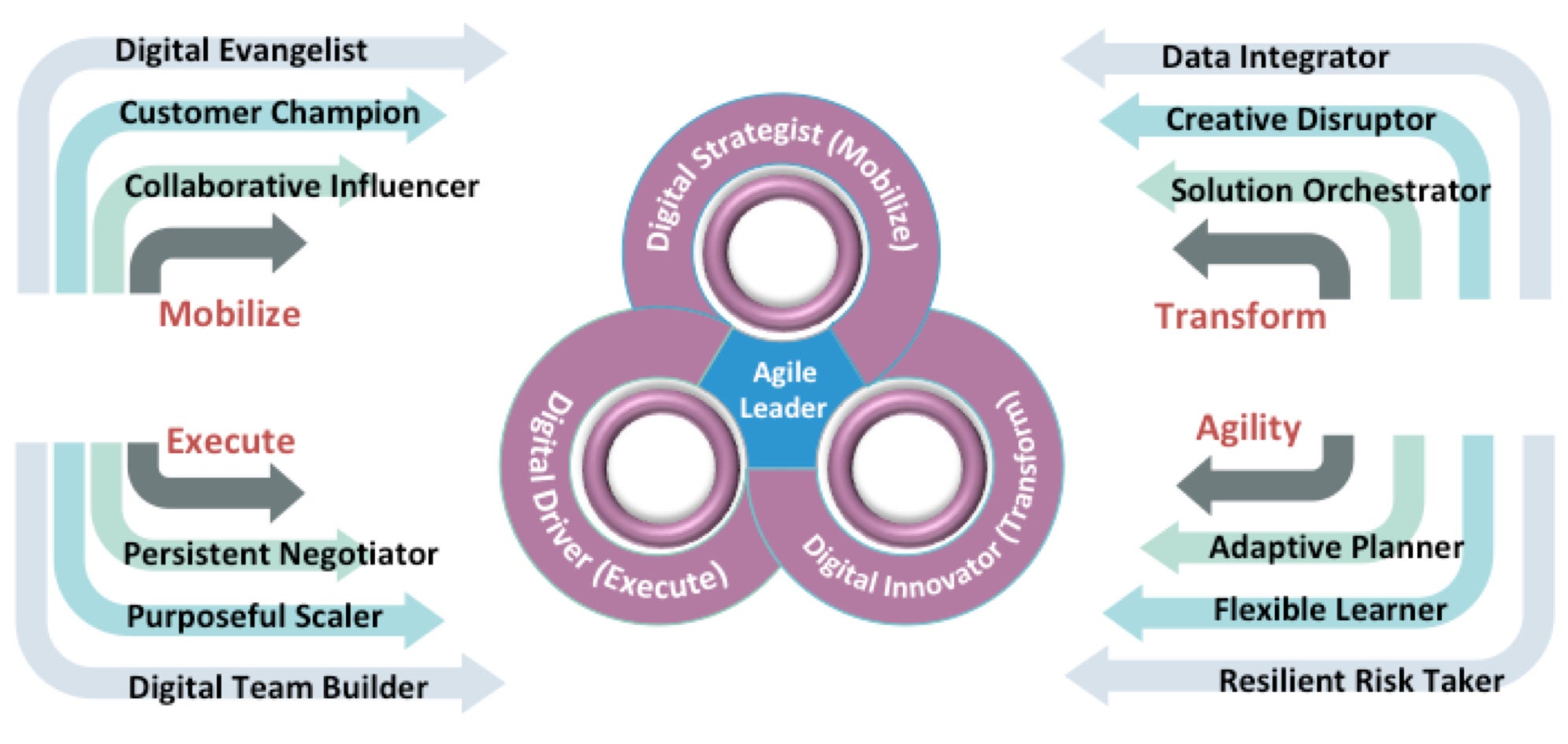 (Reference – Heidrick & Struggles Research, 2018)
Someday, the CDO role may fade into the background like heads of e-commerce as firms move from "doing digital" to "being digital." But at least for now, the question of "do we need at chief digital officer" and how to organize for digital are very much in play — but they aren't the fundamental questions. By making sure you start with the right questions instead of the answer you will be more likely to put yourself on a path towards being a digital leader.