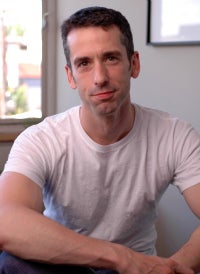 Gay rights activist and syndicated columnist Dan Savage has been praised by many and even awarded a Webby Special Achievement Award for starting an online campaign that went viral.
In 2010, he launched the anti-bullying It Gets Better Project, which encourages people to upload YouTube videos to give hope to gay, lesbian, bisexual and questioning youth who are facing persecution at home and at school. From one video — made by Savage and his partner, Terry Miller — the project has grown to include more than 50,000 recordings, a book of essays, fundraising efforts and affiliated groups in Australia, Latin America, Denmark and Sweden.
But at a talk earlier this week, Savage admitted he's something of a luddite. As proof, he pointed to his decision to use his personal e-mail address as the one attached to the YouTube account he opened to start It Gets Better. "People talk about what a tech-savvy genius I am, but I'm really a moron," he said in a speech co-sponsored by Penn's Center for Public Health Initiatives. "The first indication that [his video with Miller] touched a nerve was when the e-mails started to come in. Anytime anybody liked, friended, forwarded or left a comment, it generated an e-mail. The e-mails were coming in so fast they were cascading down the screen."
Savage was prompted to start It Gets Better by a string of suicides in 2010 by teens who were bullied at school for being perceived to be gay. After writing about the death of Indiana teen Billy Lucas in his column, Savage noticed a comment from a reader who wished she had known Lucas and could have told him that as he became an adult, things would get better. "That comment, that phrase that things get better, really leapt out at me because it is true," he said. "But I would never get an invitation to speak at a high school. I would never get an invitation to speak at a middle school unless the principal really, really wanted to get fired. I would never get to speak to the kid who really, really needs [to hear that]."
Then Savage realized that he was "waiting for an invitation that was no longer required. In the YouTube, Facebook era, I can sit in front of my computer and speak to LGBT youth."
He and Miller recorded the first It Gets Better video in their living room — but no one has ever seen it. After watching the recording, the couple realized they were sending the wrong message. "We got it backward. We spoke for 15 minutes about bullying and spoke for one minute about joy," Savage said. "We don't need to tell LGBT kids what being bullied looks like or feels like. They know that."
They tried again and put the second take up on YouTube with the goal of attracting 100 others to make videos of their own. "We thought if we got to 100 videos, we would have enough [diversity] that any LGBT kid could find someone close to them" in terms of race, ethnicity or part of the country, he said.
Then the e-mail deluge from the first night caused Savage's computer to crash. In five days, 600 people had made and uploaded videos for inclusion on the It Gets Better YouTube channel. Savage and Miller felt obligated to watch each of those videos in its entirety, "so for five days we did nothing but watch videos and sob." When the count hit 600, the YouTube channel had hit its capacity. But then an employee at Google backdated the account to 2004, which increased the channel's capacity to 5,000. Eventually, a separate website was created to house videos for the project, including submissions from President Obama, actor Neil Patrick Harris and singer Ke$ha. "The goal wasn't to have the biggest YouTube channel ever…. The goal wasn't to get videos from celebrities," Savage said. "The goal was to save lives, and we have done that."
As an another example of his lack of tech savvy, Savage noted that he originally planned to ask people who wanted to submit It Gets Better videos to e-mail them directly to him, and he would then post each one on YouTube. The tech team at the magazine he works for advised against that, so instead each contributor had to create a YouTube account, upload their video to that account and then send Savage the link. That meant each contributor automatically received e-mails when viewers liked or commented on their posts. "It opened a conversation between LGBT adults and LGBT youth about their lives."