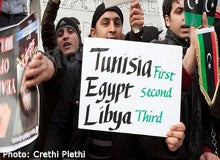 Tunisia recently marked the two-year anniversary since unprecedented uprisings toppled former president Zine El Abidine Ben Ali from his two-plus decades in power. Frustration over widespread unemployment helped catalyze the mass mobilization against the ruling family known to mettle in business affairs. Post-revolution, however, concerns over joblessness continue to weigh on the country.
For Ouided (Wided) Bouchamaoui, there's reason to hope. As president of UTICA, Tunisia's union for industry, commerce and handicrafts, Bouchamaoui represents the private sector and the country's employers. Petite with shoulder-length hair, she's the first woman to occupy the group's top spot. She plays the role of emissary, convincing outsiders to give Tunisia a chance because of the great potential she believes it possesses.
Bouchamaoui acknowledges that stability and security must be in place to move forward and that improvements in investment laws are needed. More must be done, too, to encourage entrepreneurs to pursue start-up opportunities in Tunisia, she says. Bouchamaoui envisions the country, which is belted in by the Mediterranean Sea and the Sahara, as serving as a business gateway for Europe and Africa.
"My main concern … is how to promote … Tunisia, how to say to people, 'Come to Tunisia and invest in Tunisia,' and how to say to Tunisian investors, 'Go ahead and invest, and think of your country — you have to believe in your country,'" she notes.
Under the previous regime, doing business was difficult. Bouchamaoui says if a project became successful, then members of Ben Ali's family would find a way to insert themselves into the venture, as they did across many trades. Now investors should have more freedom to invest "where we want and in any field…. There is no one from the family of Ben Ali that can take some commission on our projects."
Since Ben Ali's fall, the country has faced serious tasks, Bouchamaoui notes. "The reason for the revolution was unemployment, and now we have young people [with college] degrees but they don't find jobs," she says. "We got the most important thing — the revolution. We have to be honest with ourselves to say, we won a big challenge, we had a revolution. Now, we have to work. Now, people need to eat; they need to work. For us, as the private sector, we have to work to create jobs."
Bouchamaoui, who worked in her family's network of businesses involved in the petroleum, finance and services industries, says the role of the government in the new era is maintaining security,  justice and transparency in Tunisia, as well as initiating major infrastructure projects wherein there is also room for public-private partnerships. In addition, she adds that government support of liberal economic policies and modifying the investment code would help to encourage growth.
The union president knows Tunisia is a small market, but her job is to show the breadth of its promise. She notes that Tunisia has good relations with its neighbors and a highly skilled work force, and that thousands of firms already have operations there. Moreover, Tunisia could be an access point for investment in Libya, a larger market that is rebuilding much of its infrastructure and institutions from the ground up, Bouchamaoui notes.
There is also great possibility in new technologies, information systems and high added-value projects, Bouchamaoui says. "Why don't we have a Silicon Valley here in Tunisia?" she asks. Other potential fields include renewable energy — especially in solar power, given Tunisia's plentiful sunshine — as well as service sectors such as banking, insurance and high-level tourism. The agricultural sector also needs to become more industrialized and efficient, and regional handicrafts could be advanced, she suggests. To achieve this, better education and training opportunities must be made available to Tunisian workers, she adds.
As Tunisia writes a new chapter, entrepreneurship could prove to be the vehicle for innovation. But that requires working against the popular mentality of people preferring to work in the public sector, which cannot provide jobs to all of the unemployed, Bouchamaoui notes. "We have to encourage young people to create their own companies. People have a lot of ideas, but they need financing."
For that to happen there will need to be less bureaucracy and easier banking conditions that allow entrepreneurs means to capital, Bouchamaoui says, adding that the private sector can also offer young people training in how to establish a company and connect them to investors to explore how they can collaborate and build on a good idea.
Bouchamaoui's high-rise office looks out onto the rolling landscape of Tunis' blanched homes. While the country is known in the region for having progressive stances on gender equality, Bouchamaoui would like to see more women heading large companies. "Women are capable, but we have to work to push women to be more present and to be more aggressive — because women are able to lead and to be in the front, in the higher position."
Amid the constantly evolving post-revolutionary context, Bouchamaoui is committed to convincing foreign players that her homeland is their best bet. "I have a big job to do … to say to people, 'Come and invest' and to say, 'Please believe in us; believe in this new Tunisia. You can work here without problems.'"