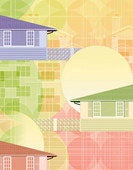 Pressure continues to mount on Fannie Mae and Freddie Mac — the two agencies that dominate the U.S. secondary market for home mortgages — to help prevent more foreclosures. Some experts want to shut down the two agencies in order to make way for private capital. The private sector, however, currently has little appetite for such mortgage risk amid declining home prices and increasing foreclosures.
Wharton real estate and finance professor Susan Wachter says private capital can be attracted only with a set of rules that it finds acceptable, and only if it can provide input into the role played by Fannie Mae and Freddie Mac.
The federal government brought Fannie Mae and Freddie Mac under conservatorship in 2008 to help ride out the housing finance crisis, but "they are failed entities," Wachter told Fox Business in an interview Monday (March 12), adding that 90% of the financing for home mortgages comes from Fannie Mae, Freddie Mac and the Federal Housing Finance Agency. Banks provide the remaining 10%, but they are constrained by regulatory limits on their capacity to lend, Wachter adds.
She agrees with the popular view that the government does not have to be in the business of financing housing mortgages. "We do need to stand down Fannie and Freddie and stand up alternatives," she says. "We need private capital at risk. [But] the private mortgage-backed securities market is zeroed out because we don't have rules of the game that give the private sector confidence itself. There is work to be done." The contentious issues include those related to the pricing of fees for mortgage guarantees, the sharing of risks and losses in case of defaults and the scope of the government's foreclosure prevention programs.
Private capital, for its part, needs to reconcile its lending preferences with those of the market, according to Wachter. Borrowers want fixed-rate mortgages because they feel interest rates could rise, but banks prefer adjustable-rate mortgages. "If we took [fixed-rate mortgages off] the plate today, that could harm the market, unstable as it is already."
Meanwhile, banks have secured some concessions from the federal government as part of a $25 billion settlement they negotiated last month over alleged abuses in foreclosure practices, the Wall Street Journal reports. They reached an agreement on how to structure write-downs and who should bear losses. A part of the settlement money will be used to help homeowners with "underwater mortgages" — a situation in which the market price of their homes has fallen below what they owe their lenders.
Many observers have called upon Fannie Mae and Freddie Mac to write down the principal balances in underwater mortgages, contending that such write-downs will arrest the pace of foreclosures, keep more distressed homeowners in their homes and contain the losses for investors. But Edward DeMarco, acting director of the Federal Housing Finance Agency, which oversees Fannie Mae and Freddie Mac, has resisted those calls. He says Congress has vested his office with the responsibility "to conserve and preserve" the assets of those agencies. DeMarco "is all about the ledger books, in the narrowest sense," wrote Peter S. Goodman in a scathing column last week in the Huffington Post.
According to Wachter, a common strategy should be constructed to overcome such conflicts. "There needs to be consensus," she says. "There needs to be a plan, and the plan has to be one that, over time, will allow more capital to come in."