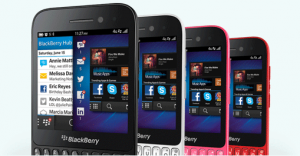 Following a lukewarm reaction to the U.S. launch of its latest device — the Z10 — BlackBerry announced in May that it plans to roll out a low-cost smartphone that uses the latest BlackBerry operating system in emerging markets this summer. The new model — the Q5 — will incorporate the firm's popular QWERTY keyboard and will be available in vibrant colors in select markets in Europe, Africa, the Middle East, Asia and Latin America, according to the company.
Last year, BlackBerry announced it was working with two banks to review its strategic options, leading many analysts to think that the company would sell off all or part of its business. But now, instead of focusing on North America — where its market share is dwarfed by Apple and Android-based smartphones — BlackBerry seems to be hoping that it can replicate the earlier success of its lower-priced BlackBerry Curve in developing economies. Additionally, the firm announced it was planning to offer its popular BlackBerry Messenger (BBM) service on Apple and Android platforms.
Will the strategy work? "I think it will, because the strategy is also being implemented in conjunction with cheaper service plans," says Wharton marketing professor Jagmohan Raju. "As far as the messenger service is concerned, making it available on other platforms will be good for retention" in the North American market, he adds.
Wharton legal studies and business ethics professor Kevin Werbach agrees that at least in theory, focusing on emerging markets makes sense. "There are over six billion mobile phone subscriptions in the world today, so by definition, a huge percentage [of those] are in the developing world. North America is roughly 5% of the global mobile phone market in terms of units, so focusing elsewhere isn't necessarily a crazy strategy. There is already a good deal of regional variation in the mobile industry. Japan, for example, has long been a market unto itself, because it has a big enough internal economy and uses different technical standards."  
However, Werbach has his doubts about how things will play out in BlackBerry's case. "The problem for BlackBerry is that a disproportionate share of the profits in the mobile industry are concentrated at the high end of the market. That's why Apple and Samsung are generating so much cash, relative to Nokia and other manufacturers. And it's hard to see how BlackBerry will beat the low-cost Asian manufacturers at the low end. BlackBerry made its name as a device for power users — investment bankers and others who needed efficient, bulletproof mobile email. It's going to face challenges tackling the other end of the market.   
"The key question is for BlackBerry to explain what it uniquely brings to the table, and how the low-end devices are synergistic with its traditional high-end lines," Werbach adds. "If it can't make that case effectively, a device targeted at emerging markets will just create confusion."