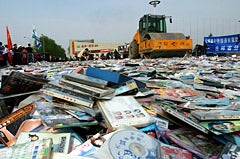 Earlier this year, Chinese authorities lit bonfires in six locations across the country. It was their way of publicly celebrating the midway point of a campaign to crack down on counterfeiting and intellectual property rights (IPR) infringement. Some 5.2 million books, DVDs and other counterfeit products went up in flames. Over the three months preceding the bonfires, more than six million such products had been seized, 4,000 arrests were made and fines totaling $512,000 were imposed, Gao Feng, a top official with the Ministry of Public Security, reported at a press conference in Beijing following an announcement of the campaign.
But these actions have failed to impress David Buxbaum, an American IPR lawyer with Anderson & Anderson who has been working in China since 1972. The first American lawyer allowed to practice in the country after President Richard Nixon's icebreaker of a visit the same year, he is "not a great believer" in government drives like the most recent one. From his office in Guangzhou, a city in the heartland of manufacturing and exporting, he calls IPR infringement in China a "raging epidemic," one that only a major administrative and judicial overhaul can eradicate.
"I live in a middle-class community," says Buxbaum. "Everyone can afford to buy proper discs and movies, but you cannot find one legitimate disc. They are all copies." While the number of infringement cases involving trademark, patent and unfair competition disputes going through China's 95 IP courts has been rising every year — for a total of 13,000 since 2006, according to online IP litigation database CIELA — it's a small dent "considering how endemic IPR infringement is in China," he notes. "If the Chinese government wanted to put an end to infringements, it could in a matter of months…. The capabilities of the Chinese government are enormous."
Not all experts are as skeptical as Buxbaum, but many also voice concerns about China's ability or willingness to get a grip on IPR. Consider these figures on counterfeit goods: According to the European Union, 64% of all fake or pirated items that were seized in the 27-nation bloc in 2009 came from China, a 10% increase from 2008. Among the 118 million articles seized, clothing was the biggest category, but several other types of goods — including medicines, household appliances and cigarettes, along with CDs and DVDs — were also seized.
Meanwhile, another form of IPR infringement — high-level industrial espionage — has become so pervasive across Corporate China that it has also become a global issue. Foreign companies in some sectors are bristling at the thought that they have to agree to transfer technology to their Chinese joint venture partners in order to win government approval for new investments. And China's drive to become a technology powerhouse by 2050 under the recently introduced "indigenous innovation" plan is nothing short of controversial, with domestic companies in several sectors encouraged to reconfigure imported technology so that a "Made in China" label can be slapped on their goods. The goal is to increase the "value add" in seven tech-based sectors, including new energy and high-end manufacturing, from 3% of GDP today to 8% of GDP by 2015, and 15% by 2020, according to Lilly Chung, a Deloitte partner who participated in a panel on the topic during a recent Wharton China Business Forum in Philadelphia. "The shift is huge from 'Made in China' to 'Created in China.' I think the [government's] leadership understands that having the technology is the way to create the next powerhouse in China."
But as a result, "the plan is considered by many international technology companies to be a blueprint for technology theft on a scale the world has never seen before," James McGregor, China expert and senior counselor to APCO Worldwide, wrote in an analysis published last year by the U.S. Chamber of Commerce titled, "China's Drive for 'Indigenous Innovation': A Web of Industrial Policies."
What is arguably just as disconcerting to IPR experts has been the corporate response to such threats. Despite high-profile discussions about IPR infringement in China, experts say actual prevention at many companies leaves a lot to be desired. "The biggest obstacle is that many companies don't think they can do anything [about this issue] in China, which is kind of a self-fulfilling prophecy," says Chris Bailey, a lawyer at Rouse Partners in Guangzhou. He recalls his surprise when visiting a large, well-known foreign soft drinks company in China to find "outdated and underfunded" IP protection, with "very basic, low-cost administrative enforcement to deal with issues, and [a failure] to bring criminal or even administrative cases [to court]." The company "is probably very active in IP management in its home or key markets, but it has not translated that expertise to China."
To read more, see: Black Market Blues: Cracking Down on IP Thieves in China