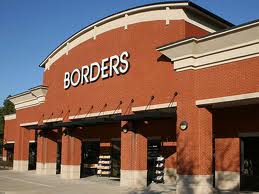 On Monday, 40-year-old book retailer Borders Group announced that it will close its 399 remaining stores after failing to attract enough bids prior to a bankruptcy auction scheduled to take place this week. "We were all working hard towards a different outcome, but the headwinds we have been facing for quite some time — including the rapidly changing book industry, e-reader revolution and turbulent economy — have brought us to where we are now," Borders president Mike Edwards said in a statement.
Borders is the second-largest bookstore chain in the U.S., behind Barnes & Noble. The company filed for bankruptcy in February, and most recently was in talks with Najafi Cos., a private equity firm, in hopes of staying alive. That bid fell through last week. According to The Wall Street Journal, the company may begin liquidating stores as early as Friday, and will likely be out of business permanently by the end of September.
No doubt, urban and suburban book lovers who frequented the company's bookstores for reading material, coffee and social time will be at a loss. But the company's liquidation has significant implications for publishing, too, according to Wharton management professor Daniel Raff, who studies the book industry. Raff answered a few questions today about how Borders' closing will affect its competitors, the publishing industry and the future of the book "superstore":
What does Borders' closing mean for Barnes & Noble and other book sellers?
Borders sold a wide variety of books. Best sellers were said to be a small fraction of the company's sales in its early years — and, in particular, when it went public. But this appears to have changed somewhat in recent years. The closing will certainly benefit Barnes & Noble, particularly for those sorts of titles. But what was special about Borders was the variety, the more specialist taste, and [the ability to find] on the shelves exactly what you were looking for. Independent stores with lots of knowledge of their customers and their customers' tastes will be well-situated to pick up on this business. Anecdotal reporting over the past few months suggests that this is happening in some places to a significant extent.
It won't be bad for Amazon, either, of course. But some people really do like the experience of going to a store and looking around. If there is a convenient independent [bookstore], these potential customers may well end up there rather than online. 
What impact will it have on the publishing industry?
The publishing industry places great value on being able to put its offerings in front of actual customers who are potentially open to making purchases. The disappearance of all, or even most, of the Borders shelf and display space is not a good development for publishers. Neither, to the extent that it happens, is the loss of contact with the Borders clientele. Borders' leaving the business is the loss of a major channel of distribution [for the publishing industry]. I would anticipate scaled-back print runs and staff cutbacks in the short run.
Is this the beginning of the end for large bookstore chains?
At its peak, the book superstore companies put very broadly merchandised retail bookstores into areas of the United States which had never had such service. This was a good thing for the customers.
But it seems that with the rise of Internet booksellers and now e-books, there may no longer be the level of business in many of those stores to cover the necessary costs. It is not clear that the concept of book superstores — bookstores along category-killer lines — is no longer viable. But chains of the scale we saw, and with the [locations] they had, do not seem likely to survive.