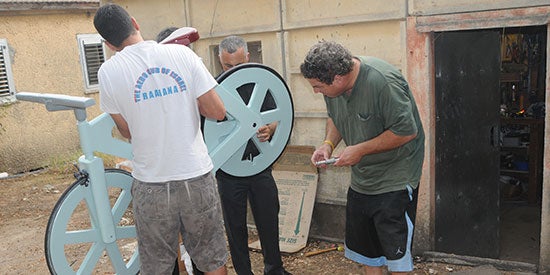 Since the news of Izhar Gafni's cardboard bicycle made international headlines in late 2012, the Israel-based inventor has spent more time fielding phone calls from journalists and hosting television camera crews than on adding the finishing touches to his unique design.
What got people talking is not only the idea that creating a bicycle from the wood pulp material used usually to make storage boxes has challenged what most deemed impossible, but also the fact that such a gadget, which is slated to retail for $20, could essentially change the world by affording millions of people worldwide the opportunity to own a bicycle. The bicycle also incorporates other recyclables — plastic bottles, wood and old tires — for the wheels, pedals and brake mechanisms.
Gafni, an automation expert and head of I.G. Cardboard Technologies, and his business partner, Nimrod Elmish from ERB, an incubation company for startups, have also developed an ecologically friendly business model built on rebates for green products, incentives for commercial advertising and non-profit funding for the manufacturing process.
Israel Knowledge at Wharton interviewed Gafni and Elmish recently about their venture. An edited transcript of the conversation appears below.
Israel Knowledge at Wharton: How did news about your invention spread around the world?
Izhar Gafni: I don't know how this has happened, but we have been quite shocked by all the attention. It has taken me by surprise actually. I was so busy focusing on making a short movie to promote the bike and explain how it was created, that I just kept thinking: "When I finish this, I will be able to move on to do something else." But it has not happened like that at all!
In early September, we published two short articles in Hebrew; one was on a blog for bikes, and the other was on an Israeli website featuring new gadgets. A few days later, I started getting emails from all over the world and then suddenly I got a call from the news agency Reuters, whose reporter came out and did a story. After that, everything else happened so fast! We have not had a minute to even think about how to set up time for proper marketing or public relations, or to work on how to move the product to the next stage, which is to develop a prototype so it can be reproduced easily.
Israel Knowledge at Wharton: Where did the idea for a bicycle made from cardboard come from? How did you know it would even be possible?
Gafni: Well, I am a bicycle enthusiast and about four years ago, I went to the cycling store to buy some parts for my bike. At the store, we were talking about various things, and then someone started telling me that he had heard about a canoe built out of cardboard. It was the canoe that was at the back of my mind when it suddenly struck me: Why not make a bicycle out of cardboard? I started to speak to some well-known engineers and they all said it was impossible to make a bicycle out of cardboard.
I was feeling frustrated, and at home, my wife noticed that I was looking disturbed. I told her about the cardboard canoe and the engineers who said it is impossible to build a bicycle in the same way, and about my desire to do it anyway. My wife said to me, "In that case, you better try it, because if you don't you will drive yourself crazy and drive me crazy." So I did; I was determined.
The other aspect that drove me to develop a bicycle from cardboard was that I love nature. I see it as a way of going back to my roots. I grew up on a Kibbutz (an Israeli agricultural community) and, after working in hi-tech and business for several years, I wanted to get back to nature. I thought about what I could do to harness my love of nature and my interest in traveling. It was about the same time that I had paid a visit to the bicycle store near my house.
Israel Knowledge at Wharton: Why do you think people have become so interested in a bicycle made from cardboard?
Gafni: Despite the fact that people are into new technology, innovation and gadgets that [make our lives easier], I think there is a real need and a craving for things like this that are simple and easy to use. On one side of our world there is technology, but on the other side, people like simplicity and things that make their lives easier. I think it is like a wristwatch. Today, people do not really need to wear a watch because they have clocks on their TVs, on their computers, even on their phones, so why do they need a watch? Yet they still want one because it's simple, looks good and is useful.
Another point is that the bicycle is going to retail very cheaply, which will make it attractive and affordable to a lot of people. People who have bikes are always worried that they might get stolen or lost or broken. With a bike costing not more than $20, even if it disappears or breaks they can afford to buy another one cheaply.
Israel Knowledge at Wharton: How did you go about developing the product and strengthening the cardboard?
Gafni: Before I started working on this project, I had very little knowledge of how to work with cardboard, except for using it to make packages. I spent a long time playing with the material and folding it in different ways like you do with origami. It became very simple; just a few folds and it was double the strength of how the cardboard usually is. Then I added a mixture of glue to get it to the point where we could make the bicycle parts. On the surface — and the element that makes the bicycle a little bit heavier (it weighs 20 pounds in all) — is paint and varnish, the type used on cars. This also protects the bicycle from outdoor elements like sun and rain. We have tested the bicycle in all different elements and it did not break apart.
Israel Knowledge at Wharton: What was the turning point in your development of the bicycle?
Gafni: A few months ago after finishing the first prototype, I — who weighs 250 pounds — and a friend of mine, who weighs a similar amount, both took turns riding the bike. It was an exciting moment and felt like a real triumph that we could both ride on it and it did not crumble or collapse. I have to add that the glory passed fairly quickly, because we immediately had to go back to work on getting the bike ready.
Israel Knowledge at Wharton: What challenges did you face in developing the bike, and how did you overcome them?
Gafni: Every day was a challenge for me while I was developing the bicycle, basically because it had never been done before. There was no point of reference for me to use to check whether I was heading the right direction. Every part of the bicycle that I developed was also a challenge — from the frame and pedals to the wheels.
There were many days when I felt frustrated with the challenge, but I was never willing to give up. Instead, I tried to adopt elements of tai chi, whereby I would try to feel the material, learn its properties, understand its secrets and then find the right way of working within its limitations.
One of the biggest breakthroughs for me was when we took the bicycle to Tel Aviv to make a short film about it. It was then that I realized we might have actually created something that people like and want. When we were in Tel Aviv, people suddenly surrounded the bicycle and told us, "This is what we want." For me, that was the first time I saw a real connection between the bike and people. Until that point I was not sure it would work; because I was so engrossed in its development, it was hard for me to imagine the response of real people.
Israel Knowledge at Wharton: What have you learned from the experience of overcoming such a huge challenge?
Gafni: Well, I am very much enjoying the fact that the bicycle is considered a success — not [yet in regards] to the business side, but it is [generating] huge amounts of positive public relations for me personally as an inventor. But the real lesson is that even though it was a big challenge, we managed to get over it.
Israel Knowledge at Wharton: How do you think this creation will affect bicycle production and other products in the future?
Nimrod Elmish: There are 130 million bicycle designs in the world. In fact, there are more models of bicycles than there are cars, but there is only one that is made from cardboard. This will challenge the rising production and manpower costs of making more hi-tech bicycles in the future.
We believe that we have developed something that will be very cheap to produce and much cheaper, than in the past, for the customer purchase. It is also green in every way because we are using recycled materials — tires, plastic bottles and paper. We plan to harness manpower in countries where the bikes are being manufactured. That will be another way to keep costs down.
I think when people realize that in many countries, by using green production methods they can receive a rebate from the government, maybe they will even convince their own governments to adopt such a method — so we are changing ideas, too. Right now, only a few countries have such a system to entice "green" production.
Knowledge at Wharton: Your business model sounds interesting. Could you explain how it works? 
Elmish: I think we are creating a business model for the future. Essentially, the money is going around in a circle, because we are using recyclables to build the bike, so in many places where we plan to open production plants we will get a full rebate on our expenses.
We are also planning to offer companies the chance to advertise or put their logos on the bike, and then they can have a moving advertising space to promote their goods. In addition, big factories might purchase the bikes for their employees, because then it is easier to transport them to work and, in those cases, they can use the bikes to advertise their own products. In the back of my mind, I have the classic image of a man in Africa running holding a bottle of Coca-Cola up high but now, with this bike, he will instead be riding a bicycle with the Coca-Cola logo on it. Everything could completely change.
We also hope to save production costs by keeping factories local, so that we can receive government grants for the manufacturers or we can provide employment to people with disabilities and the elderly so we can get further discounts. The cost to create the bikes will be very low, but obviously retailers will still need to make some sort of profit. However, they should not be sold for more than $20.
Israel Knowledge at Wharton: How did you come up with your business model? 
Elmish: Part of the idea came from a business model often used in the high-tech world, where software is distributed for free because it includes embedded advertising.
Gafni: I got the idea for the business model originally when I was working in the U.S. for a large corporation. One day, I heard that my boss had bought a field of biogas and bio-diesel for $50 million. I did not understand why he thought that was a sound investment, and I was a little surprised — but the chief financial officer of the company explained to me that even though he paid $50 million for the field, he would get a rebate of $100 million because he'd invested in something that was considered environmentally friendly.
Knowledge at Wharton: What are your plans for the future? What else can this cardboard design be used for? 
Gafni: We are already in the process of developing an urban bike for youths, a pushbike for young children, a women's model and even a wheelchair. As soon as I get some free time, I will start working on the cardboard wheelchair, a project that has been commissioned by a non-profit organization working in Africa. The wheelchair is based on the same principles as the bike. It will weigh less than 20 pounds and use recyclable materials such as tires.
As for production, we have already found a larger working space than the place where I originally created the bike, which is next door to my home on Moshav Ahituv. We hope that the three additional models of the bike and the wheelchair will be ready within the coming months and be available for purchase within a year.
Elmish: We have already begun looking for partners in Africa who can help us determine locations for factories there, and will soon start looking to develop other partnerships all over the world.
Web links
CBS: Israeli inventors create cardboard bicycle
NPR: A Cardboard Bike That Can Change the World (with video)