Knowledge at Wharton's Technology and Media Editor, Kendall Whitehouse, offers this viewpoint on some of the programming sessions at this year's San Diego Comic-Con that abandoned fantasy to focus on real-world issues. 
Comic-Con International: San Diego, the pop culture fan fest that fills the Southern California city each summer, celebrates the fantastical worlds of superheroes, science fiction, and fantasy. Many of the event's 130,000 attendees dress in the garb of their favorite fictional character. Presentations by movie studios in the Convention Center's 6,500-seat Hall H explore other planets and future worlds.
Although fantasy pervades, the concerns of the real world were also evident throughout this year's Comic-Con. While many of the nearly 150 programming sessions explored fictional realms from Krypton to galaxies far, far away, several panels tackled current challenges on our planet.
Some sessions took a distinctly practical bent. For cosplayers — fans who don costumes of their favorite characters — there were useful presentations like "Silicone vs Foam Latex … What to Use." A number of sessions focused on careers within the arena of popular culture, such as "How to Build a Geek Brand (And Get Paid!)," "How to Be a Nerd for a Living: Breaking into Careers in Geek Culture" and "Full-time Creative Work on a Part-time Schedule."
As with last year (see "Science — No Longer Just Fiction — at Comic-Con"), a number of chosen topics focused on real science more than science fiction with panels like "Moonbase and Beyond: The New Push to Deep Space" and "Alien Worlds: NASA's Quest for Life." Last year's Futurism and Tech Pavilion returned, now renamed Future Tech Live!.
Several programming sessions targeted contemporary cultural issues around diversity and inclusion.  The description of "The Black Panel" described it as "a discussion on the state of Black pop culture in the age of Trump, Me Too, This Is America, and the national anthem protest." Also featured were panels such as "Diversity and Inclusivity from the Perspective of Libraries/Publishing/Authors in the Industry," "#METOO to #TIMESUP: An Action Summit for Comics," and "Comics, Costumes, and Cultural Appropriation."
The Real World Intrudes
This year's Comic-Con played out against a background of social controversy. Popular moderator Chris Hardwick was removed from the presentations he was scheduled to host following allegations of emotional and sexual abuse by a former girlfriend. After Guardians of the Galaxy director James Gunn was summarily fired from directing the third film in the franchise when tasteless and offensive tweets from years earlier were brought to light by right-wing media groups, an anticipated announcement at the Sony Pictures panel (hinted in an earlier tweet by Gunn) never appeared.
"Several programming sessions targeted contemporary cultural issues around diversity and inclusion."
During Comic-Con itself, some of the programming sessions tackled difficult issues from history and explored their relevance for the present.
"Art During the Holocaust" examined the impact of both propaganda and documentary art during the Second World War. Ninety-year-old Holocaust survivor Ruth Goldschmiedova Sax, who endured confinement at three concentration camps, recalled seeing degrading images of Jews in the German tabloid Der Stürmer. "I remember being scared, wondering, 'How could this be?'" Yet, it was something she knew she could not run away from. "Being Jewish was a way of life," she noted.
Sandra Scheller, Sax's daughter and author of a memoir about her mother, Try to Remember: Never Forget, discussed the impact of diverse Holocaust-related art during the Second World War.
She displayed examples of Nazi propaganda demonizing the Jews and blaming them for the war. As her mother noted, the "Propaganda images are difficult to see at times. But I am here now, and I am free…. I can say, this is part of my past."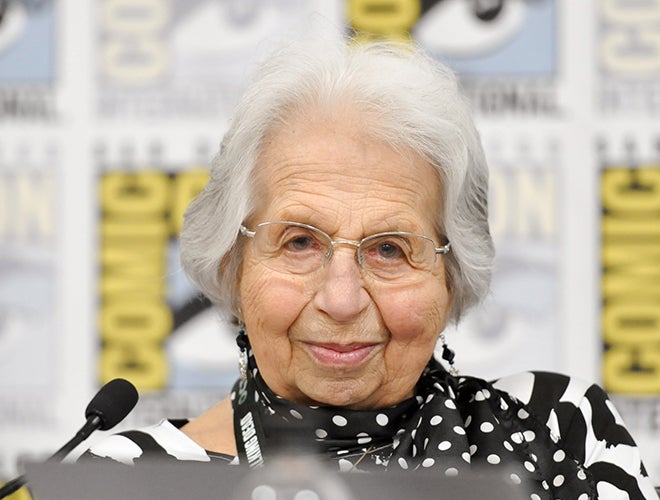 "Propaganda was a very powerful tool during World War II," noted Esther Finder, president and founder of Generations of the Shoah. "The Nazis used it successfully to promote their agenda and demonize their enemies." She added, "America used it, too."
Along with the examples of Nazi propaganda, Finder displayed examples of U.S. propaganda with caricatures of America's enemies, as well as artwork inspiring patriotism and emphasizing the values for which America was fighting.
Also exhibited were contemporaneous illustrations by soldiers documenting Nazi atrocities that may have otherwise gone unrecorded.
The panel explored the evolution of Nazi ideology from the Aryan Übermensch, or superman, to the Superman comic book character created by Jerry Siegel and Joe Shuster, two sons of Jewish immigrants. "The Aryan superman was an amoral brute and a bully," Finder stated. "American's Superman was moral, kind, sensitive and helpful."
Fighting for Legal Rights
Each year at Comic-Con, the Comic Book Legal Defense Fund (CBLDF) offers a slate of a half-dozen sessions on issues of censorship and free speech within the world of comic books and graphic novels.
Some of this year's panels focused on earlier periods of history. "EC Comics: Fighting for Change!" looked at the rise of EC Comics — the "original social justice crusaders" as characterized in the session's description — which flourished from 1950 to 1954.
In April 1954, the Senate Judiciary Subcommittee to Investigate Juvenile Delinquency focused its attention on comic books' influence on the youth of America. EC Comics, known for its horror, science fiction and crime titles, was a particular target of the investigation. In October 1954, the Comics Magazine Association of America, a consortium of the leading comics publishers, established the Comics Code Authority, an elaborate set of guidelines limiting the content of comic books. The public outcry from the hearings and the strict guidelines of the Comics Code marked the end of nearly all the EC Comics titles.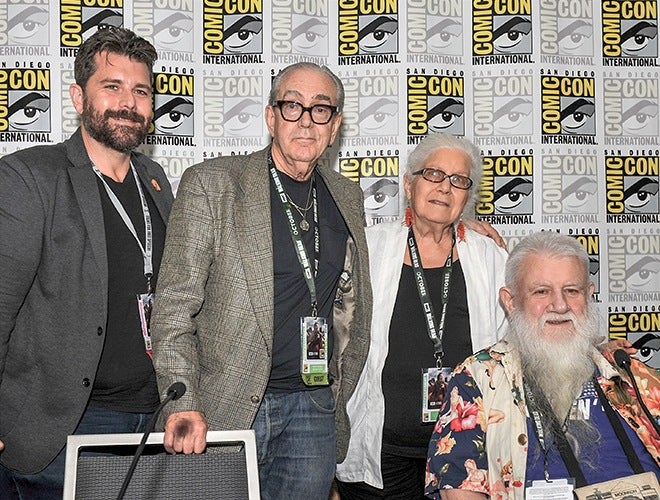 Another CBLDF session, "Outlaw Art: The Trials of Underground Comix," surveyed the landscape of independently published "underground" comics more than a decade later.
During this period, the retailers who sold these comics were vulnerable to arrest for carrying underground comics. In November 1968, Berkeley bookseller Morris (Moe) Moskowitz was arrested for selling allegedly pornographic materials, including Zap Comics and other works by artists Robert Crumb and Ron Cobb.
Each year the CBLDF presents the "State of Censorship," which features "current censorship challenges in the U.S., including new bills attempting to regulate internet use, and the abundance of local challenges to comics addressing diversity and equality."
CBLDF Executive Director Charles Brownstein declared that the content of this session is "depressingly similar" each year amid the continuing challenges to comic book content from outraged fans and governmental regulators.
The Present Informed by the Past
The shadow of the present was apparent throughout these historical panels. Near the end of "Art During the Holocaust," panel moderator Igor Goldkind recalled asking his father how the highly civilized, cultured Germans could have committed the crimes of the Holocaust. His father explained, "Because they're just like us. There is no 'other' that does these crimes. They are people like us" who, through propaganda and lies, become "manipulated into committing the most heinous crimes can you could imagine." The lessons, Goldkind stressed, are not just about the past, but they also need to inform the present. He recalled his grandfather telling him, "Remember … the Nazis never disappeared, they just changed their uniforms."
"Repression is coming again," observed underground comics artist Robert Williams at the close of "Outlaw Art: The Trials of Underground Comix." Freedom of speech is "something that always has to be fought for." Williams saw history repeating itself in the current political climate. "We're slipping back into the dark ages," he warned. "All the people in this room will … set an example for the young people." He concluded, "So, things will work out."
In the mammoth Hall H, during the Q&A for the forthcoming film Fantastic Beasts: The Crimes of Grindelwald, a young fan asked the on-stage cast, "If you could use your magic in the real world for good, what would you do?" Over in some of the smaller rooms at Comic-Con, it was apparent that change would come not through magic spells, but by remembering the lessons of the past and applying them to the future.
For more updates on Comic-Con, see Whitehouse's blog, On Technology and Media: Reports from Comic-Con.