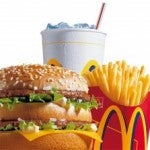 It's enough to give management at McDonald's heartburn: On Monday, the company announced that its second quarter earnings fell 4.5%, reporting a profit of $1.35 billion compared with $1.41 billion a year earlier.  
McDonald's is the world's largest hamburger chain — it has 33,000 stores operating in 119 countries — and is viewed as a bellwether for the global fast food industry. Until recently, it also was seen by analysts as recession resistant, given the nature of its offerings — value-priced meals. What went wrong? According to Larry Hrebiniak, an emeritus professor of management at Wharton, the firm is suffering from the same conditions that "are plaguing other companies around the globe: a weakening global economy, especially in Europe; a stronger dollar worldwide, which in McDonald's case cut an estimated seven cents a share from earnings; rising commodity costs; and increasingly frugal customers, not only in Europe but in Asia, Africa and the Middle East as well."
Given those factors, and the likelihood that the recession will continue, the company does have cause for concern, Hrebiniak notes. However, he adds that sales in the U.S. during the same period were up 3.6%, and "investors are still hot for what McDonald's is doing, with some Wall Street analysts espousing a 'buy' rating for the dividends-producing machine. Other food chains are also feeling the pressure, and McDonald's is holding fast against the vast majority of them. The company shouldn't relax, but it shouldn't panic, either."
The chain has made recent efforts to appeal to a wider array of customers, an article in The Wall Street Journal points out. In early summer, McDonald's introduced a new Cherry Berry Chiller smoothie, and it launched a "favorites under 400 calories" campaign to attract more health-conscious consumers. And for the cost conscious, it plans to introduce value menus in Japan and Australia, while keeping prices as low as possible in other regions.
It also has expanded its specialty coffee drink offerings to lure customers away from higher-priced coffee houses, like Starbucks. According to one analyst, higher margin specialty drinks now account for 10% of McDonald's sales in the U.S.
But Hrebiniak is not so certain that McDonald's should stray very far from its roots in an attempt to capture more consumers. "What it should do is basically stick to its knitting and continue to do what it has always done best — control costs and provide low-priced meals that customers enjoy. A real danger would exist if the company tried to expand products in an attempt to be all things to all people. Selling high-priced coffees and exotic drinks may be exciting in the short term, even profitable, but the danger over the longer haul is that too many new, exotic products may eventually detract from the McDonald's brand and put the company in increased competition with other established, well-known companies, such as Starbucks. Product variety is nice, but excessive product diversification also holds dangers."
Meanwhile, the appeal of McDonald's popular, longstanding offerings like its Big Mac probably won't wane any time soon. Hrebiniak himself notes that he plans to eat one today.