By most Wall Street measures, Comcast is overpaying for its acquisition of Sky, the British satellite TV, broadband and mobile services provider. When the U.S. cable giant announced last month that it had won the auction for a controlling stake in Sky by bidding $40 billion, shares of Comcast fell by as much as 8% intraday amid a slew of analyst downgrades. It now might have to pony up more money to buy Fox's stake in Sky to get full ownership. "It's an extraordinary price," noted Mike Fries, CEO of rival telecom and satellite TV services provider Liberty Global, on Bloomberg TV.
"If you look at any kind of metric that people are taught in business school, yes, they overpaid," said Erik Gordon, a professor specializing in mergers and acquisitions at the University of Michigan's Ross School of Business, on the Knowledge at Wharton radio show on SiriusXM. But if transformation is the goal, then the price paid for Sky could very well be justified. "If what you are trying to do is transform your company, and you think you have to make a dramatic move, maybe you are doing exactly what you have to do to face the future."
The full-throated pursuit of Sky came about when Comcast did not prevail in its bid for 21st Century Fox last year, after founder and executive chairman Rupert Murdoch put most of the assets up for sale. Instead, Disney won with its $71.3 billion cash and stock bid, beating Comcast's $65 billion all-cash offer. Disney scooped up Fox's TV and film studios, cable networks, regional sport networks, its stake in Hulu, Sky stake in Europe and Star in India. Murdoch will keep Fox News, FS1 sports network, Fox Business and local U.S. TV stations, housed in a new company.
After its dreams of snagging Fox's content went bust — the sale of assets in the vast Murdoch empire is a once-in-a-lifetime opportunity in media — Comcast focused on securing Sky as somewhat of a consolation prize. But it faced a competing bid from Fox, which owned 39% of Sky and wanted to buy the rest. They entered an auction set up by U.K. regulators. This time, Comcast won with a bid of £17.28 per share (raising it twice). That price is 15 times forward EBITDA (earnings before interest, taxes, depreciation and amortization) when average U.S. cable assets fetched 10 times EBITDA in 2017, according to Bloomberg Intelligence. Meanwhile, Comcast also was buying Sky shares in the open market.
U.K. regulators have given the deal a green light, and there should be no regulatory hurdles in the U.S. "For the most part, U.S. law condemns activities only when they cause harm in the United States. If the post-merger firm behaves anti-competitively but effects are felt only in the U.K., that would not generally be an antitrust violation," said Herbert Hovenkamp, an antitrust expert and Wharton legal studies and business ethics professor.
"If what you are trying to do is transform your company … maybe you are doing exactly what you have to do to face the future."–Erik Gordon
Global Juggernaut?
Like Comcast, Sky is a diversified media and telecom company. It serves more than 23 million people in the U.K., Ireland, Germany, Austria, Italy, Spain and Switzerland. (It is the largest provider in the U.K. and Italy, third in Germany.) While Sky delivers video through satellite, it is making all content available through broadband to give viewers a choice of whether or not to mount a dish. Its Sky Q box installed in viewers' homes is similar to Comcast's X1 cable box — the IP-driven interface manages live TV and on demand services and comes with a voice remote.
Unlike Comcast, however, Sky doesn't own most of its broadband pipes but leases space from British Telecom and others. Sky does create its own original content and has the rights to big-name sports events such as Premier League and Bundesliga soccer. Sky News is the U.K.'s first 24-hour news channel. It has a Netflix-like service called Now TV with two million subscribers and it also offers Sky Mobile, leasing capacity from telecom provider O2.
Comcast is not only the largest cable TV provider in the U.S., it is also the largest provider of broadband services. It owns the NBC network and local TV stations; cable channels including CNBC, MSNBC, E!, USA, Telemundo; Universal Pictures and Focus Features movie studios; a third of Hulu; Universal Studios theme parks; DreamWorks Animation; Illumination (creators of Despicable Me); sports networks; Fandango; the Philadelphia Flyers and the Wells Fargo Center arena. Last year, Comcast reported revenue of $84.5 billion and net income of $22.7 billion.
Combined, Comcast and Sky would become the biggest private sector provider of pay TV (the collective term for cable, satellite and telecom TV services) in the world with 52 million customers. Their annual revenue would top $103 billion with adjusted EBITDA of $31 billion, based on 2017 figures. However, Comcast's debt would soar to more than $110 billion, up from $65 billion, with a net leverage ratio of 3.4 times adjusted EBITDA, according to Bloomberg Intelligence. And that doesn't include the acquisition of Fox's 39% stake in Sky. But Comcast said it could handle the debt. In 2017, cash flows from operations totaled $21.4 billion. Notably, Moody's affirmed Comcast's A3 senior unsecured long-term debt ratings with a stable outlook after it won the auction.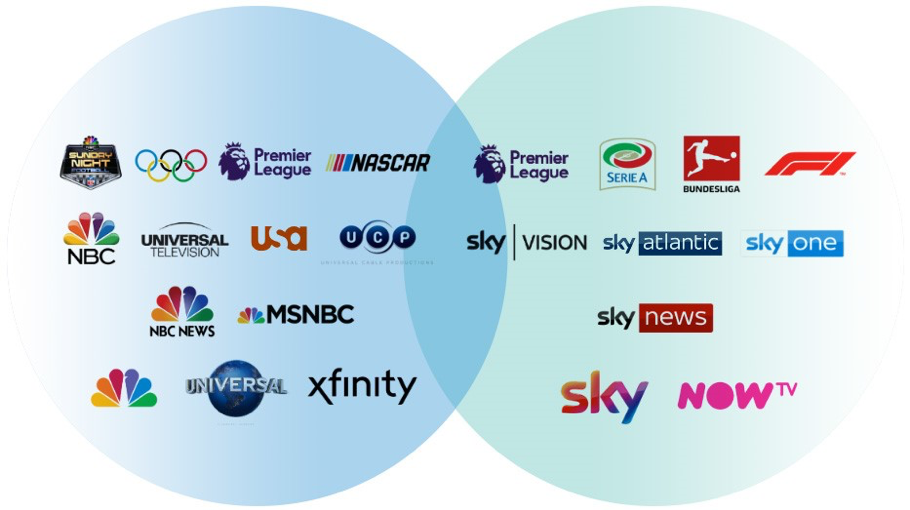 What Sky Brings to Comcast
Importantly, Sky is still adding TV subscribers as Comcast is losing ground. It is "proving resilient to threats from streaming providers such as Netflix, and has strengthened its position in exclusive content with a cheaper and more comprehensive rights deal for the next cycle of Premier League," according to Bloomberg Intelligence. Indeed, "there are massive differences" between the TV market in America and the U.K., said Liberty Global's Fries. "Video is still highly relevant and relatively inexpensive." For example, he said £50 ($65) a month gets consumers fast broadband, hundreds of TV channels as well as phone and mobile services. And while there are a number of Netflix-like providers, "they're at varying degrees of success."
"If the post-merger firm behaves anti-competitively but effects are felt only in the U.K., that would not generally be an antitrust violation."–Herbert Hovenkamp
As for Comcast buying a satellite TV operator when in the U.S. the technology is losing ground, the cable operator said Sky is not like its American counterparts. "It's apples and oranges," Comcast CEO Brian Roberts told analysts during a conference call earlier this year. "We look at Sky as a media company — Sky News, Sky Sports, Sky Movies — their tremendous presence in content creation, not just the distribution.… We think it's more like a Comcast NBCUniversal than any company we've seen."
"Everyone says that [Comcast overpaid for Sky]", Roberts said. But he reminded analysts that Comcast was likewise accused when it paid $5.8 billion for 51% of NBCUniversal in 2009, which was a "high multiple" at that time and "we were in the middle of the greatest recession." (In 2013, Comcast bought the rest of NBCUniversal for another $6.5 billion.) Since then, NBCUniversal — with TV and cable networks, movie studios and theme parks — has diversified Comcast's business as pay TV operators continue to lose viewers to cord-cutting. Recently, AT&T made the decision also to become a diversified media and telecom company, buying DirecTV and Time Warner amid intense competition in wireless and video.
Roberts also pointed out that the company paid $45 billion in 2001 to acquire AT&T's cable unit, AT&T Broadband. The price was also questioned back then, but the acquisition made Comcast the largest cable TV provider in the U.S. with the scale to challenge satellite TV rivals. "Great assets command a great price," he said. Sky "is a great asset, and it has been for several decades." Comcast said it would look back at the Sky acquisition years later as the right move. "I bet we can perform well, and that's the bet we're making here today," Roberts said.
"Companies that can bring massive amounts of content of different varieties to consumers will be more powerful."–Hemant Bhargava
Hemant Bhargava, a technology management professor at the University of California Davis Graduate School of Management, said on the Knowledge at Wharton show that Comcast "must have figured out that it was worth it." With Sky, Comcast becomes a more global company as it enters the pay TV market in Europe, with the potential to further expand in the continent and elsewhere, Bhargava noted. Indeed, Comcast said with Sky, revenue coming from overseas would more than double to 25%. "It's a global [market] and Comcast has not been so global," Gordon added.
Also, "Sky has operated in parts of the business that Comcast has not been able to in the U.S.," Bhargava said. For example, Sky offers online video service Now TV in several European countries even in places where Sky doesn't operate. Meanwhile, Comcast's attempts to offer an online video-only service has not worked outside of Hulu. With Comcast and Sky joining forces, there is speculation that they'll develop a global online video service with the reach of Netflix. "This helps Comcast get in the game," said Gordon, although he also noted that Netflix has a big head start.
Comcast and Sky could also leverage their content to expand globally at scale. "We all want a ton of content to be available to us," Bhargava said. "Companies that can bring massive amounts of content of different varieties to consumers will be more powerful." Another benefit is that Sky's AdSmart technology could help Comcast deliver more personalized ads customized to the viewer's location, income, demographics and lifestyle, he said.