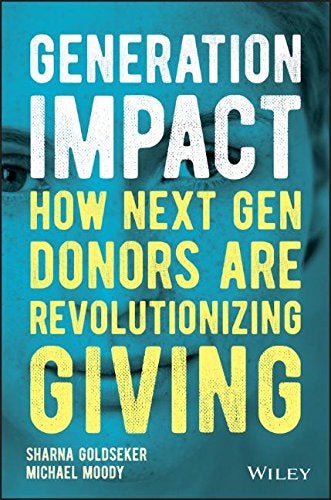 Charitable giving has long been the domain of wealthy industrialists and their foundations after a lifetime of achievements. But the profile of today's philanthropists is changing: Increasingly, they are Gen Xers and millennials who are reinventing what it means to do good. They want more than just their name on the donors' wall; they want to see real and measurable results. In Generation Impact: How Next Gen Donors Are Revolutionizing Giving, authors Sharna Goldseker and Michael Moody examine the future of giving in these young hands. They recently joined the Knowledge at Wharton show, which airs on SiriusXM channel 111, to talk about what they found. The following are four key points from their conversation.
Welcome to a Different Generation of Givers
The authors said the members of Generation X and millennials will be "the most significant philanthropists in history" because of the estimated $59 trillion in wealth that is currently being transferred to them from their aging baby boomer parents and grandparents. The prosperous members of these younger generations are also cashing in on a better economy.
"We see that these next generations aren't just waiting until the sunset of their lives to be donors, like previous generations of Andrew Carnegie and John D. Rockefeller and others did, but are really giving earlier," Goldseker said. "They're seeing the needs are great, and they have the resources to make a difference. So, they're starting to give an incredible amount at early stages."
Moody said although the research isn't firm, there are indications that the wealth available to the next generations for the purpose of charitable giving is going to be more significant than ever.
"That overall number will go up, we think, over time and certainly with the economy and with wealth transfer," he said. "But more and more of the percentage of that that is driven by the Gen Xers and millennials, particularly at the top end of the economic spectrum, is going to continue to go up. They're probably not the majority right now. I think we can say that. But they will be in the next 10, 20 years."
Blurring the Line Between Profit and Philanthropy
The next generation doesn't want to separate money into buckets, with one for profit and another for charitable giving. They would rather have one big bucket.
"They're not really as concerned about the difference between giving in one sector versus making money in another sector, versus doing public work in a third sector, a government sector," Moody said. "They're eager to sort of blur those boundaries. And they believe very clearly that they can do as much good, maybe even more good, through what they do in the business sector [by] either investing significant assets in socially responsible ways or supporting businesses that have a double or a triple bottom line." As a result, their philanthropic investments may not necessarily show up in official estimates of charitable giving.
Goldseker agreed and said it's time to do away with the stereotype of millennials as entitled slackers. "What we really saw, the top three reasons for giving among these generations, they're supporting a mission or cause that fits with my personal values, fulfilling my duty as a person of privilege to give back to society, and seeing that my contribution makes a real difference and the organization has real impact," she said. "As these people are entering the working world and having more resources, they are caring about values more than valuables, and they're making choices in alignment with those values."
The New Rules of Engagement
The changing nature of donors translates into new challenges for the leaders of charitable organizations. They will need to find better ways to attract these donors if they want to ensure the sustainability of their organizations.
"The biggest consequence for charitable organizations is going to be, they've got to retool how they think about engaging major donors," Moody said. "The next generation wants to be much more closely involved in hands-on ways inside the organization. The line we use is that they're less interested in having their name on the outside of the building as a big donor. They're more interested on being inside, working side by side on real problems, giving their talent, not just their treasure. That means that organizations are going to have to be more transparent with these major donors. They're going to have to find ways for them to engage in real problem solving and give them ways to be hands on."
"We see that these next generations aren't just waiting until the sunset of their lives to be donors."–Sharna Goldseker
Frankly, Moody said, next-gen donors will be more "high maintenance." But they will also be more loyal and better for the organization in the long run.
The authors also noted that newer donors are more willing to experiment with different ways of leveraging impact, so organizations should, too. Goldseker offered an example in Daniel Lurie, who runs Tipping Point Community, a nonprofit that fights poverty in the San Francisco area.
"He's featured in the impact chapter of our book," she said. "And he says, very concretely, 'Good intentions are not enough. We can't keep doing the same thing over and over and expect better results. We actually need to do something different. We need to be innovative. We need to fund our indie in the nonprofit world just like we would in the corporate world to be able to finally move the needle on some of these entrenched issues.'"
The next generation is more willing to take some risks "because they think it's a greater risk not to," Goldseker added. "There are pressing social issues in our world that haven't been solved, and at the front end of their lives, they have the time and the energy and the inclination to make a difference. So, they're willing to fund C4s, to do crowdfunding."
Future Areas of Giving
There is an assumption that the younger generation heavily favors global and environmental causes over local or traditional causes. But the authors said that notion is incorrect.
"We found actually their interests are pretty similar to previous generations," Moody said. "There are some differences around, for example, giving to climate change and for LGBT rights and other human rights and advocacy. There are some changes that are emerging there, so we certainly think those causes are going to be more prominent in the future. But again, they're not going to give up on health care and education and basic needs. What will be different is that they're probably going to be giving to different kinds of organizations within those causes. They want to give to smaller organizations. They don't really like to give to big institutions in which their contribution, no matter how big, is still in some ways a drop in the bucket."
"The next generation wants to be much more closely involved."–Michael Moody
That means umbrella organizations such as United Way or the Jewish Federation will have a particular challenge in courting future donors. "That part of this philanthropic landscape is going to transform, I think, a little bit. And I think they're aware of that and trying to adjust," he said.
Goldseker summed up the changes with a story about Victoria Rogers, who went to school on Chicago's tough South Side as the daughter of John Rogers, one of the most successful African-American money managers and philanthropists in the United States. Her father encouraged her to volunteer starting at the age of 12. By the time she reached her 20s, she already had 10 years of experience volunteering in the nonprofit sector.
"She's now on the boards of the Brooklyn Museum … and Creative Time, and not brand-new to this field," Goldseker said. "Sometimes I think nonprofits look at 20-somethings and think, 'You must just be starting out, so I'm dealing with your parents and grandparents.' Actually, millennials have been volunteering and participating in nonprofit life for decades already."