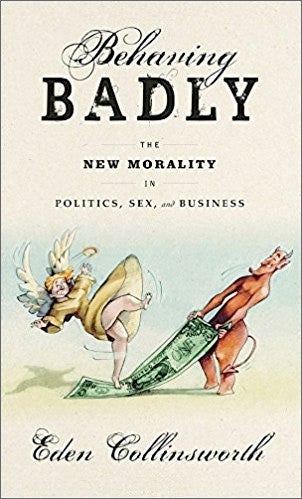 "It's discouraging to think how many people are shocked by honesty and how few by deceit," says a character in Noel Coward's play, Blithe Spirit. The decline of morality is on public display more than ever. Technology lets the world see people everywhere behaving badly: Videos of fights in public quickly go viral, folks bicker and bully on social media, and many think nothing of posting nearly naked photos for the world to see. Former media executive and business consultant Eden Collinsworth explores the fluid lines of morality in her book, Behaving Badly: The New Morality in Politics, Sex, and Business. She spoke on the Knowledge at Wharton show, which airs on SiriusXM channel 111.  
An edited transcript of the conversation follows.
Knowledge at Wharton: What has changed significantly about morality that we're going down the bad road more often than the good road?
Eden Collinsworth: It might be helpful to define the words "morality" and "ethics" because they're often thought to be one and the same. Morality is a personal set of beliefs, and you could say that it's the core of who we are as individuals. Ethics is expressed in terms of the expectations and the sanctions that are defined and enforced by a certain culture and society.
What's completely confounding today is that the world has never been so interconnected, but what we forget is that the ethical positions or decisions or expectations occur within a given period of time in a certain cultural silo. That is why many of us are completely disconcerted by what we think is so obviously right and wrong when other people don't believe that.
Quite honestly, the book that I've written was the result of living in China for a period of time … and they are simply operating with a different set of moral values. The perspective is not one from a Judeo-Christian sense of right and wrong. They're far more philosophical and don't believe that there's any one way of being right, and there are very few ways of being wrong. Something as fundamental as what you expect from a business contract becomes extremely vague and amorphous even after you've signed it because there's a belief that it's a continuation of a dialogue and not the culmination of one.
This led me to contemplate whether my own values were at all germane or applicable any longer in America, as an American. I started to explore that question with a variety of other people in terms of the moral choices they've made. Some of them have upheld the moral status quo, others have been defiant. And I think a great deal has to do with the generational shift.
I was brought up with a certain set of moral standards and values by parents who believed that it was almost a rule book. My son, who is in his late 20s, is the result of a generation whose ethics have been shaped largely by the technological advances that occurred in his lifetime. There are a lot of external factors, but yes, things are really very different and far more morally flexible.
Knowledge at Wharton: The mindset of each generation is certainly different, but I would think morals would be something that would carry on through the generations.
Collinsworth: After spending a year exploring this topic, I think that we're not necessarily born with ethics or morality. I think that a great deal of it is acquired. Some part of it has to do with skills. One of the people I interviewed in the United Kingdom is this brilliant neuroscientist. … She has underscored the fact that your brain is constantly evolving. The frontal lobes, which are the part of the brain that puts things in perspective and allows you to be empathetic, are constantly evolving.
"We're not necessarily born with ethics or morality. I think that a great deal of it is acquired."
But it is less likely to evolve and develop those skills if you are in front of a screen. In other words, those skills come into play when you have a face-to-face interaction with someone. You can observe facial gestures. You can hear the intonation of a voice. You're more likely to behave moderately in that exchange, unless it's a just a knock-down, drag-out fight.
Now, the average time spent in front of a screen is nine hours. My son grew up with a computer, but he did not grow up with social media. Even in his late 20s, he is different from somebody in their early 20s who had grown up curating their Facebook page, working Instagram and Twitter. That's a demarcation that's fairly obvious, and that has to do with technological changes that are not going to retreat. In other words, this is the deal.
Knowledge at Wharton: What we're seeing politically in this country and around the world does challenge the idea that morals and politics can work together.
Collinsworth: I would agree. But I think, like anything, it comes from the top. The fact remains that in America there is a president who has no qualms about, dare I say, lying. The word "lie" conveys not only a factual judgment but also a moral one. I come from a media background, so what is the obligation of a free press? I've also lived in countries where there is not a free press, China specifically. I am incredibly grateful as an American for a free press, which I believe holds [the excesses of] democracy in check. But what is the obligation? Is it to trust the public's judgment? Or is it to present judgment to them?
As far as I'm concerned, a lie is a lie is a lie. And we normalize it by not calling him out. But we also are living in a society now that is far more comfortable believing something [just] because it's the opposite of what somebody else believes. I'm afraid we're going to have to do a little more heavy lifting, and I don't know whether Americans have the appetite for that.
Knowledge at Wharton: It's almost an expectation that you're going to have lies coming at you, whereas 30 or 40 years ago there was an assumption of truth coming your way.
Collinsworth: That's true. But my truth might be different than yours because I'm entrenched in certain beliefs. This is what I assumed was a political trend, and I must say that I'm incredibly relieved to see what's happened in France. Not because I necessarily agree with the policies, but Emmanuel Macron, the new president, has come out of nowhere in a little over a year and he has now won a majority in Parliament.
Fifty percent of the parliamentarians have not had any experience in politics. He is completely determined to build a populous movement from the center rather than the extremes. I'm hoping that is a very positive sign of what might come and what might be embraced not only in America but also the U.K. and other countries that have become so polarized. I mean, you can't open your mouth without being accused of any number of things, and it's far more emotional than it is rational.
"My truth might be different than yours because I'm entrenched in certain beliefs."
Knowledge at Wharton: You also take some time in the book to look at Hollywood as well, specifically the Kardashians.
Collinsworth: Yeah, that's pretty weird. But you know what, I'm not of that generation. What one has to remember is that these are extremely shrewd business decisions [made by the Kardashian family]. Kim Kardashian is memorializing in every conceivable sense — on Instagram, Twitter, Facebook, newsletters, traditional media — the most mundane aspects of her life on a day-to-day basis. But she's charging for it.
In a larger sense, we should remember that just a few tech companies [control our digital life]. You think of the internet as this rather ephemeral, atmospheric opportunity to create communities and outreach and gather information, and it is all of those things. But it's important to remember that it's also owned by a few extremely lucrative tech companies.
These are businesses. These are publicly owned companies, and their first and foremost obligation is the return on investment. Now they're being held to account on some degree, and they finally have admitted that they are more than simply content providers, so they should become responsible to a degree for patrolling or curtailing some content that's very incendiary. But the point is that all of these are money-making ventures.
Knowledge at Wharton: The world of Kim Kardashian revolves around a lot of social media. I want to get your thoughts on what social media means to this discussion of morality.
Collinsworth: If you look at it just from a logistical perspective and focus in on something like Twitter — and this loops back to the issue of one's ability to interact with people — Twitter basically has reduced communication to so many characters, so there's no room for any subtlety. But more to the point, it's very direct. What you see on Twitter, but also on Facebook, is often an angry response that ratchets up very quickly.
Part of this overall concern about what is happening is there is a diminution or lesser opportunity to build the skill set of how to deal with people. We are social animals, so something as simple as communicating has now become fraught with not only our polarized ideas, policies and politics, but also it is exacerbated by the way we communicate.
I read someplace that within a relatively short period of time, in less than five years, most people will be using their phones not to make phone calls but for text messages and internet connection. Even with the phone now, you'd just as soon text rather than actually hear somebody's voice. It just is becoming a more stilted way of dealing with other people. I don't think that it's going to change. I think that's the trend, so I think we have to learn to live with it and perhaps put it in perspective.
Knowledge at Wharton: You also get into the military a little bit. You had a conversation with a major general from the Air Force about elements they have to deal with regarding morality.
Collinsworth: Yes, that was really very interesting for me and quite compelling. I spoke to Gen. Michael "Buzz" Moseley, who under two presidents was chief of staff of the Air Force. We spoke about drone warfare because it falls very quickly into two ethical camps. One feels that it's immoral and unethical to kill because it has to do with the ease by which you kill and the fact that you're basically killing somebody from a bunker outside of Las Vegas or something. You follow this person around. There's this rather weird intimacy where you're tracking this person, getting to know their daily habits in order to isolate a moment where you can murder them, in effect.
The other side of the argument is that it is a more moral way of dealing with warfare. Gen. Moseley reminded me of the purpose of war, and that is why he feels very strongly that there's nothing casual about making the decision to put boots on the ground or move into a military posture. He told me very directly that the purpose of war is to kill people and destroy property.
"When do you begin to forfeit your morals?"
He felt that technology finally has allowed warfare, most especially from the air, to become more moral because even though admittedly there is collateral damage, there is far less collateral damage when you're focused on an individual rather than whatever the alternative is. Obviously, there's been a long history of warfare from the air, including carpet bombing and so on, so it was interesting to hear that perspective.
These are issues one grapples with especially now. The question I have, which is unanswered by the way, is when do you begin to forfeit your own moral values — whether you call them Western values — and acknowledge that the enemy you're fighting doesn't share your values? I've lived in London for the last several years, and the last two months have been fairly gruesome [due to several terrorist attacks]. It's a situation where the goal [of the attacker] is to kill as many innocent civilians as possible, usually in a vulnerable situation, often women and children.
So when do you begin to forfeit your morals [as a result]? Fortunately, I have not seen that happen. There are hate crimes on the rise but what I do see, not surprisingly, is the trend towards a willingness to forfeit civil liberties for security. Now in the U.K. and possibly elsewhere, the government will take a more aggressive position and attitude towards monitoring your personal communication online and on phones. … I think the government is just at its wit's end. It's been very stalwart. But its threshold of tolerance has really diminished considerably.
Knowledge at Wharton: You also talk towards the end of the book about birth and the moral questions surrounding it.
Collinsworth: Everything is relative. Here in the U.K., it is against the law to deliberately choose a gender. That's where they draw the line. However, a three-person pregnancy, [or making babies using DNA from three people], is legal. That is illegal in America, but what is legal in America is choosing a gender. Those people in the U.K. who can afford it fly to a doctor in Chicago, and he will perform that procedure. In China, it's against the law for a single woman to freeze her eggs. Women in China who could afford it fly to California and do just that.
A lot of it has to do with, whether right or wrong, your financial wherewithal. But it's difficult to know where the line is drawn. I don't want to get personal, but you volunteered that you support a certain procedure [IVF]. Would you then support the choice of a gender? It's very, very personal. … The one thing that became extremely apparent to me is that [whatever issue we discuss like] reproductive rights, warfare, or others, technology will continue to hurl ahead as we argue both sides of the equation.